Go. All clear for now. Buy. Short investors are about to get gored. Read the FOMC Policy Statement below, and after that we have offered some specific advice. We're recommending you close your solar short play and we have given the buy all clear on Goldman (GS).
FOMC Policy Statement

Release Date: January 30, 2008


For immediate release

The Federal Open Market Committee decided today to lower its target for the federal funds rate 50 basis points to 3 percent.

Financial markets remain under considerable stress, and credit has tightened further for some businesses and households. Moreover, recent information indicates a deepening of the housing contraction as well as some softening in labor markets.

The Committee expects inflation to moderate in coming quarters, but it will be necessary to continue to monitor inflation developments carefully.

Today's policy action, combined with those taken earlier, should help to promote moderate growth over time and to mitigate the risks to economic activity. However, downside risks to growth remain. The Committee will continue to assess the effects of financial and other developments on economic prospects and will act in a timely manner as needed to address those risks.


Voting for the FOMC monetary policy action were: Ben S. Bernanke, Chairman; Timothy F. Geithner, Vice Chairman; Donald L. Kohn; Randall S. Kroszner; Frederic S. Mishkin; Sandra Pianalto; Charles I. Plosser; Gary H. Stern; and Kevin M. Warsh.


Voting against was Richard W. Fisher, who preferred no change in the target for the federal funds rate at this meeting.

In a related action, the Board of Governors unanimously approved a 50-basis-point decrease in the discount rate to 3-1/2 percent. In taking this action, the Board approved the requests submitted by the Boards of Directors of the Federal Reserve Banks of Boston, New York, Philadelphia, Cleveland, Atlanta, Chicago, St. Louis, Kansas City, and San Francisco.
My Take
So, according to our earlier article, the Fed has officially proven itself Wall Street's tool. Well, thank God for that, but I think I would rather have a chicken with a head in control over there in Washington. Considering the group didn't cut 125 BPS last week with a statement saying no more for now, it seems today's GDP number got their panties all bunched up. I mean, it's either that or this is a weak group of spineless jellyfish...
But, let's focus on what this means for us rather than why (Bush and the Dems in Congress had a gun to his head) Ben did this. And, we'll pretend not to notice that William Poole's name was not on the statement at all. I expect him to write a book sometime soon, and that should be real interesting reading. In the future, when we forecast Fed action, rather than going by silly things like official Fed statements and other logical factors, we'll just go by market expectations, since the Fed seems to do this also.
What's this mean for you....
Well, first off, reverse the curse. Remember that great recommendation we made on January 9th regarding solar stocks, and the shorting of them? We would now close that trade. These stocks are reporting results and some of them actually make money and could do well and take away that paper gain we have. Secondly, the Fed and government have taken aggressive action to preserve the economy. So, oil prices gain a little support from this. Since, we are sure (read SURE for pundits who we respect who didn't buy into our thesis, and keep mentioning it on TV even though it was proven correct) alternative energy shares are positively correlated to the movement of oil prices, especially the expensive ones like solar companies, their stocks gain some support now. We're going to follow this up with a specific piece on the group.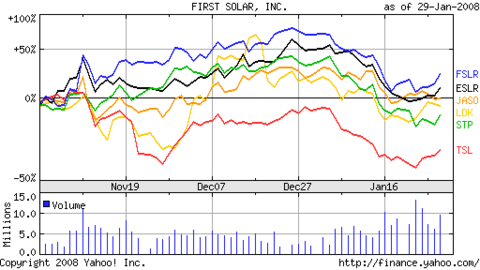 Also, I can now give the "all clear" on Goldman Sachs (NYSE: GS). Remember, previously, in my article Investment Banks Look Good in '08, I said I like them all now, but am weary on Goldman due to its outlier status and profits that might be taken in early '08. That same pundit, who I admire, didn't agree with this either. GS has since given back those profits while the rest of the group has moved higher, following our charted course. You know, we Greeks invented navigation and are pretty damned good sailors. Also, Christopher Columbus spent his teens living in my island ancestors' home town.
We've already cleared Citigroup (NYSE: C) for purchase post the dividend cut etc. (see the article). The rest were recommended in the article on January 10th, and we still like them up to the targets we outlined previously.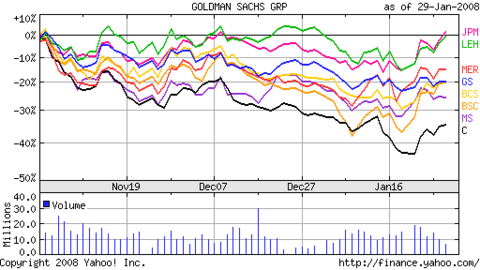 We told you yesterday this speed bump looks easily surmountable. Time to roll and buy stocks, and buy heavy! Look to those pillars of strength to regain that strength now. I'm talking Intel (Nasdaq: INTC), Apple (Nasdaq: AAPL), Monsanto (NYSE: MON), even Yahoo! (Nasdaq: YHOO), VCA Antech (Nasdaq: WOOF), SEI Investments (Nasdaq: SEIC)... Growth stocks should lead us up, especially when early signs of economic recovery show. But, many small cap value names have been beaten down into super value buy territory as well.
We're going neutral energy from our underweight call, and we're turning overweight technology. We're still overweight financials, and like the Financials ETF (AMEX: XLF). Healthcare should give back some gains now and we are underweight that group once Hillary wins the nomination and underweight in the very short short term now as well.