Ciena Corporation (NASDAQ:CIEN) provides equipment, software, and service solutions that support the transport, switching, aggregation, and management of voice, video, and data traffic on communications networks worldwide. It operates in Communication Equipment industry.
It is scheduled to report its Q2 2012 results on May 31, 2012, before the market opens.
Recent EPS Actuals vs. Estimates
The company has met or exceeded analyst estimates in only one out of four last quarters. In the last quarter it reported a ($0.17) loss per share, failing to meet analyst estimates of a ($0.05) loss per share.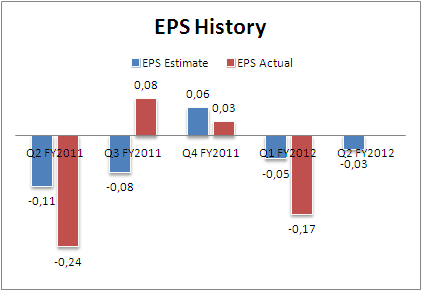 Analyst Estimates
The consensus EPS is a ($0.03) loss based on 21 analysts' estimates, up from a ($0.24) loss a year ago. Revenue estimates are $447M, up from $418M a year ago. The median target price by analysts for the stock is $18.
Average recommendation: Overweight
Source: Marketwatch.
Analyst Upgrades and Downgrades
During the last 30 days, there was 1 analyst who revised next year EPS upwards and 1 analyst who revised this quarter, next quarter, current and next year EPS downward.
On March 7, 2012, Stifel Nicolaus upgraded the stock from Hold to Buy.
Key Metrics
Market cap: $1.17B
52 week trading range: 9.89 - 27.27
Forward P/E: 13.45
P/S: 0.68
PEG Ratio: 6.96
Annual dividend yield: N/A
Total debt: $1.44B
Return on Equity: -443.42%
Return on Assets: -2.58%
Latest Developments
Insider Trading
In the last 3 months there were 72,340 shares sold and 57,946 shares bought by insiders.
Competitors
On May 14, 2012, Telefonaktiebolaget LM Ericsson (NASDAQ:ERIC) was upgraded by UBS AG from a Neutral rating to a Buy rating.
On May 8, 2012, Moodys downgraded Alcatel Lucent (ALU) to b2; stable outlook.
On May 3, 2012, Ericsson successfully placed a US dollar denominated 1 billion 10-year bond with a fixed coupon rate of 4,125%.
On May 2, 2012, JDS Uniphase Corporation (JDSU) issued Q4 2012 revenue guidance below analysts' estimates.
On May 1, 2012, Cisco Systems Inc announced that it has completed the acquisition of privately held ClearAccess, a Vancouver, Wash.
On April 26, 2012, Telecom equipment maker Alcatel-Lucent's profitability slipped in the first quarter because of slower demand from North America and Europe and a shift to lower-margin fourth-generation mobile gear.
On April 25, 2012, NetGear, Inc. (NASDAQ:NTGR) issued Q2 2012 revenue guidance in line with analysts' estimates.
On April 25, 2012, Arris Group, Inc. (NASDAQ:ARRS) issued Q2 2012 guidance; revenue guidance above analysts' estimates.
On March 19, 2012, Cisco Systems, Inc. announced the completion of the acquisition of privately held Lightwire, Inc. Headquartered in Allentown, Penn., Lightwire develops advanced optical interconnect technology for high-speed networking applications.
Technical Insight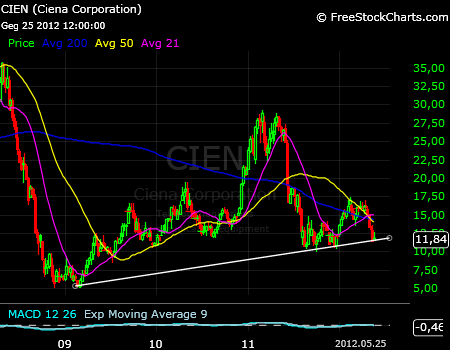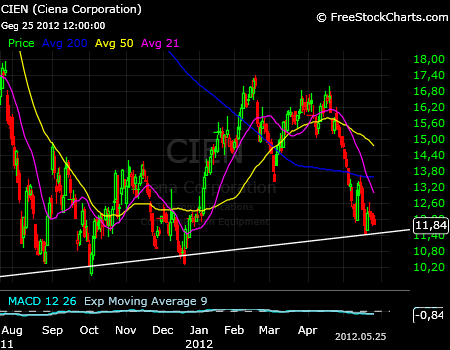 Above you can see the weekly and daily charts for CIEN. On both graphs the stock is trading below 21, 50 and 200 moving averages. On the weekly graph, 50-week moving average has just crossed down the 200-, which is usually a strong sell signal. On the same chart, however, you can see a support (or upward channel bottom line) which it is testing right now. A lot will depend on this next earnings report.
You can find a list of stocks reporting earnings on the week of May 28-31.
Sources: Yahoo Finance, Google Finance, CNBC, Marketwatch, Reuters, Forbes.
Disclosure: I have no positions in any stocks mentioned, and no plans to initiate any positions within the next 72 hours.