Exxon Mobil (NYSE:XOM) is a global oil and gas giant that has a market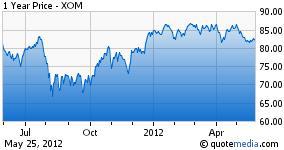 capitalization nearly twice that of its nearest competitor. It had disappointing first-quarter earnings with net income dropping by 11 percent. Exxon is the largest U.S. gas producer; however, low natural-gas prices are also taking their toll on profit margins. International relations are particularly good in Russia and Argentina for continued future growth.
There seems to be an industry trend of revenue and earnings growth dropping off. Longer-term projections confirm this negative trend may continue, for a year or more.
Exxon has recently been a bit questionable fundamentally, and the price per share has begun to pull back. XOM pays its shareholder a 2.75% dividend each quarter. The company valuations appear to be on the decline as are the technicals.
Early this year, the price was about $87 and has been flat ever since. Exxon is currently selling for $82. That is not much of a drop, but indications suggest we will see lower prices in the coming months. Its peers are not doing as well with the exception of Ecopetrol S.A. (NYSE:EC).
Current Valuation for Exxon Mobil
Current Price:

$82.

Comments: These are not strong Valuations and Target Price Projections. The Valuation Divergence is negative. When I do further fundamental studies, the results neither improves nor declines. Projected earnings growth for XOM indicates that it will be cycling from positive to negative through 2015. My technicals are currently graded as, "very good" as are my consensus opinions.

This suggests that XOM will continue to follow the general market indices. (see the below 20 year chart).

Security's valuations should be updated and studied as frequently as possible. This work may or may not offer positive support or perhaps a negative warning! I do not recommend buying XOM due my forecast of a bearish technical cycle.

Target Price:

Plus 5+% / minus 14+% from the current price.

Trailing P/E:

9.9

Forward P/E (fye 12/ date):

9.3

PEG Ratio:

1.15

Price to Sales:

0.77 - (NYSE:LOW)

Price to Book:

2.45

Dividend

2.78%

Return on Investment (R.O.I.)

16.5 % (very good)

Valuation Divergence:

(minus) - 18+% from current the price.
Source of raw data: Finviz.
Projected Price is calculated and produces a probable range of the current price over the coming one to three months. Fundamental Valuation and Technical Opinion is calculated and translated into a Rating. See the below Report Card. I often suggest cash and patience as an alternative.
Report Card
| | | | | |
| --- | --- | --- | --- | --- |
| Company Symbol | Fundamental - weighting (40%) | Technical - weighting (35%) | Consensus Opinion - weighting (25%) | Report Card -Grade: ( 0 - 100 / A - F ) - (ascending / status quo / descending) |
| XOM | Very Good | Very Good | Good | 85 / B -- descending |
| (NYSE:RDS.B) | Poor | Poor | Poor | 72 / C -- status quo |
| (NYSE:CVX) | Very Good | Good | Good | 82 / B- -- descending |
| (NYSE:BP) | Poor | Poor | Poor | 71 / C -- descending |
| EC | Good | Very Good | Poor | 84 / B- -- descending |
My weighted Fundamental, Technical and Consensus Opinion ratings range from Excellent to Very Poor. Grades below 90 / A are not current (never are) candidates for buying. Grades above 60 / F are not current (never are) candidates for short selling. Information and data are ever changing, so be alert. Every company's "Grade" can be from a neutral grade (60 to 90 / D to B) to a buy (greater than 90) or short sale (less than 60) in a very short time.
Further support for the above notes can be read in my Instablog article on "My Rotation Model."
Industry Status
The major - integrated oil industry is and has been very strong since early 2009. This fact is applicable, both fundamentally and on the charts. Exxon Mobil is technically in sync with its fundamentals and is in stride with its industry. Under normal circumstances this would be a positive remark. Looking at the above tables and the chart below tells us a potentially different story. My tables and charts make crystal-clear that holding shares of XOM has been very profitable to date. The question that is unanswered is, do you buy, sell or hold?
My criterion for taking a bullish position is that the company must have the prospect within its fundamental valuation and technical chart to outperform the general market, its sector, and industry group.
Click to enlarge.

Click to enlarge
Market Status
The general market is currently fundamentally overvalued and technically overbought, and its consensus opinion is much too bullish. It is showing signs of serious deterioration, especially in the area of breadth. This means that you must consider holding cash or perhaps take bearish positions in the coming weeks.
My analytic focus is investing wisely, e.g. taking advantage of the bull / bear cycles as they occur within the overall marketplace. Integrating conservative fundamental analytics within these technical cycles means maintaining a process of the thorough and on-going analytics of many companies, sectors and industry groups.
I suggest that you take a long look at this 20-year chart. Having a longer-term perspective of a possible future investment will always give you a more consistent bottom line. Comparing the SPDR, S&P 500 ETF (NYSEARCA:SPY) tells a very compelling story about XOM.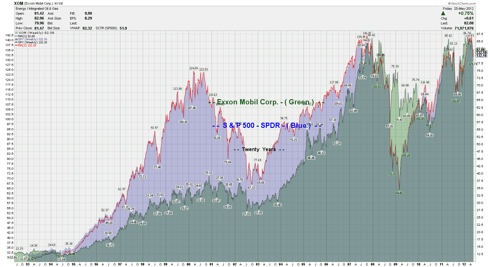 Click to enlarge
Professor's Opinion
Despite XOM being the stronger company, I expect both XOM and its peers to be under moderate pressure in the coming weeks and perhaps

longer. For a resumption of an up-trend, we just may have to wait awhile. XOM is definitely a company on my future buy list. The comparison of these three companies should make a strong statement of why I stress doing your homework well.
I recommend taking a few minutes to study my 20-year chart. When buying or selling, taking a longer-term view of a security's price history is very important.
This is a warning about buying or holding Exxon Mobil.
Conclusion
I am bearish on both the economy and the general market. My more recent Instablog postings are focused on securities that should not be currently held in your portfolio. It is important for you to understand that holding cash during questionable time frames is a wise choice. (This is definitely a "questionable" time frame). This coming Saturday, I plan to add Exxon Mobil to my weekly Instablog update posting; you may want to check it out.
Disclosure: I have no positions in any stocks mentioned, and no plans to initiate any positions within the next 72 hours.