Over the past several years, Yum Brands (NYSE:YUM) has been outpacing its major rivals McDonald's (NYSE:MCD) and Wendy's (NYSE:WEN) by experiencing incredible growth in China. Its most prominent brands, KFC and Pizza Hut, have taken told in China and other parts of Asia and this has resulted in Wall Street obtaining very high expectations for YUM. The potential problem is that China now accounts for more than 50% of YUM locations in Asia. Nasdaq reports that "the rest of Asia is stalling for the company. Store for store, YUM's non-Chinese Asian operations seem to be growing only as fast as the U.S. region." This creates a situation for YUM where if China slips into recession or its economy simply weakens, YUM sales could trend flat and this would set Wall Street off because of the expectations set for YUM. This is not impossible as China is experiencing a harder economic climate than they have seen in the past several years. Allen Mattich writes:
China has been seen as a paragon for rescuing its economy with major infusions of cash following the financial crisis. But along the way it has triggered an unsustainable investment boom, vast amounts of mal-investment, a housing bubble and domestic inflation. It will have serious problems getting its economy onto a sustainable track.
This has the potential to impact YUM business and due to the company's high valuation, it must keep growth high to meet expectations. Though MCD is expanding rapidly into China and other Asian markets, expectations are not the same. This is in large part because MCD has an incredible presence in America and other parts of the world and is a more established company that rewards its shareholders through a reasonable valuation and a high dividend.
Another reason YUM could see diminishing growth potential in China is due to a rise in competition. Not only are American based fast food chains like MCD, WED and Subway expanding rapidly into China, but so are Chinese based operators like Country Style Cooking (NYSE:CCSC). Though CCSC is a much smaller company than YUM, it and others have the potential to erode market share and make it more difficult for YUM to reach its growth expectations from Wall Street analysts. Ms. Hong Li, chairman and CEO of CCSC, states:
I am pleased that in the first quarter of 2012, we grew revenues to RMB 285.2 million, representing an increase of 28.1% over the prior year period and beating our previous revenue guidance. During the quarter, we continued our restaurant network expansion, adding a net of 13 restaurants. For the remainder of 2012, we reiterate our plan to open around 70 new restaurants, with approximately 60% of the new restaurants to be located in our home markets of Southwest China and the other 40% of the new restaurants in other regions of China.
This type of growth is nothing for YUM to look down upon. The argument is not that YUM is a poor company with a flawed business model, but rather that expectations for growth may not be obtainable if the Chinese economy weakens or competition heightens to a level that has a sizable impact on YUM overall growth projections. The following financials indicate why YUM would be at risk if the company's operations in China fail to meet expectations:
Forward Price/Earnings:
PEG Ratio:
EV/EBIDA:
Dividend:
Though YUM is not grossly overpriced compared to MCD, it is trading at a premium and if China falters for YUM, this valuation may prove to be unrealistic. Be cautious of the Chinese economy along with an increase in competition if you are holding YUM. If the risk of YUM not meeting its high expectations is unsettling given its valuation, MCD is a strong alternative. Its 3.10% dividend doesn't hurt either ...
(Click to enlarge)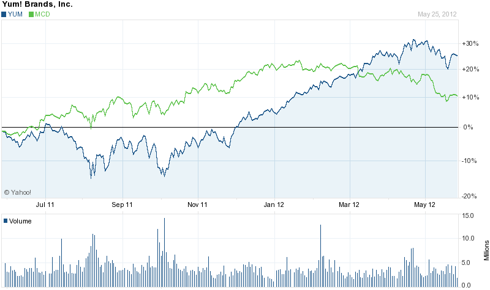 (Yahoo! Finance)
(All financial metrics referenced above are obtained from Yahoo Finance, CNBC Analytics, S&P Capital IQ and Thomas Reuters.)
Disclosure: I have no positions in any stocks mentioned, and no plans to initiate any positions within the next 72 hours.