Market Recap: The market started the week off on a strong note after the holiday weekend as a move in Greece to elect the conservative parties over a radical left-wing party was viewed positively by the market. Additionally, China seemed to be pushing toward a potential stimulus measure that helped boost the markets. What was amazing was that the market turned away an intra-day downgrade of Spain and fears that were brewing there. Additionally, consumer confidence came in below expectations, which was another definite source of bearishness for the market. Yet, the market has been technically oversold, and we definitely saw quite enough reasons to be moving up from here on just the technicals aspects.
The rally was on pretty light volume and definitely ignored some real concerns for the market, so we would not be jumping for joy that we are done with any bearish trends. At the same time, the market did rally despite bad news, which is a sign of a bullish market. We will see how the rest of this week turns out.

Two Trades
Two trades we like right now are long VeriSign (NASDAQ:VRSN) and FedEx (NYSE:FDX). VeriSign is looking very solid as it has consolidated right below some key moving averages and seems to be pressing them for a breakout. We like going long on the company right now as we believe it is a stock we can buy that can make a nice move on more upside in the market that has not broken out yet. At the same time, VRSN has not shown a lot of weakness over the past couple weeks, consolidating along a long-term uptrend, so the downside risk seems lower. FDX looks solid as an earnings type play into its earnings report after Jun16 expiration. We found that the company has not moved drastically into earnings at more or less than 5% three weeks prior to earnings to earnings date. Therefore, with the company's break of the 50-day MA, we like it to hold the 85 line into expiration.
Trade #1: Long VRSN
Trade #2: FDX, Jun16, 85/82.50 Bull Put Spread
(Click to enlarge)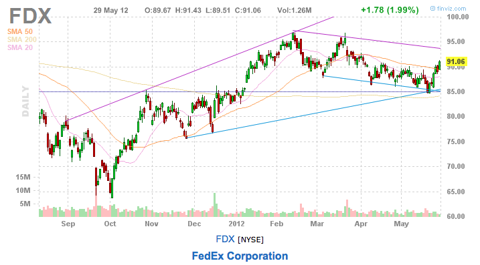 (Click to enlarge)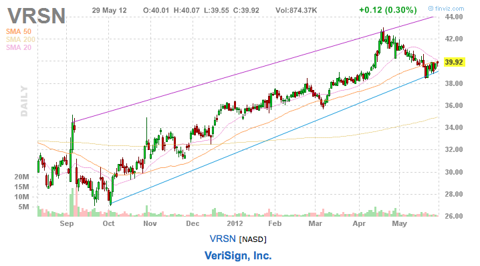 Tomorrow's Outlook
The market has looked strong so far, and tomorrow, we do not get a lot of data out here at home with Pending Home Sales. With that said, the market has the ability to continue its streak, but we should see more volume come into play tomorrow. Things are bouncing right now, so unless we get a change of pace, we should move higher. Some other things to watch are eurozone consumer confidence and some data from Great Britain about mortgages. Overall, it's a more light day, and we may see a continuation of today's movement.
Our Moves
We had a solid day today in the market as we took a number of gains off the table. In our long-term Extended Value Portfolio, we closed down half of our Wal-Mart (NYSE:WMT) position for 10% gain and another third of M/I Homes (NYSE:MHO) position for a 21% gain. We, however, took a loss in Under Armour (NYSE:UA) in our bear call spread in our Options Portfolio on the position. We added a number of positions with long on VRSN. We added a bull put spread in Monster Beverage (NASDAQ:MNST) in our Options Portfolio. We added a reverse iron butterfly as well in Joy Global (NYSE:JOY) for an earnings play. We also added a pair trade in Bed Bath and Beyond (NASDAQ:BBBY) long and Molson Coors (NYSE:TAP) short.
We have the following positions. In our Short-Term Equity Portfolio we are long VeriSign, Bed Bath & Beyond, TripAdvisor (NASDAQ:TRIP), Buffalo Wild Wings (NASDAQ:BWLD), Whole Foods (NASDAQ:WFM). We are short TAP, Under Armour, SPDR Dow (NYSEARCA:DIA), and Sara Lee (SLE). In our Options Portfolio, we are long MNST, Disney (NYSE:DIS) and Panera Bread (NASDAQ:PNRA). We are short Sina (NASDAQ:SINA), Apple (NASDAQ:AAPL) and General Dynamics (NYSE:GD). We have a reverse iron condor on Ultra Proshares Financial (NYSEARCA:FAS). In our Earnings Alpha portfolio, we are long FDX, Discover (NYSE:DFS), Western Digital (NYSE:WDC) and Dollar General (NYSE:DG). We are short Adobe (NASDAQ:ADBE). We have a reverse iron condor in Verifone (NYSE:PAY) and reverse iron butterfly in Joy Global.
Chart courtesy of finviz.com.
Disclosure: I am long TRIP.