It's the kind of real estate rental business I wouldn't mind owning if I wanted to run a business. Tenants rarely complain about their units and don't care much about amenities. When they move out, there's no stained carpet to replace and rarely a need to paint the walls.
I'm talking about the self storage business. And according to REIT.com, "the self storage sector generated total returns of 29.83 percent last year, while the FTSE NAREIT All Equity REIT Total Returns Index was up 11.29 percent."
One of those self-storage REITs is Public Storage (NYSE:PSA), which returned 36% in 2011.
This company is the largest owner and operator of storage space in the country, operating in 38 states, with California accounting for about 25 percent of revenues. At a price of $134.80, it currently yields about 3.3%.
Here's a chart showing funds from operations and dividends paid for the past few years per information from Value Line: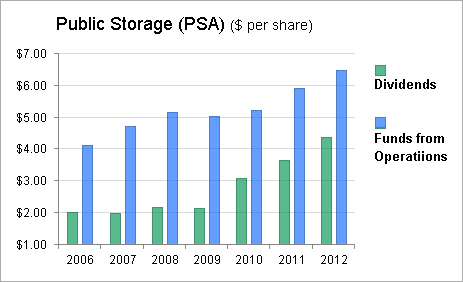 * * *
'Not Cheap'
With a PE ratio of 42.71, the stock seems a bit rich. According to an article from Bloomberg (published May 1), Public Storage
…Has attracted investors with low debt ratios and steady cash-flow growth in a decade that saw commercial-property values soar to records along with sales of mortgage-backed bonds to finance a wave of takeovers.

The debt- to-assets ratio for Public Storage, the largest in the group, is 22.5 percent, half the average 45 percent for REITs, said Michael Knott, managing director of real estate research firm Green Street Advisors Inc., making the stock less susceptible to large price swings if the economy worsens.

"Public Storage has incredibly low leverage compared to the average REIT," Knott, whose firm is based in Newport Beach, California, said in an interview. "It's typically not as volatile."

"It's not a cheap stock," Knott said. "It should be an outperformer over a long time period, but over the next three, six or nine months, it's hard to say it's going to outperform."
Yet the stock has done quite well over the past few years - especially compared to some of the broad-based REIT ETFs, including the Dow Jones Real Estate ETF (NYSEARCA:IYR), the Cohen & Steers Realty ETF (NYSEARCA:ICF), and the Vanguard REIT Index ETF (NYSEARCA:VNQ). And it's certainly outperformed the S&P 500 ETF (NYSEARCA:SPY).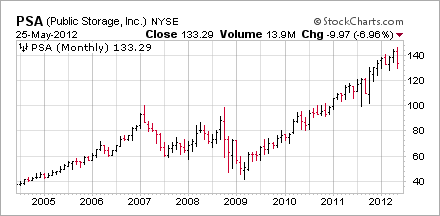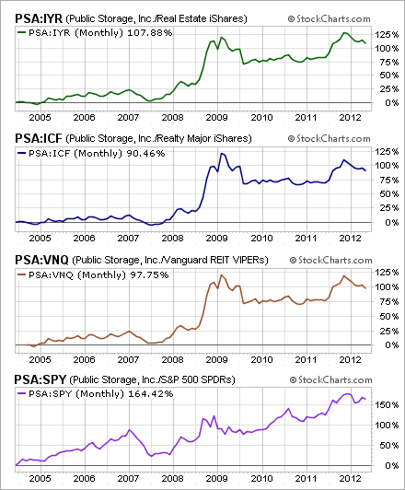 * * *
Too much stuff
Although the stock isn't "cheap," the business intrigues me - renting out units of as little as 25 square feet and keeping tenants who stay for a surprisingly long time because they have way too much stuff.
Per the Bloomberg article
"If you get married, you don't necessarily throw your couch away, you don't necessarily throw away the buffalo head, what have you," said Clemente Teng, vice president of investor relations for Public Storage. "You put it in storage."

Public Storage has about 1 million tenants at any given point in time, with the average lease of existing tenants running about 36 months, Teng said. More than half its tenants have rented their units for more than one year, he said.

"People always think, 'I'll just house it for a couple of months and then get it all out, but the problem is once you get all your stuff in, the last thing you want to do is spend a Saturday cleaning it out," Teng said.
Think of it. One million tenants. And that's just for this one company. That's a lot of Americans with a lot of stuff in storage. And a lot of potential Saturday afternoons destined to haul that stuff somewhere else one day.
Disclosure: I have no positions in any stocks mentioned, and no plans to initiate any positions within the next 72 hours.