Expectations are really low for everything housing-related. Really, pathetically, low.
Take USG Corporation (NYSE:USG).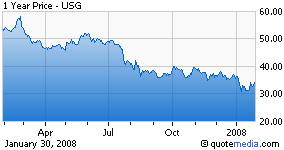 Estimates for the quarter were a loss of 12 cents, which had come down substantially from an expected 1 cent gain at the end of the prior quarter. Actual loss? 28 cents.
If that wasn't bad enough, the guidance given in USG's press release was tepid at best.
Market conditions suggest that the downturn in new residential construction that began in 2006 will continue at least through 2008. Residential repair and remodeling expenditures also are expected to continue to decline due to lower sales of existing homes and weakness in housing prices. USG expects the non-residential market to remain stable in 2008. Sales and operating profit will continue to be negatively affected by reduced demand for the corporation's products. The corporation expects a meaningful recovery for the housing market and for the corporation's businesses to begin when the unusually large supply of unsold homes returns to normal long-term levels, credit markets are stabilized and consumer confidence improves.
Not exactly the most optimistic outlook – the company won't even say when they expect things to get better…
The conference call was dour. The highlights, relatively speaking? USG has an experienced management team and they've seen housing cycles, and they like their cost profile and industry positioning. If you thought the actual results were difficult to be enthusiastic about, management doesn't exactly inspire. A suggestion: bring in a new guy – also a Chicagoan – to help out on the conference calls.
A few notable quotes:
Bill Foote, Chairman and CEO:
So the question in everyone's mind is this, have we reached the bottom yet? The candid answer is we don't know.
Rick Fleming, EVP and CFO:
Regarding the business cycle, as Bill said, it is too early to call a bottom, but if bad news is good news we must be getting closer because each day the newspapers are full of our daily dose of bad news.
Bill Foote:
Well, we think our cost position is the best in the industry and we are hurting. So I suspect it's hurting a lot more in other places.
Jim Metcalf, President and COO:
Well, the long- term demographics that we've been looking at and we've been seeing to a lot of industry sources still show that the overall gypsum industry is going to be growing at 3% over a ten-year window. So we're keeping our powder dry.
Consider the historical housing cycle: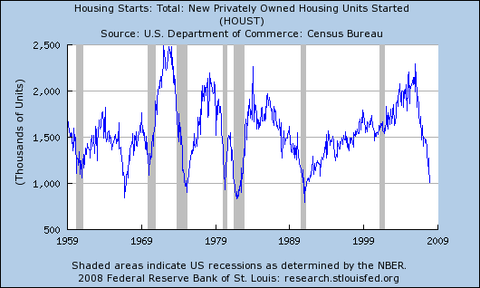 As I've written before, there are still some incredibly powerful factors working in USG's favor long-term – that of population growth, and the need for those people to live in homes. Jim Metcalf is dead-on in reminding people of that, and I still believe that normalized earnings power for USG is in excess of $3.50/share – if not higher, as I'm impressed by the performance of basically every non-domestic wallboard segment of the company. USG, as they say, is controlling everything they can control.
I see the more important issue here being the question of, even with essentially terrible news, why didn't the stock go down? With 20% of shares outstanding short, there is obviously a big bet in place that this stock is going to fall further. So when the stock moved up during the day – something it has so far continued to do as of mid-day Wednesday – I have to wonder if this is short covering, new buying interest, or what. The best answer I can construct is that the people who hold the majority of USG aren't going to be shaken out by news that housing is bad and is likely to remain bad.
The owners:
Berkshire Hathaway (17.24%)
Knauf (14.9%)
Fairholme (5.6%)
Third Avenue (4.9%)
Weitz (3%)
Cullen (0.000001%)
Adding in the shares held by insiders, you get very close to 50% ownership by committed, long-term shareholders. These shares are essentially off the table for trading, which I believe is a good explanation why average trading volume is down so much – kind of like the old joke that "no trading occurred on the NYSE today, everyone was happy with what they owned."
I was a bit early in believing that $36 was the bottom for USG shares, but I continue to believe the company will reward the patient by delivering above-average profits throughout a full housing cycle. If you haven't already, give my USG stock report a read for additional info on the value that can be realized here.