CME Group (NASDAQ:CME), formerly known as the Chicago Mercantile Exchange, trades derivatives including futures and options based on interest rates, equity indexes, foreign exchange, energy, agricultural commodities, rare and precious metals, weather and real estate.
CME Group is currently trading at $262.52 with a 52-week high of $304.61 and a 52-week low of $224.69.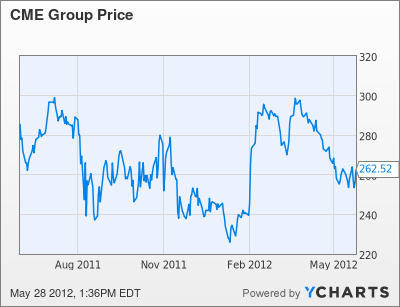 Upside
Hurricane season kicked off early this year with the first Tropical Storm, Beryl, which developed on May 26 off the coast of Florida. Hurricane derivatives are used by insurance companies to cover potential losses as a result of damage.
Strong agricultural demand is projected to keep net farm income historically high. As the demand for food increases, the supply of farmers is going to increase. George Soros and other investors have foreseen the increased demand. More farmers in the market place will increase the use of agricultural derivatives to hedge and speculate against prices.
In the article, Consider CME Group: It is a Different Kind of Financial Company, Helix Investment Management points out, "And as the economy recovers and Treasury yields rise,uncertainty over interest rates will benefit CME, according to KBW. CME is also working steadily to expand its international presence. " Michael Aneiro in the above article explains that the uncertainty over interest rates will result in higher fixed income trading volumes, resulting in banks using Treasury derivatives to hedge their exposure.
Downside
The main downside risk associated with CME Group is the MF Global fallout. However, CME Group was most likely not involved in any wrong-doing. After the collapse, it reacted immediately, to mitigate the situation and launched its own investigations into the incident. CME Group maintains it acted in accordance with the bankruptcy proceedings. Further, CME Group is communicating that it is doing everything in its power to expedite payout to former MF Global customers. The specter of regulation continues to rear its ugly head. However, CME Group argues self regulation works, and it will be reviewing and implementing new safe guards to prevent such an occurrence.
Random Occupation Risk remains as activist shareholders spoke out at a shareholders meeting. Their main complaint is CME Group received a tax break after it threatened to move out of Illinois.
There is competitive pressure from IntercontinentalExchange (NYSE:ICE), which released its own grain contracts (TURF WAR!). ICE is offering lower margin costs and the ability to trade a 22-hour day. The pits open early when government reports are released. CME Group responded by announcing plans to match the 22-hour trading day. It has the first-mover advantage and the loyalty of traders to the Chicago-based exchange. One concern raised is an increase in speculation due to the longer hours. Speculation will only increase volume and both the CME Group's and IntercontinentalExchange's revenue.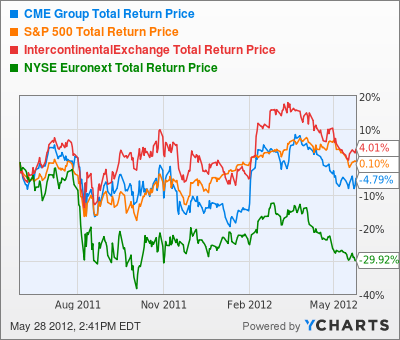 CME Group is currently underperforming the S&P 500 and its competitor IntercontinentalExchange. The price depression is a result of regulatory concerns and fading negative sentiment in the derivatives markets. As these fade and the United States goes back to business, CME Group provides an excellent investment opportunity.
Disclosure: I have no positions in any stocks mentioned, but may initiate a long position in CME over the next 72 hours.