For all of the talk of Microsoft (NASDAQ:MSFT) being an undervalued tech play, its share price has been treading water for some time now. In real (i.e. inflation-adjusted terms), its performance has basically been flat, even accounting for dividends for the past five years. Perhaps not coincidentally, the iPhone was launched five years ago and Microsoft has been playing catch-up to Apple (NASDAQ:AAPL) and Google (NASDAQ:GOOG) in the mobile space ever since.
That may be about to change.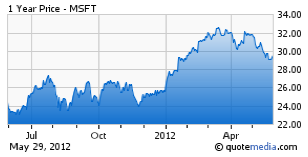 Microsoft's big bet on the modern smartphone market, Windows Phone, has actually overtaken Apple's iPhone in the world's biggest market, China, with devices using Microsoft's mobile OS capturing a 7% market share to the iPhone's 6%.
Windows-powered smartphones produced by Nokia (NYSE:NOK) took advantage of more consumer-friendly pricing to help Microsoft leapfrog Apple in China - and the fledgling gap could widen once Nokia begins selling even cheaper Windows Phone devices in the China market. Even more impressive for both Microsoft and Nokia is the fact that it accomplished the feat just two months after introducing the Lumia 800c to the Chinese market.
This is critical because China, owing to its massive (and growing) population and rising incomes, overtook the United States as the world's largest smartphone market in the 1st quarter. In fact, shipments of smartphones rose by just 5% in the United States during that period while shipments in China doubled.
It's not all roses for Microsoft in China, however: a 7% share is small compared to Google's immense 65% market share in China. Nokia's Lumia 900c, while cheaper than the iPhone at around $500 compared to the iPhone's $800, is still much more expensive than the cheapest Android handsets. These can sell for below $100 without a contract.
What's more, Windows Phone devices will also have to compete with Baidu's (NASDAQ:BIDU) $140 ChangHong 5018, which runs Baidu-Yi, an Android hybrid that gives users access to 300GB worth of free online storage through Baidu's Baidu NetDrive.
That is why it is critical for Nokia (and other Windows Phone partners) to deliver low-cost Windows Phone Handsets sooner rather than later; longer times-to-market mean that incumbents like Android and newer entrants such as Baidu-Yi will have more time to entrench themselves.
Of course, it's not all a China story - nor do Microsoft's fortunes ebb and flow with the current iteration of Windows Phone. In the 4th quarter, Microsoft is set to unveil Windows 8, which will unify its OS across all platforms - essentially traditional PC (enterprise or consumer) and mobile.
Reviews of pre-release versions of Windows 8 have been solid, if a little skeptical, with the biggest concerns coming from those having difficulty accepting the more mobile-centric aspects of Windows' forthcoming 'Metro' User Interface (UI).
Microsoft has gone to great lengths to assure customers that it won't be a confusing shift from existing versions of Windows, even going so far as to release just 4 versions of the device, though just 3 of these should matter to its retail customers - one for home use ("Windows 8 Home"), one for business ("Windows 8 Business"), one for mobile devices like smartphones and Tablets ("Windows RT" a.k.a. Windows on ARM). The fourth version is a bulk version for Enterprises that purchase large numbers of Windows licenses. Previous versions of Windows, such as Windows 7 and Vista, shipped with 6 different iterations.
The idea behind the trimmed-down product launch is that users attuned to the 'classic' windows desktop environment will not notice radical differences when using the Home and Business editions. The drastic changes to the Windows UI will be reserved for Windows RT, which should be just fine for existing users of Windows Phone as RT has basically the same interface.
Windows RT won't even be sold at the retail level and will instead be distributed as the OS running on tablets and smartphones, in the same way that iOS is not available to purchase separate from Apple's products. That means that there will really be just two versions of Windows 8 available at the retail level.
What's more, Microsoft has gone to great lengths to ensure that Windows RT smartphones can compete with the latest version of the iPhone and high-end Android devices. A frequent criticism of the current Windows phone iteration is that it does not support the latest hardware. That looks as though it's about to change: top Android device manufacturer Samsung (OTC:SSNLF) has indicated that its first Windows RT phone will be as good as its flagship Samsung Galaxy SIII, which runs Android.
Meanwhile, as a consequence of Windows RT's tight integration with its desktop and notebook counterparts, Windows RT devices might very well challenge Apple in the tablet space, where iOS is already seeing a feisty challenge from Android.
The fact of the matter is that, for all of the iPad's popularity, it is difficult to use for productivity-related tasks such as drafting memos or making simple spreadsheets - even a simple task such as e-mailing a picture requires the use of a different application from the main email app. It's a common refrain that it's better for content consumption rather than content creation.
True or not, it's probably to preserve this common notion that Microsoft has yet to ship a version of its ubiquitous Microsoft Office Suite for iOS - despite persistent rumors of its impending release. Whatever the case, a clear advantage in productivity case uses should make Windows RT the preferred solution for enterprises seeking to deploy tablets to its mobile workforce.
That said, Microsoft's dominance in the traditional PC and enterprise markets is unquestioned - it's already built into its price. Ultimately, the key for Microsoft will be its ability to make an impact in the mobile market by pushing Windows RT to as many users as possible.
As its experience in China and Russia has demonstrated, when its partners are able to bring the right product to the market in a reasonable amount of time, Microsoft's OS can compete and quickly catch-up to existing incumbents. Replicating this initial success will require Microsoft to push its partners like Nokia, Samsung and LG to deliver products that can succeed in markets with headroom for growth, such as Asia and Eastern Europe.
Conclusion
I believe that Windows 8, specifically its Windows RT variant, represents a huge opportunity for Microsoft to expand its dominance in the technology landscape - and also for investors to realize significant financial gains.
If executed properly, it can be the catalyst that propels Microsoft's stock to double its present level in the next two years.
Disclosure: I have no positions in any stocks mentioned, and no plans to initiate any positions within the next 72 hours.