We recently posted Part 6 of our "Building A DIY Dividend Portfolio" series, which highlighted our top-ranked dividend stocks in the Technology sector (see summary table below).
As we highlighted in Part 6, we believe that patiently waiting for a low-risk entry point for a given stock will drastically improve your long-term investment results. Just because a stock has a high Parsimony composite rating, it doesn't necessarily mean that you should run out and purchase it that day. We scan the charts of our top-rated stocks daily looking for strong levels of support and resistance, which ultimately helps us determine a target "Buy Zone" for each stock.
Tactical Strategy for the DIY Dividend Portfolio
As a follow up to Part 6 (Part 6b, if you will), below are our target "Buy Zones" for each of these top-rated Technology stocks. For the most part, Technology stocks have pulled-back in response to the recent correction in the broader market (remember that the Technology sector has the highest correlation to the S&P 500 of any sector). As you will see below, there are several stable Tech stocks that are currently offering investors some very attractive entry points right now.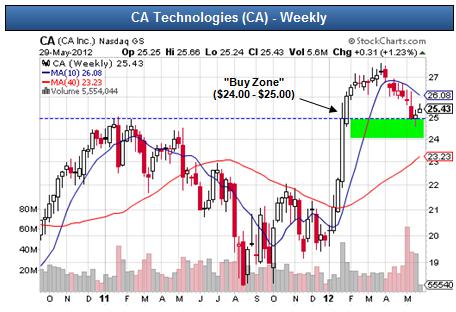 CA Technologies (NASDAQ:CA) is actually our top-rated stock in the Tech space. The Company has paid a stable dividend (with no dividend cuts) for over 20 years in a row, and it has very high sub-ratings for Financial Stability (97), Dividend History (98), and Dividend Potential (91). The upside resistance around the $25-level from early 2011 appears to have now become a level of support. The stock is very close to this level now and we would be a buyer on any further weakness.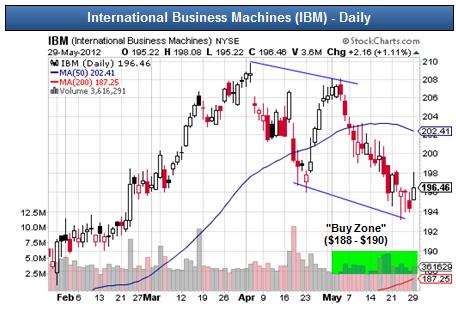 International Business Machines (NYSE:IBM) is only down about 6% since peaking in early April. However, the stock has been making a series of lower highs and lower lows lately, which tends to be a bearish technical signal. We are targeting a 10% total correction for the stock before we would consider opening a position, which puts our "Buy Zone" in the $188-$190 range. This "Buy Zone" is just above the 200-day moving average which should offer additional downside support.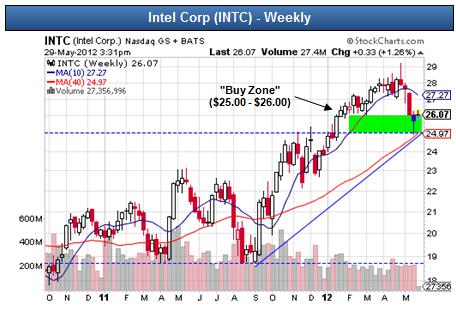 Intel Corp (NASDAQ:INTC) is now down over 10% from its recent peak and the stock is starting to look attractive at current levels. The 40-week moving average held as support last week and we think that the stock could bounce higher from here. With a current yield over 3%, it's a nice addition to a DIY Dividend Portfolio.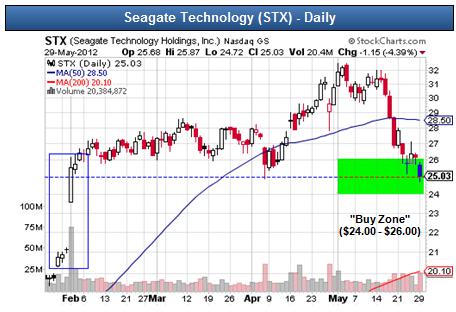 Seagate Technology (NASDAQ:STX) is the odd man out on this list of stable dividend payers. Seagate had some issues during the 2008 recession and the Company was forced to cut its dividend. That said, the Company hired a new CEO in early 2009 and we believe that Seagate is back on track. The stock has incredibly high sub-ratings for Financial Stability (96), Dividend Potential (99) and Relative Strength (98). Shares are down almost 25% since the April peak and we think that this is a very low-risk entry point for the stock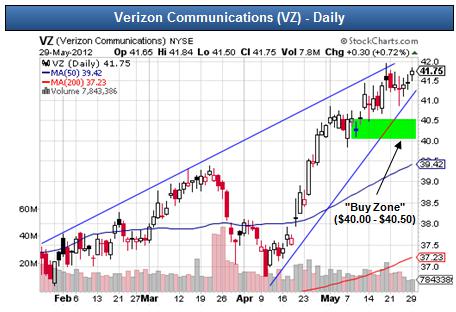 Verizon Communications (NYSE:VZ) is a stock that you love hate if you don't currently own it. The stock is actually up 13% since the broader market started correcting a bit in early April. You could argue that the stock is a steal with a 4.8% yield, but the stock's move higher over the past few months has almost been parabolic. The stock has to pull back at some point and we will be waiting with open arms.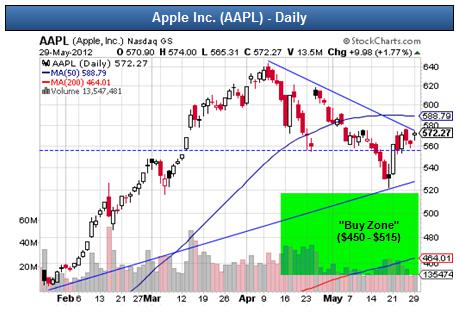 We include Apple (NASDAQ:AAPL) on this list as an "Honorable Mention" because all DIY Dividend Investors should have the stock on their radar. Proforma for the dividend that the Company expects to start paying in July, the stock would have an overall Parsimony rating of 91. While most Apple bulls do not agree with our "Buy Zone" of $450-$515 for the stock, we believe that our theory for the "Buy Zone" is sound
Summary
Investors should consider all of these top-rated Technolgy stocks for their DIY Dividend Portfolio, but please be patient with your entry points.
That said, CA Technologies, Intel and Seagate are currently in (or very close to) their respective "Buy Zones" and investors should feel free to pull the trigger on these stocks immediately.
Good luck out there ... be patient!
Please make sure to "follow" us as we will be continuing our DIY Dividend Portfolio series over the coming weeks. We will also update readers if there are any new stocks entering their "Buy Zones".