China Pharma Holdings, Inc. (NYSEMKT:CPHI) received SFDA approval for a generic version of Bumetanide injection, a diuretic that is given for a wide variety of indications, including hypertension and edema associated with congestive heart failure, cirrhosis, and renal disease.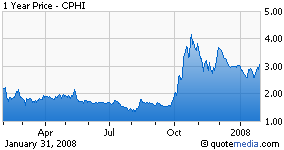 Ms. Zhilin Li, President and CEO of China Pharma Holdings, made the interesting observation that the approval shows the SFDA has now adjusted to the new drug approval regulations implemented on October 1, 2007, and is, once again, completing new drug applications. The Bumetanide ruling bodes well for other drugs that China Pharma has submitted for approval.
China Pharma Holdings also said its operating unit, Helpson Bio-pharmaceutical Co., Ltd., has the capacity to produce $2 million of Bumetanide annually. China Pharma will begin production and start to record revenues for the drug in March. The drug is already on the National Medical Reimbursement Insurance List in China. According to China Pharma, a medium size China hospital dispenses 8,000 doses of Bumetanide per month.
The Bumetanide injection will be added to the 15 pharmaceutical and two traditional Chinese medicines that are already offered by China Pharma. The list includes five drugs for infectious diseases, one for flu and cold, six for CNS and neurological indications, one for wound recovery and two nutritional supplements/traditional Chinese medicines (a detailed list is available on the company's website).
China Pharma continues to outdo itself in 2007. In the third quarter, its revenues jumped 65% to $8.3 million. For the first nine months of 2007, the company nearly doubled its top line to $24 million, producing a net profit of $8.8 million over the period. That represents a margin of 42%.
The most troubling item in its financial report is an accounts receivable of $17 million, which is way out of line for a company with $24 million in nine-months revenue. Further, the accounts receivable number is up 30% from December 2006. By contrast, China Pharma has just $1.7 million in cash and short-term notes that total $6.8 million.
China Pharma has 37.2 million shares outstanding, so at its present price of $3, the company has a market capitalization of $112 million. That is about 3.5 times probable 2007 revenues and 13 times earnings – both low valuations for a company whose revenues are growing at this pace. The problem with China Pharma is that its earnings statement is much stronger than its balance sheet, which needs a little work.
If China Pharma can repair those balance sheet problems, its stock price would benefit.
Disclosure: none.