This is the first of two articles in which I discuss the little known fact that in January, 2012 another company "acquired" a large portfolio of Nokia's (NYSE:NOK) most important patents.
It is commonly said that Nokia Corporation has a valuable patent portfolio and that it receives possibly as much as $5 for every iPhone sold by Apple Corporation (NASDAQ:AAPL) and that in the event of bankruptcy, those patents would be worth billions.
Think again, my friends, because Nokia has no valuable patents.
"What's that?" you cry? "Say it ain't so, Rookie!"
Well, maybe I exaggerate a little, and maybe Nokia still has almost 30,000 patents, but it seems to have pawned off all the really good stuff. Take a look at this press release
Las Vegas, January 12, 2012 - Sisvel International announced today that it has acquired 47 patent families comprised of more than 450 patents and applications originally filed by Nokia.
"Well, maybe so, Rookie,but most likely these patents are unimportant junk."
Read on.
The patents and patent applications cover technologies used in a wide range of mobile communications devices and services.

Thirty-three of the patent families, consisting of more than 350 patents and applications, have been declared essential by Nokia to second, third and fourth-generation communications standards, including GSM (Global Systems for Mobile communications), UMTS/WCDMA (Universal Mobile Telecommunications Service / Wide-Band Code Division Multiple Access) and LTE (Long Term Evolution)....Nokia is licensed under the portfolio as part of the acquisition.
So what are these patents, and did CEO Stephen Elop really sell Nokia's birthright for a mess of pottage, and exactly how much pottage and how much mess?
iRunway, a technology research firm specializing in litigation support and patent portfolio analysis, has released a comprehensive new report on the 4G-LTE patent landscape that identifies a coming wave of Smart phone patent litigation/licensing.
A few firms they say hold the majority of the patents necessary to build phones with 4G-LTE capacity, with a very large number of smaller firms also holding very small numbers of patents.
4G-LTE, also commonly known as LTE-Advanced or IMT-Advanced, is a mobile communication standard that has been set by the Third Generation Partnership Project (3GPP) as a major upgrade from the Long Term Evolution (LTE), or 3G, as it is more commonly known. The enhancements are mainly in the form of faster data transmission, more spectral efficiency, reduced latency and increased throughput.
Smart phone and tablets in both the developed and developing economies all across the world have increased demand for faster transmission of data. This need has exponentially increased with ever-increasing processor speeds in mobile devices.
Although global expansion of 3G networks continues, upgrade from 3G to 4G is inevitable in the long run.
4G technology, they say, could be incredibly important because even though the 4G technology is nowhere near perfect, the implications of this technology may be a game changer. Cell phones made the fixed-line phones almost obsolete and limited in their wide-spread use, arrival of 4G technology may considerable reduce demand for wired broadband services.
The study focused on which companies hold the seminal patents, important patents just one step down from the essential patents without which cell phone calls cannot be made at all.

So these are the "super six" of the 4G patent world. Samsung (OTC:SSNLF), Qualcom (NASDAQ:QCOM), Intel Corporation (NASDAQ:INTC), Ericsson (NASDAQ:ERIC), Interdigital (NASDAQ:IDCC), and Nokia. Notably missing from the list is Apple Corporation.
These seminal (or "strong") patents represent the top 5% of 4G-LTE patents, and here is what they said about Nokia: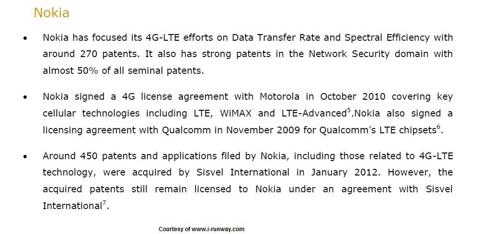 The Nokia investor relations web site has no sign whatsoever of a press release about this transaction, but Sisvel International was a little less bashful and released the press release quoted above.
Sisvel International is an Italian company often involved in patent litigation, commonly known as a patent troll, however it appears that its ongoing strategy may actually be to acquire collections of patents that will simplify cross licensing and patent licensing agreements to make life easier for technology firms not to get blindsided by lawsuits.
Here's what Forbes said:
What Sisvel is actually doing is taking over from Nokia (as it also does for some other companies) the boring and paperwork full process of licensing the patents. And for those who want to bring a new line of handsets to market, providing a one stop shop where they can sign up with Sisvel once and once only to get all of the patents they need...

So no need to run around ten or twenty different firms trying to buy access to the technologies needed. And perhaps more important than that, no change of finding out that you've made a mistake and are using something you need a licence for (as with Google's Android using Microsoft's FAT stack).

Perhaps this is a good example of how we know absolutely that the current patent system is a mess: that we seem to need an intermediary like Sisvel. But given that mess it's rather good that we've got one.
As will be seen in Part Two, Nokia stated at their most recent earnings call that their royalties income is about half a billion dollars per year and rising. I suspect, on balance that this arrangement with Sisvel will prove to be a cost effective way of leveraging the patent portfolio, and will be beneficial long term for the company.
However I can also see that short siders may see this as further proof that the CEO is an incompetent booby selling the family jewels to keep a desperate company afloat for another quarter or two without regard for its future. This is not my personal point of view, but an attempt to cover all angles.
This article will be continued in Part Two which discusses what we know about how much Nokia received from this agreement and how we know it.