Constructing the perfect holdings portfolio often requires increasing one's own expertise in a certain field. Quite often for investors choosing their own stocks, it's easy to fall into the trap of centralizing their investments around a limited perspective of a single goal. If you're looking for high dividend yields, the portfolio will begin to revolve around a plethora of REITs, MLPs, utilities, tobacco companies, etc.
But for many investors, balancing out a portfolio that can operate in any economic environment essentially requires moving beyond the scope of like-minded investments. For instance, a portfolio of safe blue chip stocks can easily miss out on the nimble growth opportunity of smaller companies. Yet balancing this predominantly large-cap portfolio with a lucrative small-cap opportunity can provide limited offsetting exposure to such a portfolio. The following companies offers a few distinct categorical advantages that, when used properly, can serve as an advantageous supplement to any portfolio.
A play on an enduring monopoly - Google (NASDAQ:GOOG)
The company's name itself has seemingly become synonymous with internet search. So much so, that the company's most recent challenge to its trademark name comes from a lawsuit claiming Google's popularity has transformed the name into a verb that means "to search the internet."
With control of more than 68% of the global query volume, Google remains the keeper when it comes to the Internet's primal gateway of the search bar. Such a practical monopoly over this large and growing industry allows this company to comfortably expand into innovative sectors with the potential to be game-changing. Nevertheless, as the Internet grows in size, expect Google to be the on the forefront of those profiting most favorably.
A play on income growth - Johnson & Johnson (NYSE:JNJ)
The company stands as a stable giant in the field of healthcare worldwide. With everything from consumer products, to prescription drugs, and even medical devices, Johnson & Johnson offers profitable stability for its investors. Likewise, it's consistent return of value to shareholders stands as a viable testament to its worth as an investment.
As seen in it's dividend history performance marked in the graphic below, the company's consistency in growing its payouts is what characterizes this company as a stable play on income growth. The company currently supports a 3.9% yield, and it's payout ratio is a sustainable 62% as of May 29, 2012.
Click to enlarge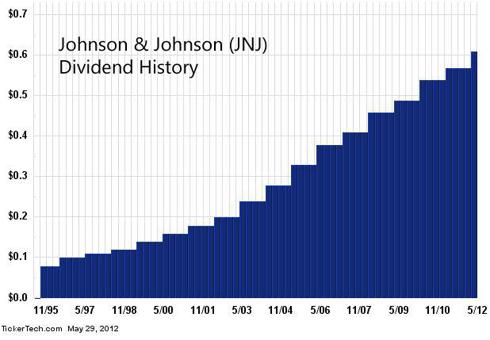 A play on Speculative Growth - Solazyme (SZYM)
As a unique renewable oil maker and innovator, Solazyme specializes in converting low-cost sugars into high-valued triglyceride oils that serve as direct drop-in replacements for petroleum, plant oils, and animal fats. Though often errantly associated with a struggling industry found in biofuels, Solazyme's current emphasis on cosmetics, food, and chemicals highlights its capacity to address high-margin markets in a sustainable fashion.
With key partners including large names such as Bunge (NYSE:BG), Chevron (NYSE:CVX), Dow Chemicals (NYSE:DOW), Unilever (NYSE:UL), and the US Navy to list a few, Solazyme remains under the radar in the light of its current lack of profitability and the erroneous public perception concerning its supposed industry. Yet hindered only by a need for commercial scale manufacturing capacity, a task currently being addressed through several joint ventures, the company's progress has remained on par with its clear guidance. With the capability to address a market worth over $3.1 trillion dollars, Solazyme stands as the ideal speculative growth play.
A play on International Value - Xinyuan Real Estate (NYSE:XIN)
As far as international value plays go, small-cap Chinese stocks top the list when it comes to being discounted. With anxiety remaining high over the validity of Chinese operations in the light of last year's fraudulence fiasco found here on the American exchanges, the confidence of the investment base has yet to normalize. Yet while most of this fraudulent activity took place in companies that conducted reverse mergers, companies that underwent a legitimate IPO process like Xinyuan continue to face much of the same fears that suppress their valuations.
Still, as the first Chinese real estate developer to list on the NYSE, Xinyuan continues to merit additional consideration. The company has a stock buyback program in place along with a dividend. It recently increased its dividend and converted it from an annual to quarterly basis. With a current market capitalization of $233 million and a price tag of $3.19/ADS, the company's value falls far short of the $656 million book value and $8.99/ADS it reported this last quarter. With a current 5% dividend and $516 million in cash and restricted cash, Xinyuan's current scenario clearly fits the role of an international value play.
Please refer to my standard disclaimer statement found here.