Nokia (NYSE:NOK) is a Finnish company, with a long and successful history in manufacturing and telecommunications infrastructure hardware, software, and services worldwide. The company offers smart phones and smart devices, and feature phones and related services and applications.
Lately, it has suffered a severe downturn in business, as it failed to realize the shortcomings of its proprietary operating system and lost share in both standard feature and smartphone segments. The share price has been driven down to a 52-week low of $2.68, and a high of $7.38. It currently pay a 6.4% dividend. According to a May 25th Ford Equity Research Report, it has a book value per share of $4.13.
Click to enlarge

Click to enlarge
Most news reports and articles focus on the financial condition of the company which is dire, and the shortcomings of the past executive management. I am focused on the market potential of the company and the possibility of a successful recovery.
Last month, I had the good fortune to be invited to review Windows 8 on a Samsung tablet and the Nokia Lumina 900 while in Seattle. Nokia had been on my watch list since Microsoft (NASDAQ:MSFT) announced its funding and support of Nokia. I left that meeting very impressed with both Windows 8 and most importantly the Lumina 900 with the new operating system.
I believe that Microsoft has designed an operating system that will be very competitive with both Apple and Google. One aspect of its relationship is that Nokia will not be offering a copycat phone. It is bringing to market a device and OS that give consumers a viable third choice. It did not copy Apple or Google. Instead, Microsoft designed a smartphone operating system that looks and works differently from the market leaders. It is a beautiful design and coupled with the Nokia hardware should be a force in the smart phone market.
If Nokia was standing alone in this effort, I would not have purchased shares so quickly. There is a possibility that it will not succeed and with shares trading near an all-time low, it is speculative. But it is not entering the market without considerable support. The alliance with Microsoft adds critical marketing power in the consumer market and with Microsoft's presence in the enterprise, it increases the probability of Nokia taking share from Blackberry (RIMM).
There are challenges and headwinds, but after seeing the powerful combination of software and hardware in action, I bought shares in Nokia. I was early and should have waited for a further downturn. Purchasing when I did met my critical analysis, but the price is lower now. I remain convicted and added an options straddle allowing me to benefit from the upside I anticipate. I bought twice as many calls as sold puts.
Options:
Sold Jan 2013 Put with a strike of $2.5 and a premium of $.44
Bought Jan 2013 Call with a strike of $5.00 and a premium of $.20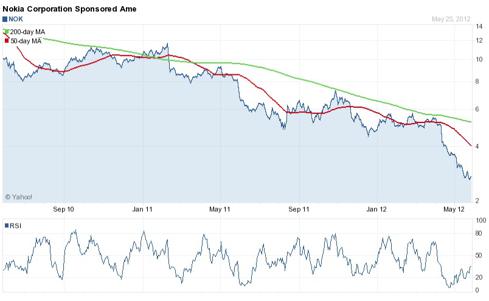 Click to enlarge
There is a risk to entering a position with any company suffering a downturn in business, but with strategic partners like Microsoft and carrier support, there is a reasonable chance for recovery. There has also been talk of Facebook's (NASDAQ:FB) desire to market its own phone. With Microsoft owning 1.6% of Facebook, tying Bing more closely with Facebook and supporting Nokia, wouldn't it make sense for Facebook to align with Nokia and Microsoft and bring to market a Facebook smartphone made by Nokia, powered by Microsoft and marketed by Facebook? I didn't invest based on this notion, but stranger things have happened in the wild world of technology.