Oracle Corporation (NASDAQ:ORCL) shares were recently trading around $30, but the stock has dropped with the markets and now looks ripe for accumulation at just about $26 per share. Oracle has become a technology giant thanks to numerous acquisitions, brilliant management, and innovative software development. Oracle provides IT (information technology) services and products with both hardware and software offerings. Here are a few reasons to start buying Oracle now, and add on any further dips in the stock price: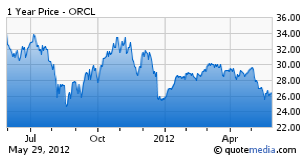 1. Larry Ellison is the long-time CEO of Oracle. As investors at Yahoo!, Inc. (NASDAQ:YHOO), Hewlett-Packard (NYSE:HPQ), and Research in Motion (RIMM) have learned, it can be costly to invest in a company that lacks stable and forward-thinking management. It's important to note that Larry Ellison has clearly proven his ability to manage and adapt in the ever-changing tech sector for decades. He also is the founder of Oracle and continues to have significant levels of stock ownership which means investors are likely to remain well-rewarded by Mr. Ellison and his proven team of managers. (Mark Hurd is the President of Oracle, and was the former CEO of Hewlett-Packard.)
2. Oracle appears undervalued at just about $26 per share. The company has a rock-solid balance sheet with almost $30 billion in cash and about $15 billion in long-term debt. It is trading for just over 10 times earnings, which is below the average price to earnings ratio for stocks in the S&P 500 Index, and much cheaper than many tech stocks.
3. Much of the weakness in Oracle stock appears to be related to the general weakness in the markets. When markets plunge over concerns about European debt issues and other factors that are not company specific, it's often a buying opportunity for savvy investors to pick up undervalued stocks that are executing well in spite of global issues. Quality stocks are not immune from market downturns, however, they are often the first to bounce back when investors see the world with more optimism. Oracle appears to offer quality in terms of management, balance sheet strength, product offerings and customer base. This is why the stock has solid upside potential for patient investors.
4. Oracle has been reporting solid financial results, especially when considering that the global economy is not running at optimal levels. For the third fiscal quarter of 2012, the company announced that GAAP total revenues were up 3% to $9 billion, and GAAP earnings of 49 cents per share. Oracle also stated it is achieving record high profit margins and it has a record backlog of orders for hardware in the coming fourth quarter. These results are impressive considering that many large tech companies are seeing a decline in revenues and profit margins due to increased competition and weak demand.
Finally, investors should also consider that Oracle does offer a dividend that almost yields 1%. While this does not seem like much when compared to some dividend stocks, it is more than what most tech stocks offer, and most importantly, the dividend has room to be increased in the future because the payout ratio is only around 10%.
Key Data Points For Oracle From Yahoo Finance:
Current price: $26.46
52-Week Range: $24.72 to $34.30
Dividend: 24 cents per share which yields .9%
2012 Earnings Estimate: $2.42 per share
2013 Earnings Estimate: $2.63 per share
P/E Ratio: about 10 times earnings
Hewlett-Packard shares also look very undervalued but this company is seeing revenues decline in certain divisions and it is even planning for layoffs. While shareholders of this company have suffered since Mark Hurd left the company and went to Oracle, it does appear to have found a stable and solid CEO with Meg Whitman. Investors with patience should consider this turnaround candidate.
Key Data Points For Hewlett-Packard From Yahoo Finance:
Current Share Price: $22.80
52-Week Range: $20.57 to $37.70
Dividend: 53 cents which provides a yield of 2.4%
2012 Earnings Estimate: $4.07 per share
2013 Earnings Estimate: $4.43 per share
P/E Ratio: about 5.5 times earnings
Data is sourced from Yahoo Finance.
Disclosure: I am long HPQ.