India ETF investors should benefit from two reforms announced Tuesday by the Indian government aimed at stabilizing the value of the rupee and increasing global participation in India's capital markets.
To help stabilize the weakening rupee, the government is allowing more foreign ownership of corporate bonds and mutual fund debt. In addition it is streamlining the process for retail investors to open rupee denominated accounts and not limiting the holding period. These moves and others were reported by the Wall Street Journal Tuesday. These reforms are designed to counteract the rupee's decline in value. Over the last month, the rupee has plummeted versus the U.S. Dollar and hit record lows. Here's a two year chart from Yahoo Finance comparing the U.S. Dollar to the India Rupee. It clearly shows the U.S. Dollar's growing strength against the rupee, which does not bode well for India.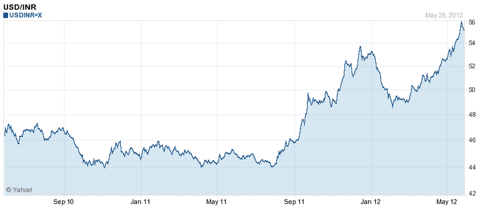 Click to enlarge
(Click to enlarge)
Besides the reforms relating to the rupee, the government announced that they were easing restrictions on retail foreign investors. Now members of the Gulf Cooperation Council as well as members of the European Council will not be restricted from investing in India going forward. This opens Indian capital markets to 33 more countries on the heels of the easing of restriction to other foreign investors in January. Especially important is the opening of Indian capital markets to the GCC as large scale investment interest has been reported from that region.
Markets responded positively to both of these announcements on Tuesday with almost all non leveraged India ETF gaining 1% - 2% according to the IndiaETFs.com performance grid. Leading the pack were INDA and SCIF, gaining around 2% for the day. The two largest India ETFs, EPI and PIN, gained 1.3 and 1% respectively. Here's the snapshot.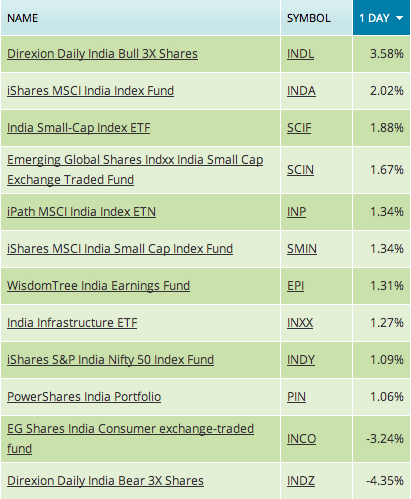 While both reforms won't magically solve the Indian equity market or rupee slump, they do point to an Indian government that seems to be in the mood to make policy changes to combat growing internal issues. This perception itself is positive for the markets and the rupee. Should continued reforms be announced and executed on, India will begin to head back to the promise it has held for India ETF investors as recently as early 2012.
Disclosure: I have no positions in any stocks mentioned, and no plans to initiate any positions within the next 72 hours.