OmniVision Technologies, Inc. (NASDAQ:OVTI) engages in designing, developing, and marketing semiconductor image-sensor devices worldwide. The company primarily offers CameraChip image sensors, which are single-chip solutions that integrate various functions, such as image capture, image processing, color processing, signal conversion, and output of a processed image or video stream for use in various consumer and commercial mass-market applications; and CameraCube imaging devices that are image sensors with integrated wafer-level optics. It operates in Semiconductor - Integrated Circuits industry.
It is scheduled to report its Q4 FY2012 results on May 31, 2012, after the market closes.
Recent EPS Actuals vs. Estimates
The company has met or exceeded analyst estimates in the last four quarters. In the last quarter it reported $0.13 EPS in-line with analyst estimates.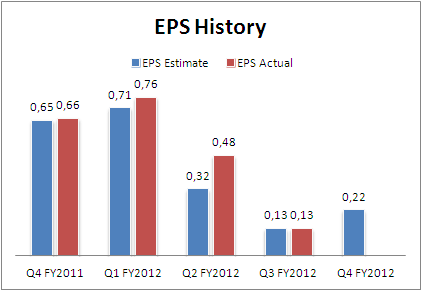 Analyst Estimates
The consensus for EPS is $0.22 based on 10 analysts' estimates, down from $0.66 a year ago. Revenue estimates are $205M, down from $258M a year ago. The median target price by analysts for the stock is $21.5.
Average recommendation: Overweight
Source: Marketwatch
Analyst Upgrades and Downgrades
On April 25, 2012, Northland Securities initiated Outperform rating for the company. On March 6, 2012, Robert W. Baird upgraded the company from Neutral to Outperform.
Key Metrics
Market cap: $742.43B
52-week trading range: 10.15 - 35.54
Trailing P/E: 8.85
Forward P/E: 9.85
P/S: 0.79
P/B: 0.99
PEG Ratio: 0.59
Annual dividend yield: N/A
Total debt: $48.4M
Return on Equity: 13.45%
Return on Assets: 6.19%
Fair Value Calculations
I will run you through my DCF model to get the fair value of equity. In particular I will be using free cash flow to the firm FCFF model to evaluate the stock. Feel free to share your opinion regarding the assumptions I made for this valuation.
Let's start with the top line. The company recorded $956M revenue in 2011, which represented 58.8% growth Year/Year. In 2010 revenue grew by 18.74% compared with 2009. In 2012, however, I predict that the company will record lower $973M revenue, and modest 2.13% recovery in 2013. I predict 2% growth for the rest of the projected period.
Coming down to the cost side I predict COGS 70%, SG&A 18% and EBIT margin 10-11% of revenue for the projected period. Interest expense should stay at around 2.5% of the long-term debt. I forecast taxes to be 18% on average for the projected period, even though in the last years taxes paid were much lower.
Then I subtract increases in working capital and capital expenditures. I model working capital to increase 10% of the revenue increase per annum. Capital expenditures should stay at 15% of the net income.
This model uses WACC to discount FCFF backwards to find out the present value. Beta of this stock is 1.65. I project the WACC to be 15.05%. WACC is quite high for this company because of low debt and relatively high beta. I will not adjust it for the sake of neutral valuation.
To get the value of the firm we need to discount the projected FCFF by WACC and add the terminal value at the end of the 5-year period by calculating a perpetuity with the growth of 2% and 15.05% WACC.
I get the value of equity by subtracting the market value of debt and adding back current cash and marketable securities.
Fair value per share is $19.39 with the assumption I made, which means the stock is more than 36% undervalued.
A good sign is that the company has relatively a lot of cash, just above $4 per share. Last closing price was $14.19.
Latest Developments
On May 22, 2012, OmniVision announces two 16MP image sensors for smartphones and digital cameras. The chips are capable of taking 60 fps video at full resolution (3840x2160), and also support burst photography at 16MP. Smartphone vendors are pulling out all the stops to differentiate themselves, and OmniVision needs the margin boost provided by high-end sensors, given tough competition from Sony (NYSE:SNE) and others.
On April 10, 2012, OmniVision's ultra-compact image sensor enables ambu's single-use intubation scope.
Insider Trading
In the last 3 months there were no reported significant trading by insiders. There were 3,000 stocks awarded to COO.
Competitors
Technical Insight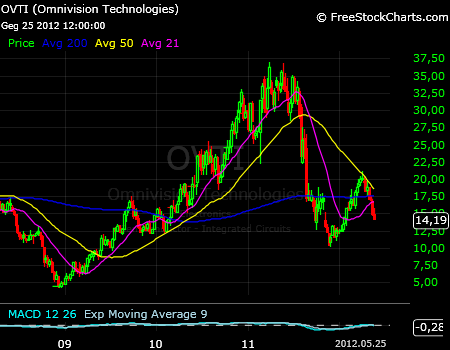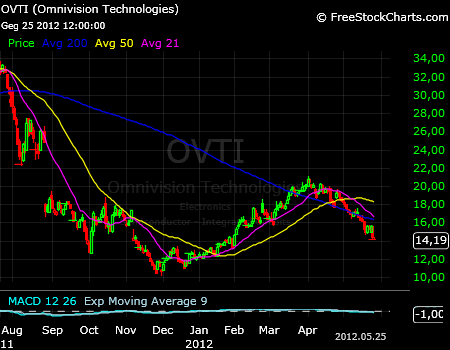 Above are the weekly and daily charts for OVTI. On the weekly chart you can see the downtrend from the middle of 2011 and then a bounce back to test the 50-week moving average. Afterwards it has all gone down. The stock is trading below 21-, 50- and 200-week and day averages on both charts and looking from a technical perspective only, I would suggest it may test the support at $10, before making a move north.
This is just simple technical insight, however, you should look for fundamental changes and news for the stock, including the upcoming quarter results and conference call.
Sources: Yahoo Finance, Google Finance, CNBC, Marketwatch, Reuters.
Disclosure: I am long AAPL.