Shares of auto service company Pep Boys (NYSE:PBY) are trading sharply lower on Wednesday after the company announced that The Gores Group has terminated its offer to buy the company for $15 per share. While the termination of the deal has certainly come as a surprise to some, shares of PBY had already fallen significantly from the $15 level after a weak Q1 earnings report.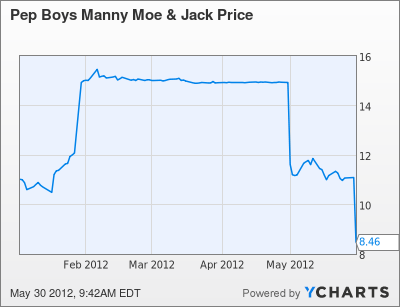 Termination Fee
PBY said it will receive a $50 million settlement from The Gores Group as a termination fee. While the fee does not seem that large, it is significant for PBY as the company's market cap is just $450 million. There are currently 52 million shares of PBY outstanding, this means that shareholders are getting nearly $1 per share in the settlement. The company said that it will use the proceeds of the settlement to pay off debt.
Valuation
After Wednesday's fall, PBY is now trading below its book value of $9.56 per share. Similar companies are trading at much higher prices relative to book value. Advance Auto Parts (NYSE:AAP) trades at over five times book value while Monro Muffler Brake Inc (NASDAQ:MNRO) trades at nearly four times book value.
Earnings Problems
PBY has struggled to grow earnings recently. The company earned 54 cents per share for fiscal 2012 compared to 69 cents per share in fiscal 2011. During the same period, revenue rose from $1.988 billion to $2.063 billion. The earnings issues are certainly a negative for PBY.
Short Interest
Short interest in PBY currently stands at 4.82 million shares or 11% of the float. If any positive news comes out, a short squeeze is certainly possible. It is also possible that short sellers use the sell-off following termination of the takeover to cover and lock in gains.
My Take
Because of the reasonable valuation, large termination fee, and high short interest I think PBY is an interesting speculation at these levels. If the company can improve operationally, I believe the shares have significant upside.
Disclosure: I have no positions in any stocks mentioned, and no plans to initiate any positions within the next 72 hours.