Seth Klarman's Baupost Group is one of the largest hedge funds and regarded very highly in the world of "Graham-Dodd" value investors. Seth Klarman is also the author of "Margin of Safety" (which is out of print and retails for $1,500), which reflects his views on investing and he is revered among investors. After graduating from Harvard Business School one of his professors, Bill Poorvu (also known as a shrewd real-estate investor), asked him to help manage money for his company Baupost (which combines the names of his partners Howard Stevenson, Jordan Baruch and Isaac Auerbach).
While Baupost is not solely focused on U.S. equities, because of Klarman's long-term view and relatively low turnover, there is a lot of information to be gleaned from looking at his reported equity positions over time. This reason, coupled with Klarman's stock-picking ability, makes Baupost one of the more profitable funds to clone over time and is included in our AlphaStratus Select portfolio.
In Q4 of last year, Klarman made some big changes in the portfolio, most notably:
Shares in Theravance Inc. (THRX) increasing 42%
Shares in NovaGold (NYSEMKT:NG) Increasing 49%
Shares in PDL BioPharma (NASDAQ:PDLI) decreasing 49%
Shares in Idenix Pharma (NASDAQ:IDIX) increasing 127%
In Q1 of this year, Klarman didn't add any new stocks but dropped: PDL BioPharma, Targacept Inc. and Genworth Financial (which was a top 10 position). Notable changes among top 10 positions in Q1 include:
Reducing shares in BP by 22%
Reducing shares in Microsoft (NASDAQ:MSFT) by 42%
Increased shares in IDIX by 46% (combined with an increase in market value to make it a top 10 position)
Increased shares in NG by 34% (now a top 10 position)

NovaGold was a new position in Q3 2011 (5M shares) and Klarman added 2.5M shares in Q4 2011 and another 2.5M in Q1 2012. This is a popular stock among hedge funds with Tradewinds, Paulson & Co., York, Chilton and Blue Ridge all holding meaningful positions: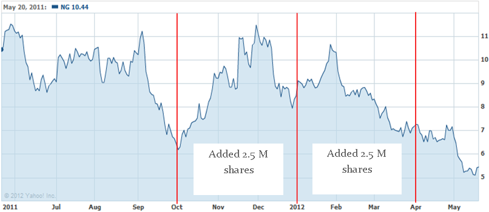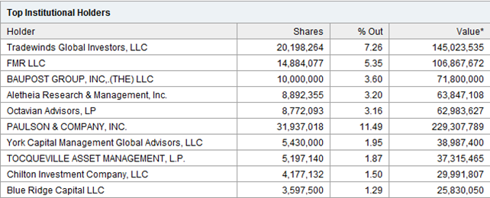 Idenix Pharmaceuticals Inc. started in the portfolio in Q2 2011 at 1.2M shares ($6.2M dollars). Klarman has added significantly to this position every quarter since and the position now stands at $81M and represents about 3% of all reported longs (and is a top 10 position):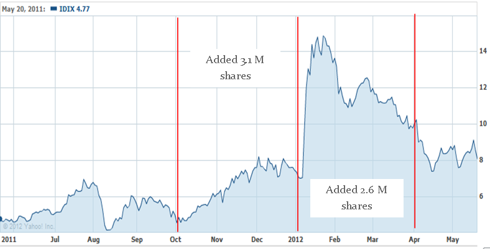 Disclosure: I have no positions in any stocks mentioned, and no plans to initiate any positions within the next 72 hours.