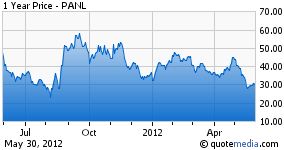 Universal Display Corporation (NASDAQ:PANL) is a technology company involved in the development of a host of OLED technologies. It was suggested to us in response to an article about the retina revolution, the trend toward higher density displays.
Universal Display Corporation engages in the research, development and commercialization of organic light emitting diode ((NASDAQ:OLED)) technologies and materials for use in flat panel display, solid-state lighting, and other product applications. It owns exclusively license or has the sole right to sublicense approximately 1,400 patents issued and pending worldwide. (Yahoo)
One might want to click that link for an overview of the technologies involved, and the strategic relationships with the likes of Samsung (OTC:SSNLF), LG (NYSE:LPL), AU Optronics (NYSE:AUO), Sony (NYSE:SNE), Pioneer, Panasonic (PC) and a host of others.
It is on a rampant growth path, doubling sales in 2010 and 2011, and while expectations for this year are not quite up there (some estimated 75% revenue growth), it will be clear to all that OLED screens have taken off in the mobile phone market but bigger markets are about to be taken on with the appearance of whopping big OLED TVs from Samsung and LG.
The company also has a very healthy balance sheet with no debt and $300M+ in cash, and it is operationally cash flow positive. Out of $60M revenue in 2011, $37M was from material sales (patented molecules, with 90% gross margin) and the rest from license sales (where they have a 97% gross margin) and OLED lighting.
Some Basic Metrics
From Yahoo:
Market cap: $1.39B on 46.4M shares outstanding (12.62% held by insiders and 13.54M shares short)
Revenue (12 months to date): $64.31M
Cash $338.58M with zero debt
Cash flow from operations has turned positive last year
Analysts on average expect 73 cents in profits this year, rising to $1.74 next year, quite a rise if that would materialize
Q1 2012
That was a bit of a disappointing quarter when EPS missed expectations (4 cents profit), turning a loss of 3 cents. If one would include Samsung license payments, which come in Q2 and Q4 ($30M in total), smoothing out these payments as it were, the loss of 3 cents per share would turn into a profit of 10 cents.
Yet the shares sold of steeply while the first quarter is the seasonal low point in consumer electronics anyway. The company didn't reduce its full year revenue guidance of $90-$110M. Most analyst were distinctly unperturbed and negotiations with LG for a long-term license agreement have been initiated.
OLED
This is a flat-screen (like LCD or plasma) technology touted for many years as the next big screen technology.
An OLED is layers of film between two pieces of glass and one of the layers of that film are self immersive molecules, so when you turn them on, when you put current in to them, the molecules actually light up (PANL at JPMorgan Conference Call)
It has numerous inherent advantages:
Much faster response times
Much less energy use
Much better contrast rates
Much better color reproduction
Much thinner panels
Near infinite viewing angles
In short, OLED screens are really an order of magnitude better than LCDs. The big OLED TVs from LG and Samsung that are now coming on the market are real show stoppers. One problem was the degradation of the materials over time, but improvements have been made for OLED to be suitable for TVs although the durability of blue emissive material remains the weak point. There is still a race on for those that can make it last longer (with PANL very much in it).
The remaining problem - price. At 9,000 British pounds, this isn't a mass market technology (well, it is in smaller OLED screens used in smart phones), at least not yet.
But volume production, competition and economies of learning will make these panels cheaper, just like these forces did with other technologies. Who would have thought one could buy a 23 inch high quality IPS monitor for less than $200 even a year ago?
The Patents
Since PANL's competitive position depends to a large extent on those 1,400 patents, these matter a great deal. For instance, the company holds a host of patents worldwide on 'phosphorescence,' a process that makes OLED screens light up but with 75% less energy used. There are obvious benefits:
So if you put it in your cell phone you extend the battery life, if you put it in large area TVs the circuitry could be less robust and you don't have to spend as much money on managing the heat and that process of phosphorescence is really the key to the first level of patterns that we have. (PANL at JPMorgan Conference Call)
Well, PANL's patent position here is very solid, but that position was dented somewhat when Japan denied some of the most broadest claims:
What they said is for our organometallic iridium complex patent, they acknowledge our invention and they upheld most of the patent, but they rejected the first three claims. And in the first three claims, it is very broad claims. (PANL at JPMorgan Conference Call)
This isn't a body blow as Japan is known for its very narrow interpretations of patents and these claims are still upheld outside Japan and they hold some 1,400 other patents. But the stock price took quite a beating. The company noticed this:
the exact same claims were just upheld in Europe and they are valid in the U.S., in Korea, in China, in Taiwan, and in other jurisdictions. The second decision that just came down was at a trial court level, which essentially is the same thing, it recognized our invention of phosphorescent technology. It recognized the force, but they did not recognized the full scope. So, essentially, they invalidated a number of the first few claims, but gave us the remainder of the claims.

We do not believe that any of these decisions will impair our ability to license our technology in Japan or any place sales in the world based upon these decisions.

We do not believe anybody can make a phosphorescent emitter that does not violate our patents. Today, all the phosphorescent emitters are organometallic iridium complexes, they are dealing ones at work in products and our patents have been issued around the world. So, we do not believe anybody can make them without violating our patents. (PANL at JPMorgan Conference Call)
They also still have a right to appeal. Analyst opinions differ:
In a note to clients today, Piper Jaffray's Jagadish Iyer reiterated an Underweight rating on Universal stock, writing that "While it is premature to infer on the implications given that PANL has a vault of 1,400 patents, it clearly suggests that it there is a window open for competitors to pursue OLED opportunities by circumventing some of PANL's patents within Japan."
However, not everybody is as alarmed:
Samsung is in no way breaching or "working around" the patent license that they have executed with PANL. Samsung appears to be aggressively pursuing a cost down program at SMD and they are likely evaluating the use of fluorescent host materials and emitters. Samsung has found that the cost differential for a 4.8" panel is $0.10 between fluorescent and phosphorescent host and emitter materials. We also believe that Samsung had found that the green host and emitter materials from PANL were very efficient and that this posed some short term problems with their current process technology that affected image quality. Samsung has now found a solution for this problem and will have it fully implemented no later than Q1 2013. This research leads us to conclude that Samsung will initiate a new purchase of green host and emitters from PANL in the CY Q4 timeframe. (Barrons)
Still, it could affect some of the deals in Japan:
.. to supply "PHOLED" material to Tohoku Pioneer for displays; a deal with Panasonic for lighting products; a deal with Sony for AMOLED display products, and some PHOLED materials for "evaluation" - materials for lighting products from Konica Minolta; and a license agreement from 2009 with Showa Denko for lighting products. (Barrons)
With both LG and Samsung hitting it off with big OLED TVs, Korea seems to be the more important market.
Other developments
OLED materials are actually the simplest part of the displays, they're bendable and flexible and you can play around with them. The difficult part is the encapsulation that keeps the organic material from degrading. As of yet, glass is used to protect OLEDs from oxygen and moisture, to keep them from degrading. Samsung already has a prototype cellphone display without glass. Since broken glass is the number one reason for returning a tablet or smart phone, having an unbreakable display is quite desirable.
PANL was actually founded (in 1994) on the vision of a rollable display and they're actively working on this as well.
Mass manufacturing OLED panels is, needless to say, the holy grail for this company. The Samsung 55 inch TV that arrived on the market this year uses Vitex (a small Californian company) technology. This technology:
... is a multi-layer encapsulation process. So you literally take your device and put it into a chamber where you put a polymer on it, then you need to pull it out and you actually turn it into different directions, so that you have different directions as moisture barriers and oxygen barriers. We don't believe that is a real high volume manufacturable process. Our process is a single layer of material that you deposit in a sputtering chamber. And we're scaling it up, is it probably not 2013 in high volume but it could be beyond that. (PANL at JPMorgan Conference Call)
Before you race off to buy PANL shares after reading this, there are, in all likelihood, other companies working on the same problem and it remains to be seen which one gets there first and/or offers the best/cheapest encapsulation technology. But that PANL has a good shot at this seems pretty clear.
Share price
We're inclined to say that the shares have been punished enough. The shares are half the value they were in April and October last year.
(Click to enlarge)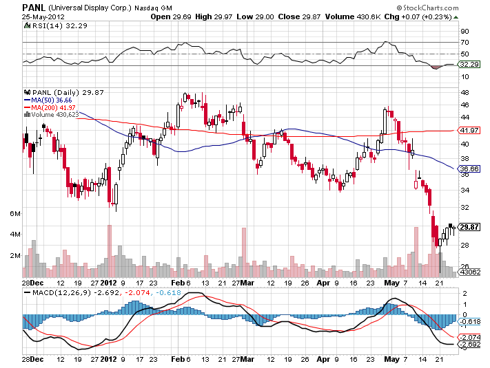 Their patent and technological position is still very strong, even after the Japanese setback. With OLED screens taking off seriously and with the company issuing statements like "we do not believe anybody can make a phosphorescent emitter that does not violate our patents," we think most of the bad news is priced in.
While one should always keep an eye firmly on the competition in fast moving technology markets, the strong technological basis gives it a firm position in the OLED market for some time to come. Buy on dips, unless we have a market crash, or competition coming up with something better and/or cheaper, we can't see the shares much lower.
Disclosure: I have no positions in any stocks mentioned, but may initiate a long position in PANL over the next 72 hours.