In the past month I've been saying that not only should natural gas (NYSEARCA:UNG) go up during 2013, as I explained in my article "Natural Gas Might Produce A Fracking Miracle In 2013", but could also start up during 2012, due to heavy coal (NYSEARCA:KOL) to natural gas switching in the generation of electricity. Natural gas behaved mostly as expected since I went positive on it, rallying in excess of 40% in a single month. In the past week, though, we've seen quite an aggressive correction.
The fundamentals, even with last week's 77 bcf inventory build - which was perhaps what sparked the present correction - continue to be supportive of further gains. Indeed, the 77 bcf build falls within the expectations of the model that made me turn positive on natural gas for 2012, as this model called for an average build of 75 bcf per week during May. The actual builds up to this point are averaging lower than that so the model continues to be valid.
However, there's something in this past week's EIA natural gas weekly update that could have gone unnoticed. It's a small chart, in the bottom left corner of the report, and it goes like this: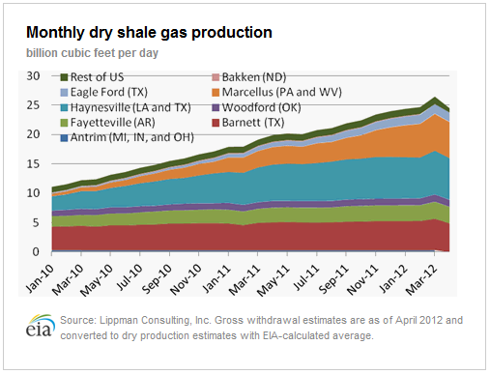 Click to enlarge
What does this chart show? It shows that dry shale gas production, previously in a rampant trend upwards, has stopped growing. And indeed, it reversed course and is now going down. This is the result of both the rapid depletion of existing shale wells, and the removal of dry gas rigs from exploration. These two facts are illustrated below (the first chart is the theoretical production decline over time for a horizontal natural gas well, reaching an 80% decline in the first year of production as per Geology.com; the second shows the decline in natural gas rigs - line in red - as per EIA):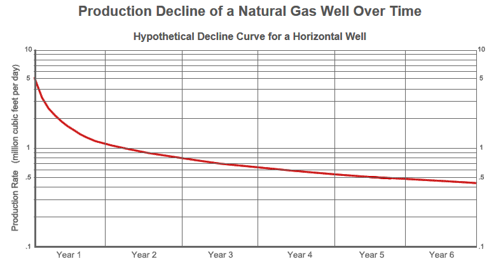 Click to enlarge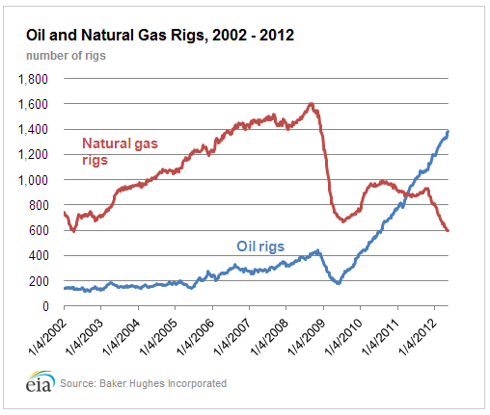 Click to enlarge
So this is a new development - the decline in dry shale gas production is arriving, and it is arriving now. This decline will become more pronounced over time and there shouldn't be any way to reverse it quickly, so along with the increased demand for power generation, this positive factor for natural gas should become evident in the weeks and months ahead.
Conclusion
Given the growth in natural gas demand and now the confirmation that shale dry gas supply might see a considerable reduction in the short term, I continue to believe that natural gas will experience a rally that will encompass both 2012 and 2013.
In that context, this past week's correction in natural gas is likely a buying opportunity, tied to the maturity of the June futures contract.
This also supports the theory that equities gaining from a higher natural gas price will be favored in the months ahead and into 2013. I list among those equities, the following:
Power producers using nuclear power, as natural gas is the marginal fuel setting power prices and so higher natural gas prices will lead to higher power prices: Exelon (NYSE:EXC) and Public Service Enterprise Group (NYSE:PEG).
Coal producers, since natural gas competes directly with coal and has been depressing coal prices. That dynamic will change once natural gas goes up. Some favored producers would be Peabody Energy (BTU), Alpha Natural Resources (ANR), CONSOL Energy (NYSE:CNX), Arch Coal (ACI) or James River Coal (JRCC).
Disclosure: I am long ACI, ANR, BTU, JRCC, EXC.
Additional disclosure: I am also long natural gas futures.