Can you ever get used to this kind of volatility? Not really.


Down around 200, then up 200 on the basis of… I'll let you complete the sentence since the markets were absolutely inundated with bad news Thursday. The only positive was that MBIA (NYSE:MBI) stated they wouldn't lose their AAA credit rating. Sure the markets are "forward looking" so all the bad news today was just so much old news right?

The only conclusion I can draw from yesterday is that it was the last day of the month [window dressing] and bulls believe the Fed and all of officialdom care more about stock prices than anything else. As to the latter, they're going to do whatever it takes, whether intervening directly or through third parties, to prop markets higher. That's just the way it is right now.





Market internals were excellent even though Yahoo Finance can't seem to add. Nevertheless, you get the idea.

click to enlarge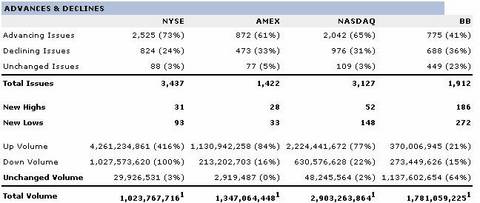 After the market closed, GOOG reported a miss on revenues and the stock was down 8% as of this 4:30 PM writing. Then again AMZN got pounded yesterday morning [down 12%] only to close up nearly 4% on the day. You can't make this stuff up!

Let's review briefly the four horsemen [GOOG, RIMM, AAPL and AMZN] who were leading the previous rally from last fall.





So, what's an investor to do? The Street wise men want you to buy financials and homebuilders. You game?? To me it seems like just "a trade". But you never know in this business.






Financials are a major component in the S&P 500 and their recent rise is fueling the overall index.






I could post more but I won't. Today is important since we get employment data and a better number will either embolden bulls thinking no recession is imminent--or, will they fret about stagflation and no more cuts. Also we must see if there is follow-through as we close the week and begin a new month.

The markets have entered a casino-like mode with wide swings, changing leadership and a helluva lot of confusion.





Sometimes holding large cash balances isn't a bad idea and you don't always have to play. Just sit at the bar and get that next shot of courage.

Have a pleasant weekend.

Disclaimer: Among other issues the ETF Digest maintains long or short positions in: SH, SDS, TWM, RWM, PSQ, IEF, GLD, DBC and DBA.