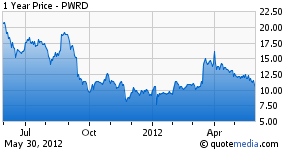 Shares of gaming company Perfect World (NASDAQ:PWRD) dropped over 13% in after hours trading on Tuesday night. Shares closed at $10 a share after the late trading session had ended. Perfect World shares continue to fall during Wednesday's trading session and now are below $10. I think the downfall is overblown and now represents a good time to take a long term bet on the Chinese gaming company.
During the first quarter, Perfect World had no major launches of games. The company did release several expansion packs and utilized its international expansion.
Launched Star Trek MMORPG in Germany and France
Released an expansion pack for Dragon Excalibur
Released an expansion pack for Hot Dance Party
Released Blacklight Retribution, a free to play shooting game, in North America and Europe
Licensed Battle of Immortals in the Brazilian market
Released Forsaken World and Chi Bi in Indonesia
Launched Forsaken World into Brazil
Financials of the company's first quarter are likely what scared investors away from Perfect World's shares. Revenue for the first quarter was flat, on a year-over-year basis. The revenue was down from the company's recent fourth quarter. Licensing revenue, which had been a recent strong point, was also down during the company's first quarter. The financials were hurt due to no new releases. The company also touched briefly on the Chinese New Year and how the celebration kept people away from computers and led to lower in-game monetization. The company's operating profit and net income both saw declines as well. Diluted earnings per share came in at RMB4.52, compared to RMB5.45 during last year's first quarter.
Guidance for the second quarter calls for revenue of RMB647-RMB683 million. This is a decline from fiscal 2011's second quarter revenue totals.
Perfect World's pipeline of games remains strong and is ever expanding:
Another new game from Perfect World is Fantasy Condor Heroes. The MMORPG is based on a Chinese novel titled Return of the Condor Heroes, written by Louis Cha. The game will be released in the summer of 2012.
Heaven Sword and Dragon Saber will be releasing in the first half of 2013.
Saint Seiya Online, based on a Japanese title of the same name also written by Louis Cha, will be released in the first quarter of 2013.
Forsaken World will be released through the company's partnership with Nexon in South Korea.
Perfect World also has two games being designed by its studios in the United States. Torchlight and Neverwinter are being designed in America and will then also be tested in the Chinese market before they are released. Both games are being developed as free to play games. Neverwinter is scheduled to be released in 2013.
Expansion pack for Zhu Xian during the company's second quarter.
Expansion pack for Perfect World II in quarter 3 or quarter 4 for the company.
Forsaken World expansion pack in second half of fiscal 2012.
Mentioned above, the company's U.S. studios are developing a game called Neverwinter. The game was recently announced as a showcase at the E3 (Electronic Entertainment Expo) June 5th through June 7th. The game is based on the successful Dungeons & Dragons franchise. People who attend the booth can play a demo of the upcoming Perfect World release. The game was announced back in 2010 but has been delayed because of Perfect World's acquisition of the studio from Atari, and a switch to a free to play game format. The game could be a huge launch with an already built in brand of Dungeons & Dragons. Wizards of the Coast, a subsidiary of Hasbro (NASDAQ:HAS) was also working on new product releases to coincide with the game's launch.
During the question and answer segment of the conference call, Perfect World management was asked about a possible expansion into social games. The company responded that they already have released two SNS games in China and have a current team working on possible expansion.
The fourth quarter earnings for Perfect World were record breaking and saw the company declare a special $2 a share dividend. Revenue in the quarter grew over 25% from the previous year's fourth quarter. During the question and answer segment, the company confirmed that they are looking at paying out a dividend each year, depending on profits and cash levels. The dividend will be proposed by the chief executive officer and then voted on by the board of directors. Perfect World also mentioned a possible share buyback as the best use of its existing cash balance.
During the fourth quarter, Perfect World also announced a partnership with Nexon, the large gaming company from South Korea. The partnership will allow Perfect World to grow in South Korea. The move is part of a continuing international expansion of the company. Perfect World now licenses its games in over 100 countries. International business makes up 25% of Perfect World's revenue.
Competition for Perfect World remains intense with gaming companies based in China and in other countries as well. Netease (NASDAQ:NTES) is one of the company's biggest rivals and offers World of Warcraft to the Chinese market, through a partnership with Activision Blizzard (NASDAQ:ATVI). Perfect World has grown through ramping up the number of releases each year. The company has also focused on releasing expansion packs to further the life cycle of many of its hit games.
Perfect World has a great portfolio of games releasing in late 2012 or early 2013. The shares could trade down for awhile with no new blockbuster games until late 2012. The company has some clear strategies in place in expansion packs and international licensing. I like the concept of the Neverwinter game and think it could be a big launch for the company. I would recommend buying shares of the company at anything under $11. I think shares could trade back in the $20 range next year at this time.
Disclosure: I am long ATVI.