International Gaming Technology (NYSE: IGT) ($40.90) is the world's leading slot machine manufacturer. In addition to basic slot machine design and sales, the company generates more than half of its revenues by leasing machines to casinos in exchange for a percentage of the net win. This gaming market provides the firm with a recurring stream of high-margin revenues. Thanks to steady expansion in recent years, IGT now draws income from about 60,000 machines installed throughout casinos in key gaming markets across the globe.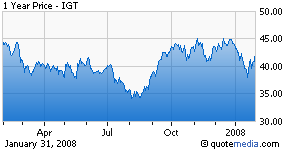 Competitive Advantages: Thanks to a stringent regulatory environment, IGT enjoys high barriers to entry and must contend with only a handful of rivals, including WMS Industries (NYSE: WMS) and Alliance Gaming. And among this triumvirate of manufacturers, IGT has a towering lead, producing more than two out of every three slot machines found in North America today.
Given the fact that slot machines have exploded in popularity -- and that they are generally more profitable than traditional table games -- it is not surprising that row after row of machines have taken over considerable floor space in today's casinos. Furthermore, slot department managers usually don't hesitate to try out the latest models, considering a successful machine can pay for itself in a matter of weeks. At the Wynn Resort in Las Vegas, for example, each machine is generating average revenues of around $250 every single day.
As the market leader, no one stands to benefit from these trends more than IGT. With deep pockets and steady cash flows, the company has been able to spend nearly twice as much on research and development (R&D) activities as its closest competitors. This commitment has led to creativity and innovation that have connected with the average slot player. In a recent poll conducted by Casino Player magazine, seven of the top ten most popular video slots were introduced by IGT -- including longtime favorites such as Wheel of Fortune. In a similar poll of video poker players, all five of the top spots were awarded to IGT products.
With a commanding lead, a well-respected reputation, and a knack for developing games that resonate with players, IGT should remain the clear leader in this high-growth industry for years to come.
Growth Drivers: IGT is benefiting from a number of positive growth drivers. For starters, many states are warming up to the idea of allowing gambling within their borders to take advantage of the additional tax revenue. The introduction of gaming in Pennsylvania alone resulted in an initial market for around 35,000 new slot machines. Even bigger has been the huge gambling boom in Macau, China. This former Portuguese colony has now surpassed Las Vegas as the largest gambling market in the world. Gambling revenue in Macau increased +22% from 2006 to 2007, and this market should continue to grow thanks to a number of new casino developments, as well as strong growth in surrounding Asian economies.
More importantly, IGT is the mastermind behind what many predict to be the next great gaming industry product cycle -- the introduction of server-based games. Instead of having hundreds of individual, self-contained slot machines, the idea is to have one giant computer control all slot machines within the casino. This new technology allows the casino to cut down on labor costs, change games rapidly to increase profits, and monitor revenue in shorter time frames.
The advantage to IGT is that in addition to new casinos purchasing this new technology, the older casinos will also have to retool their old equipment. Industry experts are predicting that 80% of domestic slot machines will be replaced before 2012, leading to a surge in revenues for the #1 player in this market -- IGT. Furthermore, players' tastes can change quickly, and the life span of the average game is shrinking, meaning newer games (like the increasingly popular multi-line penny slots) must continually be rolled out.
Of course, as we noted earlier, product sales account for just under half of IGT's total revenues. The firm generates the rest via its extensive "gaming operations." IGT has leased tens of thousands of slot machines -- many of which are linked to wide-area multi-million dollar progressive jackpots -- to casinos in exchange for a share of the proceeds. IGT receives a cut of every coin pumped into these slots, resulting in recurring revenues of more than $1.3 billion per year. As IGT's industry-leading installed slot machine base continues to expand, this segment of the business should help drive the company's top and bottom lines sharply higher.
Valuation and Outlook: After delivering sensational returns of more than +20% annually over the past decade, shares of IGT have stumbled in recent years due to sluggish domestic slot machine sales. Going forward, however, we believe the core North American market is poised to grow substantially thanks to the rollout of server-based games. Add to this the impact of strong international sales and growing gaming operations, and IGT's overall earnings are expected to increase at a healthy +15% annual clip going forward. Moreover, even with a modest slowdown in top-line growth in recent years, the company has still managed to generate record cash flows of $820 million per year.
Disclosure: Author has a long position in IGT