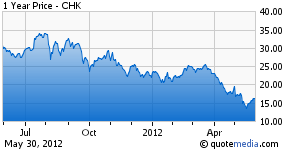 Chesapeake Energy (NYSE:CHK), the energy company that has been selling assets over the past couple of years raising money for great future deals has been on the hot seat lately. Of course, it is not unusual for an oil and gas company to be in the news, but Chesapeake has been riding the media wave when it was alleged that CEO Aubrey McClendon took out personal loans from a company that planned to buy Chesapeake assets.
The good news is that even with this speed bump, I believe this company to still be a good buy. Competing with such giants as Exxon Mobil (NYSE:XOM) and ConocoPhillips (NYSE:COP), the company has the fortitude to overcome even these kinds of obstacles. In fact, with the current events affecting stock price as well as the bottom line, the company is taking action. In addition to reducing its chief executive's pay package and naming an outsider as chairman of the board, Chesapeake recently cut the pay of its directors by 20% and removed the perk of using the fractionally owned aircraft for personal trips. While these steps are not a fix-all, they are representative of how this company generally operates: It sees a problem and either fixes it, removes it, or buys it. It is these attributes that make this company an attractive buy now.
Troubled times now does not translate into trouble down the road. Chesapeake is seeking creative ways of coming up with capital and with time, this company will be back to producing incredible results. One of the most recent assets for sale by the company is prime real estate of 1.5 million acres of the Permian Basin where Chesapeake is the third-largest leaseholder and 12th-largest producer. Since there is so much interest in this area, the company should get a good price.
The company said recently that with 12 rigs and about 25,000 well drilling locations, it did not currently have the resources to fully capitalize on production. Parties said to be interested include Apache (NYSE:APA), Exxon Mobil and Occidental Petroleum (NYSE:OXY). The company is also looking to sell its wells in Colorado and Wyoming. The company is looking to sell acreage in the DJ Basin that includes oil and gas production from 29 wells that the company operates as well as the company's interest in 24 non-operated wells. Additionally, billionaire investor Carl Icahn recently bought a 7.56% share of the company. The investment came with demands for new board members, but again, this is a good thing. The company isn't sitting around waiting to drown, but taking positive action for long term positive results, even if some of the changes are forced.
Chesapeake is the nation's second largest producer of natural gas, but strives for oil exploration and production as well as venturing into other forms of energy like biofuels and green energy. One investment seen as quirky by some and ingenious by others is the company's $150 million investment for a 50% equity stake in Sundrop Fuels, which intends to take biomass like wood chips and natural gas and turn them into "green" gasoline. Although joined by investors such as Kleiner Perkins and Oak Investments, Chesapeake's stake could pay off in the long term if and when the technology takes off.
Chesapeake is not a good deal right now just because it is cheap. The company has always been a good deal, but it is currently undergoing some turmoil based on poor management decisions. However these issues are not chronic and can be overcome. The company is still strong with natural gas reserves awaiting a rise in prices and oil plays still producing admirably. In fact, one of the main reasons for the recovery in natural gas has come from electricity-generating utilities switching from coal to gas. When natural gas prices dropped, it became highly attractive as a clean-burning power source for electrical generation plants. Following the line of supply and demand, natural gas prices will now begin to slowly rise based on increased demand.
As promised, the company over the next 10 years has pledged to invest $1 billion to increase the use of natural gas in transportation. To do this, Chesapeake is seeking to create a nationwide network of truck stops and develop home fueling kits that let people fill up in their garage with partners 3M (NYSE:MMM) and General Electric (NYSE:GE). A few years ago the company thought it would be hypocritical if it didn't do what it is asking others to do. The company announced plans to convert its fleet of over 4,500 vehicles to natural gas. The company is also currently collaborating with GE on kits and natural-gas-powered locomotives that enable any gasoline station to easily add the fuel. The companies project that at least 250 stations will buy the kits priced between 500,000 to $700,000 each later this year.
The company reported first quarter 2012 results of earnings of 0.18 per share, which under-performed last year's first quarter results by 76.00%, and the company had first quarter 2012 revenues of $2.42 billion, 11.29% below the prior year's first quarter results. The company had revenues for the full year 2011 of $11.64 billion, 24.23% above the prior year's results. Year over year, Chesapeake has seen little change in their bottom line (from $1.8 billion to $1.7 billion) despite revenues that grew from $9.4 billion to $11.6 billion. This was due to an increase in the percentage of sales devoted to the cost of goods sold from 48.53% to 56.48%.
While the financials have seen better days through the years, the overall big picture of the company still reveals a solid company with solid growth on the horizon. The fact that changes are being made to counter some minor hiccups, production of liquids is increasing, prices for natural gas is rising, and investors are still flocking to the company, are all good signs that this company is worth getting in now at a bargain price.
Disclosure: I have no positions in any stocks mentioned, and no plans to initiate any positions within the next 72 hours.