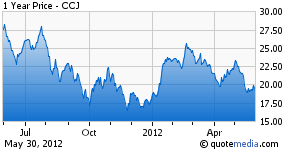 Of much interest to those focused on investing in the uranium sector is the recent prospectus filing from Cameco Corporation (NYSE:CCJ), which suggests the firm is looking to raise up to $1 billion. Why does Cameco, a profitable, dividend-issuing company with over $1.3 billion in cash and short-term investments and a current ratio of over 4, want to raise so much cash?
The consensus among publications following the uranium sector is that Cameco is gearing up to go on a massive shopping spree to pick up promising uranium mines. Cameco has shown an interest in acquisitions of late. It recently acquired a nearly 28% stake in Areva's (OTCPK:ARVCF) Millennium project, and acquired NUKEM Energy to provide the firm with access to secondary supplies of uranium.
In terms of what Cameco's aggressive fundraising opportunities creates, here are some thoughts:
1. As a shareholder in Cameco, I'm absolutely delighted to see the strategy they are pursuing - so much so that I may need to buy more shares. As I've noted, there is a severe supply/demand imbalance in the uranium market. I view this as extremely bullish for all uranium miners and holding firms. Cameco is now selling at under $20 per share while offering a dividend yield greater than 2%. I think a 100% move within six years, likely much less time, is a conservative estimate. From this perspective, Cameco is a great stock to buy and hold for at least a few years, earning dividends along the way.
2. The more seasoned and aggressive speculator may find it worthwhile to invest in some of the junior mining firms that may be on Cameco's list. It is worth recalling that Cameco's recent acquisition of the Millennium project from Areva is located in the Athabasca Basin, an area I previously wrote about that I regarded as a place serious uranium investors must have some exposure to. Given the geology, infrastructure and favorable jurisdiction that the Athabasca Basin has to offer - as well as the fact that Cameco is already positioned there, and thus acquisitions in that region offer the opportunity to leverage greater economies of scale - it seems to me that Cameco will find it highly advantageous to use some of the $1 billion it raises to acquire more mines operating in that area.
The two I think are most likely to be acquisitions are UEX Corporation (OTCPK:UEXCF) and Fission Energy (FSSIF.PK). Cameco already has a 22% stake in UEX, and the firm may acquire Fission simply to keep it out of the hands of Rio Tinto (NYSE:RIO), a competitor that previously outbid the firm for uranium miner Hathor. Which is perhaps yet another reason to focus on miners in the Athabasca Basin: There is likely to be interest from Cameco and Rio Tinto, which in turn could set off a bidding war between the two giants. In that case, shareholders of the junior firm set to be acquired will benefit greatly.
Personally, though, uranium investing for me is primarily to offer my portfolio some greater diversification outside of gold and gold stocks; if anything, I'm likely to be overweighted to uranium as is. From this perspective, I favor the option of simply buying more Cameco as it remains the largest uranium producer in North America and is poised to enjoy an even brighter future. If it can raise and deploy $1 billion, Cameco will have even greater diversification in the uranium market across jurisdictions and geological setups - the result of which will be a safer opportunity for investors to enjoy appreciation in the uranium market.
Disclosure: I am long CCJ.