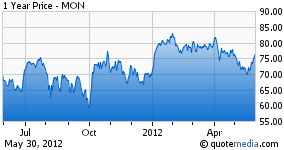 On Wednesday, Monsanto (NYSE:MON) raised its expectations for the second half of 2012. The company expects:
2012 earnings per share guidance to the range of $3.65 to $3.70 on an ongoing basis and $3.73 to $3.78 on an as-reported basis.
Third-quarter EPS of $1.57 to $1.62 on an ongoing basis and $1.69 to $1.74.
In the second-quarter of FY12 the company reported a 19% increase in earnings, year-over-year. Hugh Grant's (CEO/Chairman) raised expectations to earnings growth of 25% for FY12 lifted the stock nearly 3%. The company assured investors that these increased expectations were not a result of early planting, but rather can be attributed to a strong business model and plan for the future.
Grant stated in April:
With continued strong sales in the third quarter, the performance we saw in the early part of the year has proven to be a powerful signal of even better results from some key businesses. Now that we have a more complete view on the greater planted acres from the United States and Europe, it is clear our performance reflects an even greater component of business strength and momentum versus timing of a historically early selling and planting season ... This year has been important confirmation of the momentum in our business, as we've taken advantage of the strong global acres and agricultural environment and delivered on the key business drivers we set as priorities.
This is encouraging news and is a result of agricultural growing increasing to a 70-year high along with Monsanto managing its business well under the leadership of Grant.
(Click to enlarge)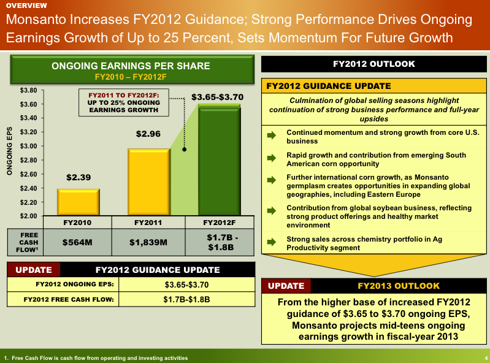 (Quarterly Report)
The promising news for investors is that Monsanto is poised and expecting to have "mid-teen" growth in earnings in FY13. This type of growth, year-after-year, is a testament to the company's ability to understand its business model along with being in an industry where demand continues to increase due to population growth.
The company's financial position is strong and its valuation and key metrics show promise for a prosperous future.
Forward Price/Earnings: 18.68
PEG Ratio: 1.83
EV/EBIDA: 10.71
Quarterly Revenue Growth: 14.90%
Profit Margin: 14.70%
Return on Equity: 16.77%
Cash-Debt: $1.18 Billion
Dividend: $1.20 (1.60%)
(Click to enlarge)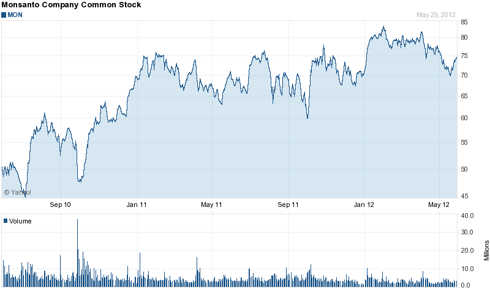 (Yahoo Finance)
These metrics indicate that although MON is not cheap, it is performing well and is a stable and growing company. The combination of MON being in a profitable and growing business along with it understanding its business model and having a disciplines approach to growth makes it a strong company into FY13.
(All financial metrics referenced above are obtained from Yahoo Finance, CNBC Analytics, S&P Capital IQ and Thomas Reuters.)
Disclosure: I have no positions in any stocks mentioned, and no plans to initiate any positions within the next 72 hours.