Shares of Somanetics Corp (SMTS) jumped 6.82% on Thursday as volume surged almost three times the three-month daily average! There were no news or any significant events that could be detected.
Somanetics develops, manufactures, and markets medical devices primarily in the United States. It offers the INVOS System, a non-invasive patient monitoring system that provides continuous information about changes in blood oxygen saturation levels in patients with or at risk for restricted blood flow.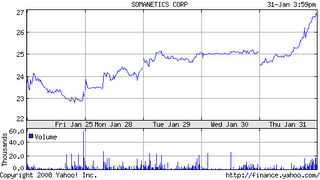 The company has a small market cap of only $357 million. It has more than $50 million in cash and no debt according to the latest Yahoo! financial data.
The company has been experiencing great growth in revenue and net profit over the last few years with the sale of the INVOS System.
Shares of SMTS closed at $26.80 on Thursday, which is just shy of the 52-week high of $26.88 reached on the same day.
Somanetics is the first stock in 2008 to make BHI's BioWatch Alert List, and will be tracked for the next two weeks.