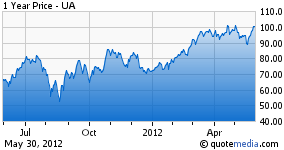 It wasn't long ago investors were buying global consumer stocks in order to protect portfolios from a sliding U.S. economy. Now, with America on the mend and Europe on the skids, investors have turned their attention to America-centric companies, such as athletic apparel maker Under Armour (NYSE:UA).
Under Armour's Europe exposure is small and growing.
Last quarter, the company generated $384 million in sales and only $21.8 million came from Europe. The rest came from North America, where the company has built a well known premium price brand.
Despite high unemployment in Italy and Spain, the third and fourth largest economies in the EU, Under Armour's emerging brand appears to be in the sweet spot of a transformation from infancy to adolescence.
Sales in the region were up 31.6% last quarter, nicely ahead of the respectable 22.9% growth the company notched overall. This suggests the small exposure to Europe is more a reflection of the company's emerging effort to build its brand overseas than a failure to crack into the market.
North America is getting stronger.
At the same time the company is enjoying growth in its nascent markets, North America is rebounding.
In the most recently reported month of April, U.S. retail sales were 6.4% higher than last year.
The category including sporting goods retailers saw sales climb 7.2%. And over the past three months clothing stores sales are 6.9% above the comparable three months last year.
Part of the reason for the success remains innovation. Under Armour's wicking technology revamped athletic apparel brought the industry out of malaise and inspired a move away from Rocky Balboa inspired sweats.
Today, athletes of all ages are concerned with both performance and appearance. And that means a broader audience for Under Armour products.
The company's biggest U.S. retail partner, Dick's Sporting Goods (NYSE:DKS), seems to agree.
In mid May the company upped its FY12 guidance on the heels of 8.4% comparable store sales growth in Q1. Success at sporting goods retailers like Dick's means higher inventory turns for Under Armour. And that's good for shareholders.
Product growth is strong across categories.
While Nike (NYSE:NKE) leveraged footwear to grab share in apparel, Under Armour is leveraging apparel to grab share in footwear. The company's strategy seems to be working as footwear sales increased 23.8% last quarter to $63.6 million. Accessories sales were also up strongly, rising 25.9% to $29.6 million. Both remain dwarfed by apparel, which accounted for $283 million in sales, up 22.9%. But each offers significant opportunity for growth.
And, while cotton prices acted as a drag on margins the past few quarters, they've retreated significantly from last summer's peak. This means margins will start to see relief as the year progresses.
This is doubly good given the company has been expanding its direct-to-consumer channel, with new stores and a new e-commerce site.
The efforts helped related sales climb 48.6% in Q1 from last year. This brings direct-to-consumer to 25% of total sales, up from 20% a year ago. And since direct sales offer higher average selling prices, the affect of lower cotton prices on margins should be even greater.
Couple emerging growth in what remains the globe's biggest economy with an established market position in retailers across the United States and you have a stock positioned to grow regardless of widening Spanish credit default swaps.
Disclosure: I have no positions in any stocks mentioned, but may initiate a long position in UA over the next 72 hours.