Since its 2008 launch, the Market Vectors Solar Energy ETF (NYSEARCA:KWT) has fallen 94% from a peak of $43.93/share to roughly $2.50/share currently.
Market Vectors Solar Energy ETF (KWT) Since Inception (4/25/2008 - 5/23/2012)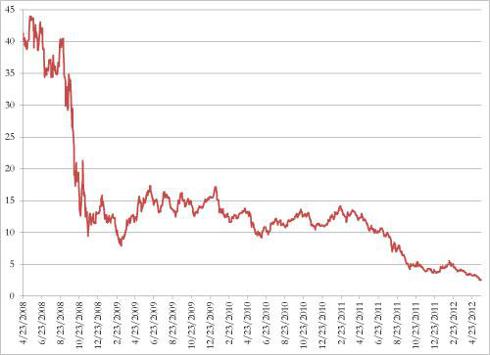 Click to enlarge
Sources: Fisher Investments Research, Thomson Reuters. Price returns from inception (04/23/2008) through 05/23/2012.
Behind this utter collapse stand multiple influencing factors. Europe's budgetary woes have greatly slashed subsidies in formerly solar-heavy nations like Spain. Similar US subsidies are equally under pressure and could very well be on the chopping block in the near future, particularly after Evergreen Solar's flameout and Solyndra's … well, supernova.
Then, in our view, there's just the pure economics, wherein solar's real issues lie. The simple fact is solar production must be cheaper for it to compete with fossil fuels-particularly currently super-cheap natural gas. Yet on balance, solar firms today aren't efficient enough to actually produce panels at costs low enough to generate these cheap prices. And government policy winds are again buffeting the sector-and seem poised to benefit few, as an industry shakeout continues.
We've documented several times the bifurcated government policy in this industry and how that can have a direct deleterious influence on investors in these stocks. No matter your political affiliation, as an investor seeking gains, subsidies aren't a good backdrop. Many investors will be spooked by the idea these companies might be propped by a government subsidy that could be cut.
But as 2012 dawned, shares of KWT rallied along with the broader market, before peaking in February. Since that time, shares have been halved again. Coincidentally - and likely partly responsible for the recent decline - the US decided to investigate and later enact tariffs on Chinese panels.
To be sure, within the industry this could create winners and losers. Installers seem the most obvious losers - taxing Chinese panels 31%-250% depending on the producer, as the US Commerce Department ruled last week, makes their supplies more expensive. Thus, they face a choice: Eat the costs (lower margins) or attempt to pass them on to consumers (potentially dampening demand for their goods). Or some combination of these two less-than-great factors.
Politicians enacting this policy figure installers will shift toward panels produced elsewhere, like in the US. Trouble is, though, restricting competition likely means even non-Chinese panel prices rise over time. Therefore, installers still face the same dilemma.
But manufacturers also lose. Sure, China does dominate the export market in solar panels, but they also utilize American components. The existence of this trade is now clearly called into question as China could clearly retaliate in kind. Our point: By attempting to protect America's solar industry, the government may actually have further hurt it.
Ultimately, it is not as though we anticipate solar power to cease existing. But the industry has basic economics problems that need resolution sans government influence. Said differently, firms that can't compete must be allowed to fail. Those that can are stronger for it-actually sustainable businesses. On their own, these shakeouts can take a long time.
However, in solar's case, politicians seem incentivized to head off this politically messy outcome, which seems to have greatly prolonged solar's pain. While we can respect the motivation of those who would buy solar stocks thinking they're either dirt cheap or socially responsible, in our view, better opportunities exist elsewhere-particularly in a year we expect stocks generally to do well.
Disclosure: I have no positions in any stocks mentioned, and no plans to initiate any positions within the next 72 hours.
Disclaimer: Click here for important disclaimers.