Market Recap: The market reversed its success from Tuesday after the European relief from Tuesday's Greek vote and China's QE possibilities became Spain and Italy fears and yield issues. The market sold off to reverse all of Tuesday's gains. The concerns over Europe are definitely going to challenge this market, but at the same time, the market is quite oversold. It's a tough time and we are expecting a lot of volatility right now. In addition to the European concerns, pending home sales came in negative and below expectations after several months of positive movement that helped catalyze more of the sell-off.
We rallied on nothing and fell on real concerns. Unless we get some strong data tomorrow, we would be expecting more of the same right now from the market. Window dressing may be expected tomorrow on the last day of a pretty awful month, but we will see if it truly happens.

Two Trades
Two trades we are looking at right now that we like are a pair trade long in Bristol Myers (NYSE:BMY) and short in JM Smucker (NYSE:SJM) as well as a bear call spread in Priceline.com (NASDAQ:PCLN). We like BMY long right now as the company is looking very fundamentally strong as it continues to move higher while the market corrects. Healthcare remains a nice place to be during tough times. It's hard to be naked long right now, so we like shorting SJM to complement. SJM has earnings next week that we would expect will provide selling pressure as the stock got destroyed for over 10% on their last report after missing estimates. Additionally, we are bearish on PCLN. The stock broke a nice upward trendline that it had and has continued to weaken. We believe the stock is finally pricing appropriately due to its miss on earnings.
Trade #1: Long BMY, Short SJM
Trade #2: Jun16, 700/705 Bear Call Spread, PCLN
(Click to enlarge)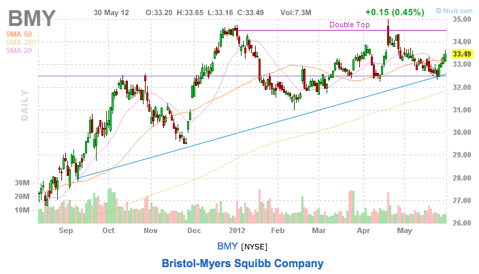 (Click to enlarge)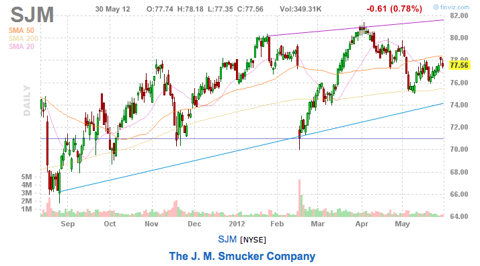 Tomorrow's Outlook
The market's reversal today was definitely not what we expected, and it makes us believe we are getting back into a very volatile summer where we are going to see extremely large movements in the market up and down. We believe we are going to see a pretty solid movement for the next two days as well with lots of data on the schedule for tomorrow and Friday. Tomorrow, we will be reacting to Challenger Job Cuts, Initial Claims, GDP and Chicago PMI. A healthy dose of data should help give the market a bit more movement. The situation in Europe will continue to be important for this market.
Our Moves
We had a mixed day in the market as we took off a Whole Foods (NASDAQ:WFM) long, Sara Lee (SLE) short off for a 2% gain. We, however, took losses on VeriSign (NASDAQ:VRSN) long and Under Armour (NYSE:UA) short, Buffalo Wild Wings (NASDAQ:BWLD) long. We opened the pair on BMY and SJM as well as PCLN bear call spread.
We have the following positions. In our Short-Term Equity Portfolio we are long Bed Bath & Beyond (NASDAQ:BBBY) and TripAdvisor (NASDAQ:TRIP). We are short Molson Coors (NYSE:TAP) and SPDR Dow (NYSEARCA:DIA). In our Options Portfolio, we are long Monster Beverage (NASDAQ:MNST), Disney (NYSE:DIS) and Panera Bread (NASDAQ:PNRA). We are short Sina (NASDAQ:SINA), Apple (NASDAQ:AAPL), and General Dynamics (NYSE:GD). We have a reverse iron condor on Ultra Proshares Financial (NYSEARCA:FAS). In our Earnings Alpha portfolio, we are long FedEx (NYSE:FDX), Discover (NYSE:DFS), Western Digital (NYSE:WDC) and Dollar General (NYSE:DG). We are short Adobe (NASDAQ:ADBE). We have a reverse iron condor in Verifone (NYSE:PAY) and reverse iron butterfly in Joy Global (NYSE:JOY).
Chart courtesy of finviz.com.
Disclosure: I am long MNST.