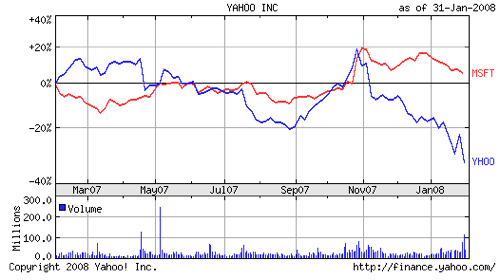 Microsoft's $31 a share offer for Yahoo is made possible by Yahoo's slumping shares (Yahoo's stock was trading at about $31 a year ago). While Yahoo has rejected Microsoft's entreaties in the past, with Terry Semel stepping down as chairman of the board yesterday, things might be different this time. I ran some quick, back-of-the-envelope numbers to see what a combined Microsoft-Yahoo would look like financially, and how it would compare to Google.
Click to enlarge:

Click to enlarge
* Microsoft figures are trailing four quarters and headcount is from June.
Those headcount numbers and operating expenses could be cut significantly. The real impact to Microsoft, though, is not visible in these numbers, because Yahoo represents a new growth opportunity for Microsoft in advertising revenues and online services.
During the last four quarters, Microsoft's revenues for its online services (MSN, Windows Live, etc.) were $2.8 billion and it lost $949 million. So just combing Yahoo wih that business, you get revenues of $9.8 billion, but Microsoft would still be showing a net loss for that business of $289 million.