We used the high, low and median Street estimates of earnings and five-year earnings growth for the individual constituents of the S&P 500 to determine the Street opinion for earnings of the S&P 500 index (proxies SPY, IVV and VFINX) now and three months ago.
We also used the Street consensus 12-month target prices to create a Street consensus target for the S&P 500.
Then we examined what those synthetic estimates would mean in terms of P/E and PEG ratios.
Earnings Estimates and P/Es:
The weighted 12-month Street target index price is 1480 (about 18% higher than today). Sounds high to us, but that's the Street view.
The weighted consensus earnings for 2012 are $92.00 (down from $96.01 three months ago). The weighted low estimate is $88.04, and the weighted high estimate is $96.61.
Putting those index prices and earnings together, we see forward P/E ratios ranging from 13.0 to 14.2 on the current index price, and from 15.3 to 16.8 on the consensus target index price.
(Click to enlarge)

Unfortunately, according to discussion with Reuters, the nature of data collection for the Street estimate (a Reuters function) does not require that all estimates be on the same basis. Therefore, some estimates may be for operating earnings and some may be "as reported" and others may be operating, and, of course, each contributing research firm may have different methods and standards for making estimates.
For contrast, Standard & Poor's currently projects 2012 index earnings as follows:
Operating earnings (bottom up): $104.97
Operating earnings (top down): $103.06
As Reported Earnings: $100.07
That would make the current index price of 1311 on the 2012 estimates be within the range of 12.5 to 13.1.
Standard & Poor's has been generally lowering its 2012 estimates since August 2011, as shown in this chart.
(Click to enlarge)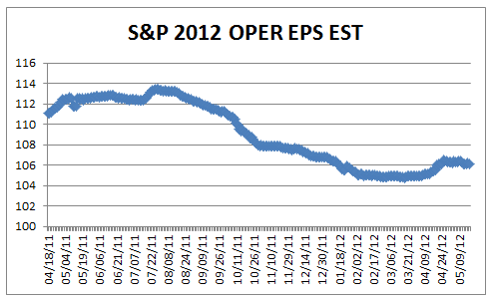 Earnings Growth Rates and PEGs:
The weighted projected five-year compound annual earnings growth rate median is 11.35. The low is 6.30, and the high is 17.58.
Based on the current index price, the PEG (forward price-to-earnings ratio divided by the five-year forward earnings growth rate) is 1.20 (a generally reasonable value). The PEG on the low growth rate is 2.16 (an expensive value). The PEG on the high growth rate is 0.77 (a bargain value).

Note that the consensus Street target price is up about 18%, which is higher than the earnings growth rates, which in turn relates to the expected P/E multiple expansion.
With the multitude of problem issues in Europe, China and the U.S. that are likely to, or will, come to a head in a less than a year, we tilt toward the less optimistic point of view. However, we are in somewhat of a binary situation, with the potential for a strong relief rally or a severe correction.
Key Analyst Forecasts From January 2012:
For comparison with the Street data, here are some opinions expressed at the beginning of the year for 2012 year-end targets: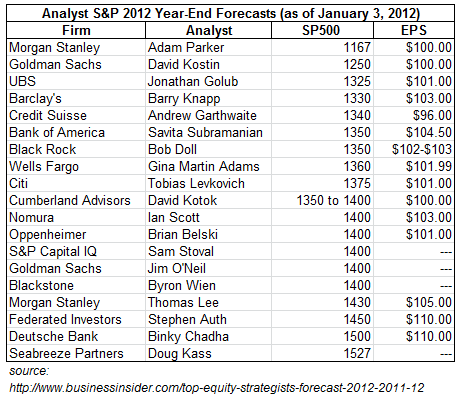 Some Updates To Analyst January Forecasts:
In early April, David Kostin of Goldman Sachs reiterated his call for the S&P 500 to end the year at 1250, based on (1) a stagnating U.S. economy, (2) stagnating P/E multiples, and (3) modest earnings growth. However, Jim O'Neil, Goldman Sachs head of asset management, is more bullish and said that the S&P is more likely to head toward 1400 than 1000.
March Wall Street Journal articles noted that Kostin, Parker and Knapp are sticking with their bearish views, but Golub and Subramanian have revised upward (Golub from 1325 to 1475; and Subramanian from 1325 to 1400).
Pragmatic Capital reported on March 16 that Bob Doll said the S&P 500 could go to 1550 if Europe heals and the Middle East does not blow up - so far those two IFs aren't in the bag, as far as we can tell.
In a March 5 video interview Gina Martin Adam stuck with her 1360 target for the year, unless there were to be significant monetary stimulus, in which case she may revise up. In that same interview, Bloomberg stated that Laszlo Birinyi is looking for 1700 (wow! is that an outside bet or what.)
An April 11 Business Insider article said Tobias Levkovich has a current S&P 500 year-end target of 1425 (up 50 from his January forecast).
In a May post on the Cumberland Advisors website David Kotok, said he sees the S&P at 1600 within two years and at 2000 by the end of 2019.
An April 1 Business Insider article said Thomas Lee is sticking with his 1430 forecast.
An April 23 Business Insider article said that Brian Belski, who has left Oppenheimer to become U.S. strategist for Bank of Montreal, is now calling from 1425 (up from 1400) with $101.25 EPS estimate.
As a new call, last week, Jeremy Siegel (Wisdom Tree) projects a range of about 1450 to 1240, depending on how the Europe situation pans out.
Horsemen Of The Apocalypse:
Not wanting to end on a too optimistic note, let's see what some of the big bears have to say.
Marc Faber (of Gloom, Boom and Doom report) sees the S&P falling another 10% to 15% from the May 24 level (from a Bloomberg video). That would knock the index down to from about 1180 to 1115. He does not, however, see new lows due to likely Fed intervention.
Societe Generale analyst Albert Edwards, known as the uber-bear, sees the S&P 500 at 400 (down about 70% from here). We don't think that is at all likely, but he thinks so by assuming a reduction in earnings to the $70 to $75 area. That is not impossible.
We were there and below in 2010 on an "as reported" basis and an operating basis while still recovering bank earnings. However, back then the P/E multiples held up and did not go below 14. Edwards sees multiples crashing to the 7 to 8 range.
Not sure about his math, because 7 times 70 is 490 and 8 times 75 is 600, but we hear his major message, which is another banking and growth shock knocking earnings down about 30% with investors giving up and collapsing growth until they get 12.5% to 14% earnings yield - we are doubtful about that possibility.
One important argument in his favor is that last time it was government assuming private debt to save the system, whereas this time it would be government looking for a savior - not sure who that would be. Their last hope is the printing press, and that has to mean inflation at some point, and that would require higher earnings yields.
A View Through Historical Volatility:
Volatility can be used to predict a likely range of prices, by using either options implied volatility or historical volatility. Another 2008 Black Swan is possible, but something else is more probable. Here is a chart with probable price ranges based on 5-year, 3-year, 1-year, 6-month and 3-month historical volatility.
(Click to enlarge)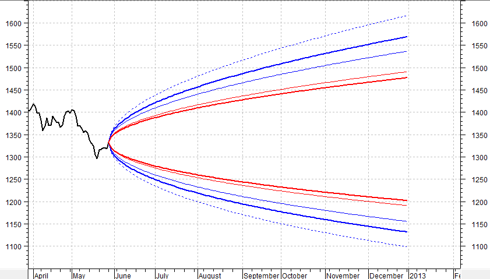 These price probability ranges are set at the 80% probability level, meaning that only 20% of prices are expected to be outside of the cones (about 1/2 on each side - or only about a 10% chance of prices being lower than the bottom of the cone).
We projected out to 12/31/2012 to coincide with the other projections, estimates, guesses and wild guesses in other parts of this article.
Here are the results plotted for 12/31 in the chart:
1097 to 1618 - based on 5-yr volatility (dotted blue)
1156 to 1536 - based on 3-yr volatility (thin blue)
1132 to 1569 - based on 1-yr volatility (thick blue)
1191 to 1491 - based on 6-mo volatility (thin red)
1202 to 1477 - based on 3-mo volatility (thick red)
End Note:
In the end, as it has been for several years now, markets heavily depend on the statements, plans and actions of central banks and political leaders (and elections).
In a financial storm, dividends are an anchor to windward.
Don't forget that prices in the short-term are set by the marginal investor, the weakest hands and short-term traders. But value is established in the long-term by long-term investors who stand firm on high quality, brand dominant, financially sound companies through thick and thin.
Disclosure: QVM has positions in SPY as of the creation date of this article (May 30, 2012).
Disclaimer: StopAlert.com is a service of QVM Group LLC, a registered investment advisor. This article provides opinions and information, but does not contain recommendations or personal investment advice to any specific person for any particular purpose. Do your own research or obtain suitable personal advice. You are responsible for your own investment decisions. This article is presented subject to our full disclaimer found on the QVM site available here.