Are investors as scared as certain indicators seem to suggest? On the one hand, 10-year treasury yields have dropped to all-time record lows of 1.62% and the U.S. dollar via PowerShares Dollar Bullish (NYSEARCA:UUP) is sitting at fresh 52-week highs. On the other hand, gold prices have plummeted 20% from the top and the franc via Currency Shares Swiss Franc (NYSEARCA:FXF) is testing new 52-week lows.
Granted, many attribute gold's decline and the franc's depreciation to the appeal of the greenback. However, the SPDR Gold Trust (NYSEARCA:GLD) and Currency Shares Swiss Franc (FXF) were big-time winners in previous flights away from European sovereign debt.
Moreover, the CBOE S&P 500 Volatility Index (VIX), the wildly popular "fear gauge," remains below a 200-day moving average at a price of 24. Spikes above 30 are more typically associated with panicky emotions.
Click to enlarge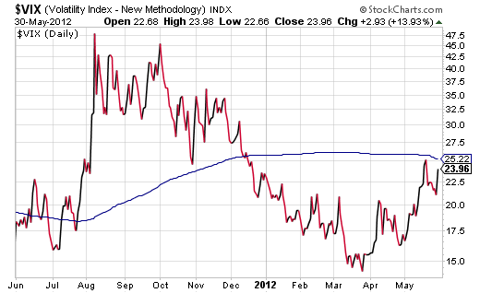 Click to enlarge
Clearly, you can't have record lows in U.S. Treasuries and a rising VIX without some sweaty fingers. That said, there have been plenty of mixed messages over the course of the last 12 months. Hard or soft landing in China? Debt containment or contagion in Europe? Recession or expansion in the U.S.? Cessation or continuation of Federal Reserve intervention?
Not surprisingly, then, making headway in traditional stock assets has been rather challenging. Indeed, at this very moment at my keyboard, the S&P 500 SPDR Trust (NYSEARCA:SPY) has returned 0.0% over the previous 12 months (5/31/2011-5/30/2012).
Which U.S. Stock ETFs suffered a similar fate or worse? Have any provided investors reason to remain calm in the face of tremendous uncertainties?
In screening year-over-year performance for higher octane stock ETFs, I chose to limit the list to highly liquid (dollar trading volume $5M), low expense ratio performers. Here are five of the more palatable possibilities:
These 5 ETFs Have Managed To Outperform the S&P 500 By 700 Basis Points (Or More)
Approx YOY %
iShares High Dividend Equity (NYSEARCA:HDV)
9.4%
SPDR Select Utilities (NYSEARCA:XLU)
8.7%
SPDR Select Consumer Discretionary (NYSEARCA:XLY)
8.5%
PowerShares NASDAQ 100 (NASDAQ:QQQ)
7.8%
Vanguard Consumer Staples (NYSEARCA:VDC)
6.9%
S&P 500 SPDR Trust (SPY)
-0.2%
In spite of the ongoing euro drama, familiar themes are still working. First, Apple (NASDAQ:AAPL) is a culture-changer. Its 17% weight in QQQ explains the overwhelming bulk of the success of this exchange-traded "fave." European troubles may detain APPL (and QQQ), but those troubles are unlikely to derail pent-up demand for iPhone 5.
Second, consumer sentiment may have been stirred as of late, but it hasn't been thoroughly shaken. Both discretionary spending as well as toilet paper and toothpaste purchasing have benefited VDC and XLY.
Finally, investors have been craving income in a no-yield world. Utility stocks via SPDR Select Sector Utilities (XLU) as well as dividend production via iShares High Dividend Equity (HDV) rank high on any leaderboard.
Disclosure: Gary Gordon, MS, CFP is the president of Pacific Park Financial, Inc., a Registered Investment Adviser with the SEC. Gary Gordon, Pacific Park Financial, Inc, and/or its clients may hold positions in the ETFs, mutual funds, and/or any investment asset mentioned above. The commentary does not constitute individualized investment advice. The opinions offered herein are not personalized recommendations to buy, sell or hold securities. At times, issuers of exchange-traded products compensate Pacific Park Financial, Inc. or its subsidiaries for advertising at the ETF Expert web site. ETF Expert content is created independently of any advertising relationships.