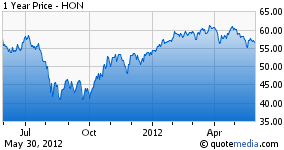 Let's get right to it: Honeywell International (NYSE:HON) is a good stock to own. The manufacturer of diverse technologies and instruments to support a variety of industries has been growing consistently in the post-crisis period. The company has a strong series of earnings results, quality leadership, an attractive valuation, and good positioning for growth in the near-term. With the recent market tumult and the likelihood of continued volatility in the macro environment over the rest of 2012, investors should have a buy list ready for future dips, pullbacks and corrections. Honeywell deserves to be on that buy list. Here's why:
Performance
One of the most important values in life, business and the market is the value of integrity (OK, maybe just in life). If a person or a company says s/he/it is going to do something, that something better get done. Once or twice, one can afford to miss a target without totally damaging one's credibility, but if it keeps happening, that person/company can't be trusted.
That last scenario? Honeywell's performance has been the flip side of that: The company has delivered on its targets and its promises and then some.
Companies get measured on their long-term execution as well as the quarterly checkups. Honeywell's health has been sound during its checkups, with earnings beats in eight of the last nine quarters against analysts' estimates and/or its own guidance. Honeywell has started off 2012 on a positive note as well, with a triple threat of earnings beat/revenues beat/guidance raise in the first quarter. This constant upwards pressure on estimates and earnings speaks to Honeywell's execution.
That execution fits into the achievement of the company's longer-term goals. Honeywell's goal is to hit $41-45B in sales by 2014, an annual growth rate of 6-8%. Hardly an eye-popping number, but considering the ongoing challenges from Europe, the slow recovery in the U.S., and even the bumps in the high-growth markets of China, India and other developing markets, this sort of conservative, consistent achievement would be laudable. Similarly, the company is more than halfway along a five-year plan to improve segment margins for its various businesses, and should achieve its long-term goal of 16-18% by 2014 comfortably, leading to faster earnings growth than the revenue number above.
Honeywell's business spans across four segments: Automations and Control Solutions, Aerospace and Defense, Performance Materials and Technologies, and Transportation Systems. The company produces thermostats that help improve energy efficiency in the house, turbo systems that increase performance at no cost to efficiency for vehicles, and a variety of efficient and greener fuels and chemicals for industrial markets, among many other things. Within its diversified business, the company has managed to refocus itself over the past 10 years through key acquisitions and divestitures, as well as an overall tightening of operations, to achieve consistency in its results.
A good example of this is Honeywell's most recent noteworthy contract win. Honeywell is teaming with Inmarsat (OTCPK:IMASF) to provide broadband internet equipment on airlines. Honeywell estimates $2.8B in revenue over the span of the 20-year contract. The revenue is nice, but not earth-shattering for a company that raked in $36.5B last year in sales. But that this contract win came directly out of the company's acquisition of EMS Technologies last summer speaks to wise acquiring, good integrating and an overall job well done to date. Or as CEO Dave Cote put it on this year's Q1 call:
"We acquired EMS Technologies looking at the trends around aircraft connectivity. And so far, that's paid off really well. With a combination of their broad technology offering and our execution capabilities, we emerged the perfect partner to launch the Inmarsat global connectivity network. Our Aero team did just a great job."
This sort of foresight, execution, and track record makes Honeywell a steady company, which should translate into steady growth for the stock over the coming years.
Valuation
Honeywell is not cheap when compared to its peers:
(Sources: TDAmeritrade, WSJ)
As of Q1 2012

HON

Market Capitalization

$44.2B

$203.4B

$14.6B

$34.7B

$66.5B

Quarterly Revenue Growth (Y-over-Y)

4.43%

-0.50%

4.12%

1%

-7%

Yearly Revenue Growth

9.37%

-4.60%

17%

15%

6.90%

EPS Growth (Annual)

20.13%

16%

78.50%

19.47%

7.40%

Estimated Earnings Growth (next 3 years)

11.93%

15%

13.24%

10.58%

12.50%

Earnings 2011

4.05

1.37

3.96

3.24

5.49

Earnings 2012 (Est.)

4.51

1.55

4.54

3.39

5.45

Earnings 2013 (Est.)

5.03

1.76

5.17

3.92

6.7

Free Cash Flow/Share 2011

2.57

1.95

1.98

3.43

6.18

2011 P/E

14.12

14.12

11.05

14.80

13.68

2012 P/E

12.68

12.48

9.64

14.14

13.78

2013 P/E

11.37

10.99

8.47

12.23

11.21

2011 P/FCF

22.26

9.92

22.11

13.98

12.15

PEG Ratio

1.18

0.94

0.83

1.40

1.09

Price (as of Tuesday, May 29th close)

57.2

19.35

43.77

47.95

75.09

Dividend

(Yield %)

1.49 (2.60)

.68 (3.51)

1.52 (3.47)

1.6 (3.34)

1.92 (2.56)
As the chart shows, the P/E ratios are roughly in line with peers (with Eaton as the cheapest of the bunch), and the P/FCF ratio and PEG ratios for Honeywell are on the high end of the group. Honeywell's yield also ranks on the low end of this group.
That said, two points to be made before the investor rushes off and buys stock in Eaton (not that buying Eaton would be a bad thing, what with its recent acquisition Cooper Industries, but that's for another article). First, Honeywell is not overvalued at these levels. 14x past year's earnings is an appropriate multiple, and maybe even a low one. Second, and more importantly, Honeywell's earnings performance in terms of hitting or beating estimates and guidance has been better than rivals. The performance merits a higher multiple than peers.
Solid Financials, Dividend
Honeywell's debt position is solid. The current ratio is 1.31, the quick ratio is .97, and the cash ratio is .34: that last isn't spectacular, but the others should allay any doubts about Honeywell's financial viability. The total debt to equity ratio is .7, another manageable figure. This comes after the recent EMS acquisition.
The company also generates positive free cash flow after dividends, and has raised its dividend seven times in the past eight years. Considering the earnings growth and the company's goal of 100% free cash flow conversion, a dividend hike by fourth quarter of 2012 seems like a decent bet.
Leadership
Behind the strong performance and growth of the company has been consistent, quality leadership. Cote has been CEO of the company since February 2002, guiding the company through a major turn around and revitalization. Dave Anderson has been CFO since June 2003. This consistency at the top has helped pace Honeywell along its successful trajectory. While one can find criticism on Cote for his approach toward unions, in the past months the most significant negative news about the CEO had to do with his position on JPMorgan's (NYSE:JPM) risk-policy committee (and the unmonitored, risky beached whale $2B trading loss) and his criticism of business policies in India. Neither poses any headwind for Honeywell's continued success.
The Other Shoe - Caveats
Which isn't to say the stock doesn't face headwinds. Most significant are the aforementioned macro concerns: any Seeking Alpha reader is aware of the tumultuous period Europe will continue to endure over the coming months and possibly years. While Honeywell has had strong success in the U.S. and non-European international markets, that success rests on an uneasy macro foundation. Considering the company is a cyclical play, any significant downturn poses a great risk.
It should also be mentioned that the stock has not outperformed the S&P 500 (NYSEARCA:SPY) over the past year. Honeywell is down about 4% (1.5% if you add dividends back in), while the index is flat. That said, over three, five, and 10-year time frames, the stock has comfortably outperformed the index as a whole.
(Source: TDAmeritrade; Honeywell's share price is represented by the green line, the index by the black line, the other lines are Honeywell's 9, 27, and 200-day Moving Averages.)

Click to enlarge
The Time to Buy
Honeywell's stock, like the market as a whole, slogged through May. Since getting as high as 61.45 at the end of April in the wake of the positive Q1 earnings, Honeywell's share price has dropped as much as 10.5%, before recovering to its current 57.2 price (as of Tuesday, May 29th's close). Applying its past year multiple on earnings of 14x to 2013 forward earnings, I get a 12-month target price of 70.42, a 23% return before factoring in dividends.
The stock's 200-day moving average hovers just above 54. The stock price hasn't seen that level since before Christmas. As we enter what could be another volatile summer, however, 54-55 looms as a good place to enter a long position in the stock or lower cost basis on an existing position, depending on one's status (I'm looking to do the latter around 54, for example).
Honeywell has a compelling, consistent growth story, quality management, good positioning, a nice dividend and reasonable valuation. The stock is a quality one to own. If you are looking for a long-term cyclical play with dividends and growth prospects, you would do well to add Honeywell to your buy list, and from there to your portfolio.
Disclosure: I am long HON.