One lousy stinking penny. That's all it would have taken for Apple (NASDAQ:AAPL) to reach an intraday high of $580 instead of $579.99 on Wednesday.
But I don't think shareholders mind that much. After all, the stock was up 1.2% on a day when the Nasdaq-100 was down 0.84% and the S&P 500 was down 1.43%.
You could kind of tell something was going on. Yes, the Apple VIX did end the day up about 1.7%, but it was way down from where it opened. The regular VIX spiked from 21.03 to 24.14 - a jump of more than 14%.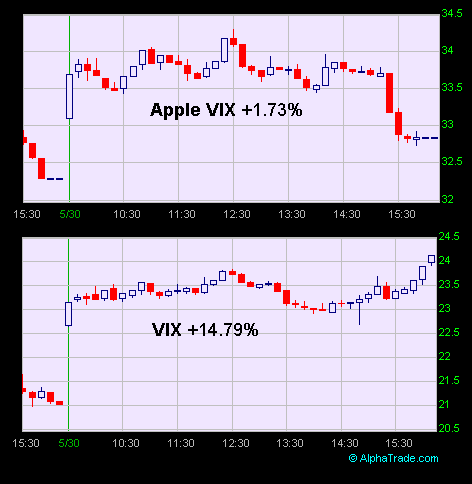 And here I thought Apple was going to be more correlated to the market. But this is not the first time a stock made me look like an idiot.
However, I don't expect this kind of price action to last. Who knows what will happen in Europe? Who knows what the will be like monthly employment and PMI data will look like on Friday?
And Apple's PE has been quite compressed lately. This year, based on trailing 12-month earnings, Apple's PE barely cracked 18 in late March and dipped just below 13 in mid-May as the stock sank below $530.
So how does this compare to ancient history - like back in 2011?
***
2011 PE extremes: From 13.1 to 20.2
It seems as if Apple's PE is destined to remain in the teens given its size and position in the market, but that doesn't mean it can't briefly crack 20 again, provided the company can demonstrate significant growth.
This chart shows the extreme high and low PE levels for the stock back in 2011. Each point (based on a daily close) includes the trailing 12-month EPS, market PE ratio, the then current price, and the equivalent price today based on $41.02 in EPS.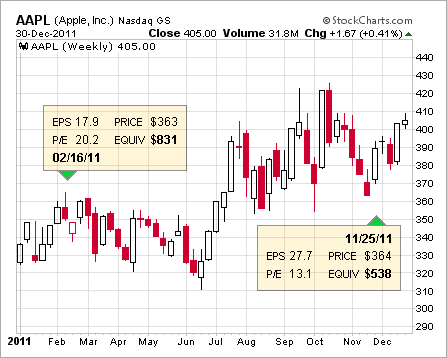 (Please note: I am using PE data from the date of the earnings reports, not the actual quarter's end. That means the chart only reflects data when an investor [a non-clairvoyant one anyway] could possibly have known about it)
So, for example, on February 16 and on November 25, Apple was trading at basically the same price - about $363 - except that the EPS had risen and the PE had dropped off over the course of the year.
That means those who bought in late November were essentially paying today's equivalent of $538, while those who bought in early February paid more like $831 viewed in those terms.
***
Flashback to 2010
That was fun. So let's flash back to 2010. That's when we had the "flash crash," of course, which I erased from this chart because it just looks weird. (Plus I'm jealous if you're the one who actually bought shares for $199.25 that day)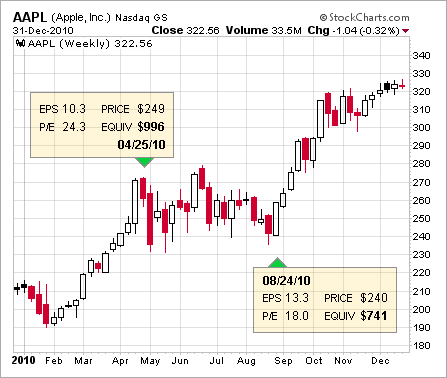 In 2010, the late August $240 price was today's equivalent of $741 - and the late April price of $249 and PE of 24.3 corresponds to nearly $1000. After all, today's EPS is nearly 4 times as much as it was just two years ago.
***
Does it spell doom for Apple if it can't quadruple earnings over the next two years? Of course not. But a $1,000 price target is certainly not out of the question by 2014. At a PE of 15, all it would take would be a trailing 12-month earnings level of $67 to get there.
In the near-term, however, we could easily see the low $500s again. I think the stock has some natural support near $530 because that's where the stock yields 2% on the upcoming $10.60 annual dividend.
But Europe and some key data loom for Friday and we could see the Apple VIX move up sharply and the stock fall back to the 530s easily.
As for Wednesday's high of $579.99, I'll bet the high frequency trading algorithms were short some 580 calls and didn't want to see them go in the money. I don't blame them. If I were a robot and was short 580 calls, I'd do the exact same thing. Every time. That's what robots do.
Disclosure: I am long AAPL.