While skeptics point to a falling share price as an indication that Ontario Teachers Pension Plan's C$52-billion buyout of Bell Canada Inc. (NYSE:BCE) won't go through, UBS Securities analyst Jeffrey Fan says the stock's decline can be mostly attributed to outside forces. In an interview Thursday, Mr. Fan chalked up Bell's declining share price to investors' fears that the banks involved in the deal may want to walk away, or that private equity sponsors may do the same. There is the ongoing bondholder lawsuit to consider. Additionally, the overall investor atmosphere regarding the economy and financial events, such as the subprime mortgage crisis in the U.S. and the ABCP problem in Canda, is gloomy.
Mr. Fan noted risk arbitrage and event-driven investors playing Bell have been reducing their exposure to this deal largely because other deals that have, or might collapse.
Adding to doubts about the deal, Canaccord Capital portfolio strategist Nick Majendie said in a note Wednesday he had sold half of his funds' remaining position in Bell, saying "although we think the probability of a cancelled deal is quite low, we are concerned that a re-priced deal could be the outcome."
However, Mr. Fan said that, according to his checks – including data points and anecdotal evidence – the Bell deal should go through. Based on commitment letters, the deal's financing is solid, Mr. Fan said. "There are no real outs for the banks to back out of their commitments."
The three most likely scenarios for the Bell deal are: it goes through as planned; it falls apart; or it is renegotiated. Mr. Fan thinks the latter is unlikely. He said:
I think that once you open it up for renegotiation, then the process changes dramatically," he said. "Because it was an auction process in the first place, they are not going to want to just renegotiate the price with one buyer.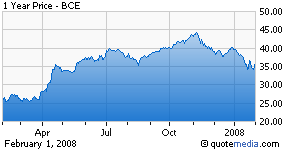 Mr. Fan has a "neutral" rating on Bell Canada shares and pegs the chances of the deal falling at 25%. He acknowledged based on his implied odds on the deal succeeding, the company's shares are pretty cheap. Given the large group of shareholders likely in Bell solely because of the buyout, he said investors might fear that many will sell all at the same time if the deal falls through. This could send the stock well below its "fundamental" value, he said. However, at this point another group of investors might be tempted to jump in.
The analyst thinks those levels are around C$28 or C$29 per share initially. But if its yield climbs to 5% – assuming the deal does not happen and after the initial negative reaction fades – Mr. Fan said the shares could rise above C$30 each in the long term.
Finally, Mr. Fan stressed the importance of Bell's quarterly earnings, which are due out next Wednesday. He said the company will likely not hold a conference call. He does not think the results will show a deterioration of the fundamentals of Bell's businesses, as some may fear. In fact, he thinks the numbers may be ahead of expectations, which will alleviate some fears.
In terms of the threat that new wireless entrants may pose as a result of the rules outlined for the upcoming spectrum auction, Mr. Fan said, "I don't think it was really an event that caught them totally by surprise." He noted that with wireless revenue exposure for Bell competitors Telus Corp. (NYSE:TU) and Rogers Communications Inc. (NYSE:RCI) – roughly 50% and 60%, respectively – they are clearly much more exposed there than Bell is.
He added:
If this deal wasn't on the table, I think through this period since the auction [rules came out], it probably would have outperformed those two names because its exposure is much less on the wireless business.
Bell shares were up C$0.72, or 2%, to C$35.63 in Toronto trading mid-morning Friday.