Lender Processing Services, Inc. (NYSE:LPS) is a technology and services provider to the mortgage industry. I first started following this company as a part of the headlines that unfolded regarding "foreclosuregate" in late 2010 (for example, see "Lender Processing Services On the Defensive"). Since then I have followed LPS through its trials and recent recovery (click here for an archive) and have been particularly fascinated with the trading action of shorts and options players. The options trades were excellent indicators of future trading in the stock whereas the short interest providing a convenient gauge on the negativity surrounding LPS. Since a spate of heavy call buying in February, short interest has taken a fresh plunge. It has now returned to levels last seen right before foreclosuregate exploded.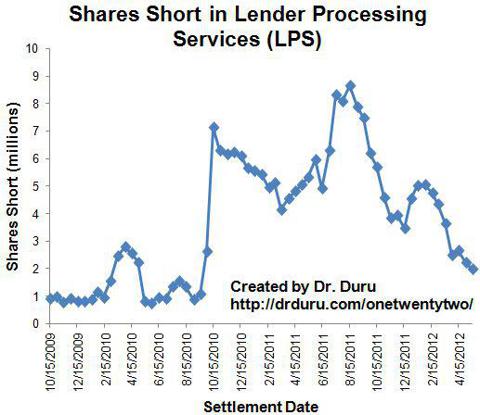 LPS shares short have steadily plunged since reaching all-time highs last summer
Source: NASDAQ.com LPS Short Interest
The chart below demonstrates the prescience of recent call option buyers. I am guessing that a lot of short covering has helped LPS gain 55% for 2012.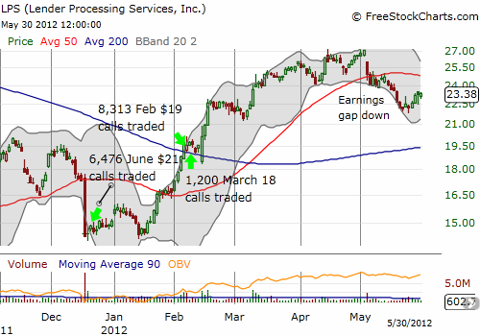 LPS has had a strong year even after losing some of its gains after May's earnings
Source: FreeStockCharts.com
Although LPS has lost 13.5% since reporting earnings May 3rd, short interest continued to decline. I consider this more confirmation that the negative headwinds for LPS continue to abate. Indeed, in the last earnings conference call (see Seeking Alpha transcripts), LPS's management executed as well as can be expected. New CEO Hugh R. Harris and CFO Tom Schilling (a frequent buyer of his company's stock) were able to tell a positive story of an on-going turn-around even as continued delays in foreclosures negatively impacted the Default Services business. Revenue in Default Services dropped 11% quarter-over-quarter as foreclosure filings declined to their lowest levels since the fourth quarter of 2007 (according to RealtyTrac).
Management provided the most extensive detail to-date on the company's entire array of products and services. LPS guided in-line for revenue and earnings in the second quarter at $500-502M and $0.58-0.62 EPS respectively.
Here are a few of the highlights from the earnings conference call that caught my interest (quotes taken from the Seeking Alpha transcript of the earnings call):
LPS has met all deadlines and requirements set by its regulators. The company remains committed to achieving the "gold standard in regulatory compliance and operational excellence."
"…we continue to believe that LPS will be the only provider of technology and services to the mortgage industry that has undergone such a thorough regulatory and risk review. In recent articles, the CFPB [Consumer Financial Protection Bureau] has been quoted as saying that third-party vendors in the financial services industry will be under greater scrutiny to ensure they adhere to the same high standards as the banks."
LPS has achieved its "…liquidity objectives of paying off [its] revolving credit facility and reaching $100 million of cash on the balance sheet." Going forward, the company will use cash for opportunistic acquisitions.
LPS has increased its market share in default services from 40% in 2009 to 80% today.
With a forward P/E of 8.8, price-to-sales ratio of 0.96, price-to-book is 3.7, and 1.7% dividend yield, LPS is not expensive but also not particularly cheap. I suspect the loss in the stock since the last earnings report is a combination of profit-taking and the malaise in the general stock market. I am expecting the stock to remain in a trading range for some time until a fresh catalyst appears; short-covering is not likely to provide much more lift going forward. The company will soon need to demonstrate strong year-over-year revenue and earnings growth in addition to its steady resolution of past problems. In the meantime, I think the stock is a buy on dips. The ultimate upside in LPS could be large as the stock is still almost 50% off its all-time highs set in 2009.
Be careful out there!
Disclosure: I am long LPS.