Volatility is alive and well as the market wiped away all of Tuesday's gains and then some in Wednesday's session. The CBOE Volatility Index rose more than 10% to above 23. Stocks ended the day abruptly lower. The Dow was down 1.28% registering a 160 point loss. The S&P 500 was down 19 points posting a 1.43% loss and the Nasdaq followed suit down 33.63 points or 1.17%. The market are nearly flat for the year. Rising bond yields in Spain and Italy and fears over Greece's eurozone exodus were the culprits. The energy and financial sectors led all sectors into the red.
The five stocks in this article caught my attention by displaying strong relative performance. These five stocks are a few of the top performing S&P 500 large caps for Wednesday and actually posted gains. This can often be a sign these specific stocks are poised to move higher. On down days, I identify the stocks in the green and take a closer look to see if there is good reason for the strength in the stock.
We will perform a brief review of the fundamental and technical state of each company. Additionally, we will discern if any upside potential exists based on sector, industry or company specific catalyst. The following table depicts summary and performance statistics for the stocks for Wednesday.

Click to enlarge
Apple Inc. (AAPL)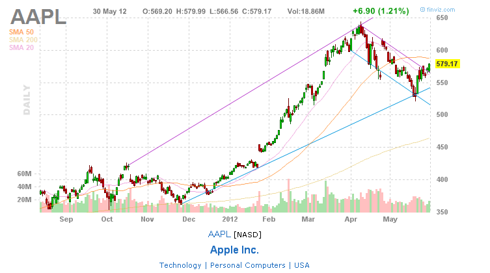 Click to enlarge
Apple was up 1.21% and was the best performing large cap in the S&P Wednesday. The stock is trading down 10% from its 52 week high of $644. The company has great fundamentals. Apple has a forward P/E ratio of 10.74 and an EPS growth rate of 18.92% for next five years. Apple has a PEG ratio of .75, a ROE of 47.10% and a net profit margin of 27.13%. Sales and EPS growth are rising 59% and 92% quarter over quarter respectively. Apple is currently a triple threat in my book. Apple has strong fundamentals, is technically sound and has several catalysts on the horizon. The stock just bounced off the bottom of its recent trading range and looks poised to move higher. With the iPhone5 and iTV products due to be released in the near future, Apple has substantial product catalysts in the near term. Apple may actually be the new safe haven play for investors. Apple is a buy at this level.
Dean Foods Company (DF)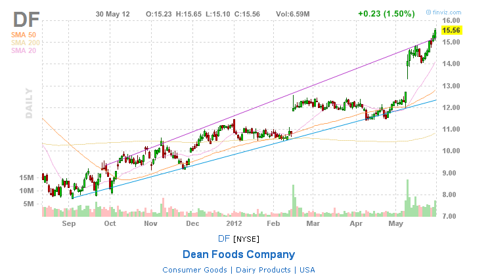 Click to enlarge
Dean was up 1.50%. The stock set a new 52 week high of $15.56 Wednesday. Trading on above average volume of 6.5 million shares, Dean surpassed its previous 52-week high of $15.45. Dean has risen 28.5% in the last two months. The stock is trading 17.2% above its 50-day moving average and 24.9% above its 200-day moving average. The catalyst was a positive quarterly results and guidance. Sales are up 6.7% year over year. The company's WhiteWave-Alpro segment was a big contributor with a 13% year over year gain. Adjusted operating income surged 42% while EPS rose to $0.31. Revenue and earnings topped analysts' estimates. CEO Gregg Engles stated, "Given our significant momentum in the first quarter, the cautious optimism that we expressed last quarter has turned less cautious." Dean increased its 2012 EPS guidance from $0.87-$0.95 to $1.10-$1.20. Dean has a forward P/E ratio of 11.97.
The company has spiked up significantly in recent days. I can't see starting a position in the stock at this level. If you aren't in already, you have missed the move. I would wait for a pullback prior to starting a position. Nonetheless, the company looks strong and I would start a position if the stock drops to the $13 to $14 dollar level.
Frontier Communications Corporation (FTR)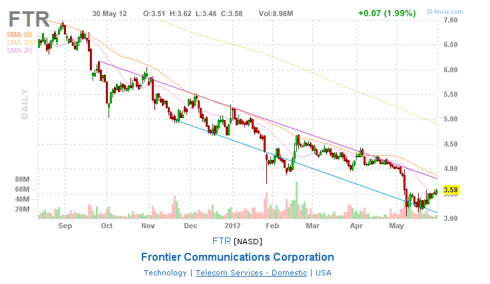 Click to enlarge
Frontier closed Wednesday at $3.58, up nearly 2% for the day. The company is trading 55% below its 52 week high and 77% below the analysts' consensus mean target price of $6.08 for the company. Shares are trading at multi-decade lows. Frontier has some fundamental positives. The company is trading at 82% of book value, 69% of sales and has a forward PE of $16.27. Frontier pays a dividend with an 11.17% yield, although the payout ratio my mean the dividends are unsustainable.
Insider buying is up 72% in the last six months. Six insiders purchased 137,200 shares at an average price of $3.28/share, for a total of $450,367, with the most recent purchase on May 18, 2012. When multiple insiders make purchases in the open market it could be a strong indication that the stock may be primed to move higher.
The stock seems to have found a bottom and has been consolidating at the current level of a couple of weeks. I am considering starting a position at this level.
Monsanto Co. (MON)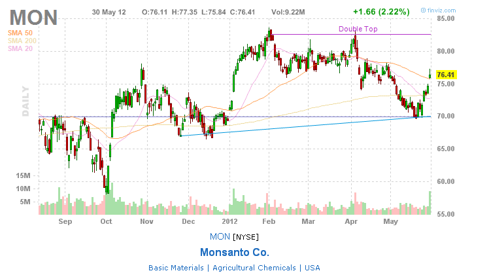 Click to enlarge
Monsanto was up over 2%. The stock is trading down 9% from its 52 week high of $83.64. The company has decent fundamentals. Monsanto has a forward P/E ratio of 18.59 and an EPS growth rate of 11.30% for next five years. Monsanto has a PEG ratio of 1.92, a ROE of 16.64% and a net profit margin of 14.98%. Sales and EPS growth are rising 14.94% and 19.04% quarter over quarter respectively. Monsanto raised its full-year profit expectations citing stronger sales during the company's third quarter. The stock recently bounced off a short term low and has been trading higher over the last few weeks. I like the stock here, although would definitely employ a trailing stop loss order to reduce risk.
Whirlpool Corp. (WHR)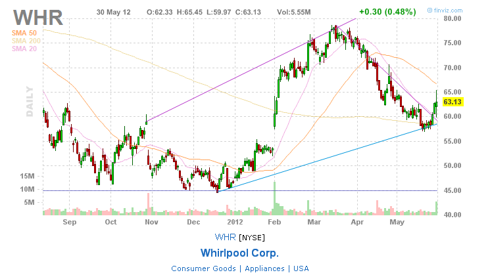 Click to enlarge
Whirlpool was up less than 1% today nevertheless was in the green. The stock is trading down 22.38% from its 52 week high of $81.33. The company is fundamentally challenged. Whirlpool has a forward P/E ratio of 7.91; nonetheless quarter over quarter sales and EPS growth are down 1.18% and 45.98% respectively.
Whirlpool is up due to advancing in its battle over foreign imports after the Commerce Department reached a preliminary determination against South Korea for subsidies paid to appliance makers based in South Korea. This sounds like good news, nevertheless, I will need to see the final results hit the bottom line prior to opening a position. Avoid this company until the fundamentals turn positive.
Conclusion
Down days are good for identifying prospective investing opportunities. It makes it slightly easier to find the needles in the haystack so to say. Four of the five stocks appear to be up for good reason and merit further due diligence. I would avoid Whirlpool until signs of a turnaround in the fundamentals emerge. There are better prospects to choose from currently.
Use this information as a starting point for your own due diligence and research methods before determining whether or not to buy or sell a security. If you choose to start a position in any stock, I suggest layering in at least a quarter at a time on a weekly basis to reduce risk and setting a trailing stop loss order to minimize losses.
Disclosure: I have no positions in any stocks mentioned, but may initiate a long position in AAPL, MON, DF, FTR over the next 72 hours.