Cotton futures have quietly dipped to their lowest levels in two years, prompting our "contrarian alert" to sound. King Cotton, since rocketing to levels not seen since Reconstruction, has since plummeted: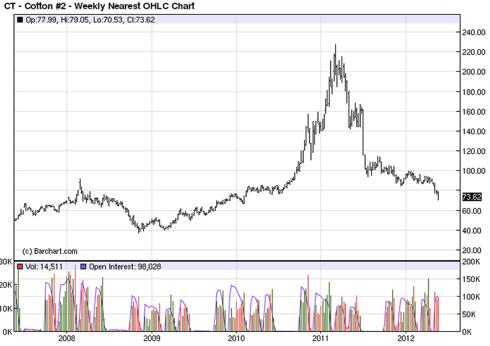 Cotton spikes, and crashes. (via Barchart.com)
Two months ago we mused that cotton and rice, both off significantly from their highs, may have piqued the interest of Jim Rogers, who recommended that investors interest in agriculture start by looking at what's down the most. Since then, cotton has drifted nearly seventeen cents lower, and is now sitting at levels not seen since early 2010.
On Cue: Supply Cuts Have Arrived
Just as high prices tend to cure themselves with increasing supply and/or decreasing demand, low prices commonly exhibit the equal but opposite effect. And we're already seeing signs of supply going away, as China will decrease cotton plantings by nearly 10% this year (via Bloomberg):
Planting in China may drop by 9.2 percent in 2012 as high costs and falling prices cut its appeal, Gao Fang, executive vice president of the China Cotton Association, said May 18. The government has pledged to buy new-crop cotton at above-market prices to boost planting.
The story for cotton over the past decade has been that acreage gets taken away in favor of higher-priced corn and soybeans (and rice to an extent). This is exactly what happened in 2009 and 2010 - corn and 'beans were the first to recover in prices, acreage went to them, cotton supply went down, and prices spiked.
Corn and soybeans are not exactly cheap right now either - with corn above five bucks a bushel and 'beans in the lower teens, farmers are making some good coin on these crops. It's unlikely they'll replace this acreage with cotton at current prices.
There's plenty of cotton to go around right now, as the USDA projects record world ending stocks for the second consecutive season. This is precisely when you want to think about going long - especially since we're still operating within the context of a secular commodity bull market.
Potential Catalysts for Cotton Prices
Low prices themselves are always a fantastic potential catalyst - demand increases, and supply disappears. Cotton farmers in Africa are already protesting that prices have dropped below the cost of production.
These days any bullish commodity case includes China - and in their latest report, even the USDA mentions Chinese demand as an unknown wildcard that could surprise to the upside. A scenario that's become more likely as India, a big cotton supplier to China, has banned exports.
Remember that it was QE2 that launched cotton above $2. If Bernanke begins hitting CTRL+P once again, we could see the softs start to move quickly, just as we did in the spring of 2009.
When Should We Consider Buying
Good news: the futures contracts through 2015 are all cheap, with none above 76 cents. So we can focus on the more liquid near term contract and not worry about the rollover cost.
I usually only like to buy the softs and grains when they: 1) Break out to new highs, or 2) Are at or near levels of support. It could be awhile before cotton meets either criterion!
As far as I can tell, the next level of significant support is around 40 cents. If we get there again, and support holds, it'd be time to back up the truck.
More likely, cotton will base out a bottom between here and there, and slowly restart an ascent likely to carry it well above $1. As we wait for a breakout to the upside, King Cotton is a nice potential trade to keep an eye on.
Disclosure: I have no positions in any stocks mentioned, and no plans to initiate any positions within the next 72 hours.