Williams Partners L.P. (NYSE:WPZ) is aggressively expanding its pipeline and natural gas midstream footprint and that expansion is leading to attractive distribution growth for investors. Investors focused on growth of income should take a closer look at this energy MLP.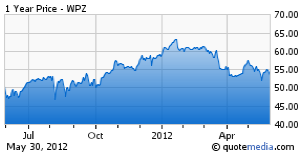 Williams Partners is the largest - current market cap of $17.3 billion - of the natural gas pipeline focused MLP companies. Company assets include natural gas pipelines running up the east coast of the U.S., into the Northwest U.S. and out to the deep water drilling sites in the Gulf of Mexico. The Partners' midstream processing plants process natural gas and natural gas liquids into different high value products.
In 2011, Williams Partner's generated about two-thirds of operating income from midstream operations and one-third from pipeline fees. For 2011, 70% of revenue was from fee based operations and the balance from commodity priced sales from midstream operation. The company's stated goal is to increase fee based revenue to 80% of the total by 2014.
In April of 2012, Williams Partners completed the acquisition of Caiman Eastern Midstream LLC for $2.4 billion. The purchase expanded Williams Partners footprint in the Marcellus Shale natural gas play. The Williams asset and growth strategy is to be a large-scale player in the major energy basins with connections to large-scale energy buyers markets, providing compelling transport services for Williams' customers
The result of Williams growth and capital spending strategy is steady and rapidly increasing partnership distributions. Quarterly distributions were level at 63.5 cents per share from the end of 2008 through the first quarter of 2010. Since then, the payout has been increased every quarter, reaching 77.75 cents for the second quarter of 2012. The Williams Partners' dividend increased by 9% over the last year. Company guidance has the payout increasing by 8% to 10% per year through 2014. Company management is very positive on results beyond 2014, but is not giving any financial guidance beyond that point.
With a current dividend yield of 5.5%, the distribution return to an investor buying now will be earning about 8% in distributions at the end of 2014 based on the original investment price. The current yield of most of the natural gas pipeline MLPs is higher than the yield on Williams Partners. However, the growth potential of that distribution makes this stock a very attractive long term income investment. Williams Partners is 68% owned by Williams Companies (NYSE:WMB) which also owns the general partner units and incentive distribution rights.
Disclosure: I have no positions in any stocks mentioned, and no plans to initiate any positions within the next 72 hours.