Microsoft's (NASDAQ:MSFT) historic $45 billion bid for Yahoo! (NASDAQ:YHOO) is a fabulous deal for Yahoo shareholders, and creates a rare buying opportunity for Microsoft shares, Barron's magazine says.
The $31/share offer -- a 62% premium to Yahoo's Thursday close -- is not likely to be refused by Yahoo shareholders, who were frustrated by the company's lack of execution and slowness to change. With near "perfect execution," Bernstein analyst Jeffrey Lindsay estimates, it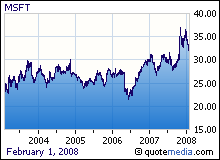 would still take Yahoo until 2010 to return its shares to $31. A counter-bid for such a high-price company seems improbable. Most analysts say U.S. antitrust regulatory approval is a given, but EU approval may be slower in coming. Shareholders unwilling to wait can sell the stock now and still bank a good portion of the profits.
For Microsoft, the acquisition is a "dramatic attempt to fix an old problem," namely its lack of a dominant internet presence. From a 6.9% slice of the search market, it suddenly finds itself with 27.8%, vs. Google's (NASDAQ:GOOG) dominant 66%. Yahoo's industry-leading content gives Microsoft a web-traffic boost from 2.4% to 15.6%, compared to Google's 7.7%. Furthermore, strengthening its online presence will insure internet weakness doesn't cut into its core software business, a concern analysts were discussing before the buyout.
From a recent $37, MSFT shares closed Friday at $30.45, down $2.15, as investors fretted the challenges of integrating such a large and unwieldy company. Barron's says the selloff looks like a buying opportunity: it was Microsoft's last chance to gain a serious foothold in search and search-advertising. Shares could reach $40 or higher.