Barron's Tech Trader says Motorola's (MOT) announcement last week that it was shopping its handset unit was an ill-advised attempt to provide temporary relief for its deflated share prices.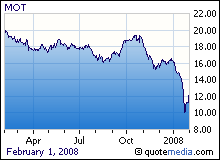 Going public with the much-rumored unit sale made it clear that Motorola has received no serious interest in the unit. It will also likely further aggravate the company's already rampant brain drain, because no talented engineer is going to stick it out with a company that's on its last legs. "Why work nights and weekends on a crash course to bring a company-saving new phone platform to market when a new boss will probably sack you or a new manager could kill your concept?" Charter Equity analyst Ed Snyder asks.
Barron's Mark Veverka says it's unlikely any major cellphone manufacturers will make a serious bid for the unit; they foresee its untimely death as an opportunity to lap up its market share at no cost. One possible exception is Sony-Ericsson (NYSE:SNE) (NASDAQ:ERIC). CDMA handsets are Motorola's strong suit, and Sony-Ericsson doesn't have a CDMA handset lineup. But it may not be enough to entice the company to take on "damaged goods." Another possibility is that a Chinese vendor could buy the unit or its assets.
Companies that will benefit most from MOT's handset demise are Samsung and LG, who are already strong in the U.S. CDMA market. Nokia, which only sold 8M CDMA handsets in 2007, may gain as well.