Gladstone Investment Corporation (NASDAQ:GAIN) is the first Business Development Company ("BDC") to report earnings for the quarter ended December 31, 2007. For the Press Release, click here. We were interested to see what GAIN had to report in its Earnings Report, 10-Q and Conference Call, all of which we reviewed. The Company is popular with many institutional investors due to its conservative and measured approach to the buy-out business. Just read the transcript of its recent Conference Call on Seeking Alpha to see what we mean. Anyway, the market seemed to approve of the Company's performance, pushing up the stock price by 7.5% on the day, the biggest increase for any BDC today. Still, we remain spectical about the Company's prospects and its valuation. More on that later. Let's get to the numbers.
QUARTERLY RESULTS: At first blush, there's a lot to like here. Gladstone saw Total Investment Income increase to $7.5mn,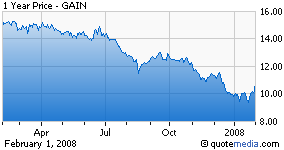 a 75% increase over a year ago, and 5% over the September 30 2007 period. Net Investment Income reached a record $3.7mn, 29% up from last year and 25% higher than 3 months ago. Even when Unrealized Gains and Losses are taken into account (which we always take with a grain of salt both on the way up and way down), the Company managed to grow earnings to an aggregate Net Increase in Net Assets of $5.1mn. Last quarter the comparable number was a loss of ($4.4mn), due to the unrealized depreciation of many assets due to the credit crunch.
Turning to credit quality, management conceded that overall the portfolio was a little shakier than the quarter before according to the risk rating system which GAIN uses. Still, only one of GAIN's 59 portfolio companies is in payment default, and only for a balance of $2.9mn. That represents less than 1% of the Company's total investments at cost of $356 mn. Management didn't warn us of any other deteriorating credits, and suggested that the non-syndicated loan portfolio which GAIN owns (and which consist of 50% of its assets) have been strengthening rather than weakening.
Nonetheless, we remain dubious about the outlook for the Company. First of all, the dividend distribution has gotten ahead of the taxable income. So, 10-15% of the current monthly 8 cent a share distribution is a return of capital. Management concedes that income has not reached the projections on which the dividend timetable was set. More importantly, and the key element in our analysis, there is little prospect of material Net Investment Income growth in the near future. Without raising new equity (more on that later), GAIN has only a maximum of $50mn of unutilized borrowing capacity. We're assuming GAIN will borrow no more than $40mn, and this will only generate about 4 cents a share of annual incremental Net Investment Income. On an existing annualized Net Investment Income of 92 cents a share, 4 cents more is not much upside.
FLAWED STRATEGY: The problem is that GAIN's business strategy results in slow new asset formation and relatively low returns on capital. The Company operates two distinct businesses. On one hand, GAIN pays the light bills by investing in slivers of syndicated senior loans with low coupons of 7%-9%. These loans account for half the Company's assets and have returned 8% per annum on average. This is a low margin, unattractive business and the only way GAIN's management company can make this strategy pay is to reduce its management fee to 0.5% of syndicated loan assets, rather than the 2% agreed with Gladstone Management. (The savings to shareholders from this subsidy is as much as 4 cents a quarter). To add insult to injury, this year the Company was forced to record a small realized loss of ($145,000) from a partial sale of two of its syndicated loans, and had to write-down another ($11.1mn) due to the crash in the syndicated loan market. That's a 6% plus discount on the cost of these loans.
GAIN's second line of business is to acquire companies ("Control Investments"), or establish significant equity positions("Affiliate Investments")in small mid-market companies, with steady cash flows. By management's own admission finding candidates at the right price has been challenging. In nearly three years of operation since its IPO, GAIN has only acquired 6 "Control" Investments" and 2 "Affiliate Investments". These eight deals aggregate $161mn in capital (senior, subordinated and equity). We don't know if GAIN will be successful in this arena: no deals have ever been sold. On the bright side, these deals pay a higher coupon on their debt obligations than the syndicated loans, but GAIN has to invest non-income producing equity stakes, which moderates the yield. We estimate that the syndicated loan business is generating an 8% yield and the "Control/Affiliate" business 10%. Combined the two businesses generate an underwhelming 9% yield on investment assets.
So, if GAIN borrows another $40mn and generates a 9% yield, after borrowing costs (5.4% at December 31 2007) and operating expenses (2% of assets), the net yield available for distribution to shareholders is relatively puny. Moreover, even if GAIN chooses to invest the remainder of its liquidity only in the higher earning "Control Investments", the incremental improvement in income will be minimal. What the Company needs is to make some profit on the $35mn in capital tied up in common and preferred in its 6 "Controlled" companies. (Just "realizing" the write-up already recorded on these equity stakes would give GAIN over 55 cents a share to distribute). However, with a slowing economy and a relatively small and newly minted portfolio of "control" investments any pay-off in this area could be years away.
Management is considering selling a portion of its syndicated loan business to re-invest in the purchasing of "Control" deals. However, the dilemma is that GAIN will have to take a haircut of 7%-10% on the cost basis of these deals, and the increase in income from a greater proportion of "Control"Investments" will be minor for years until some exits can be achieved, as discussed above. Gladstone is also weighing the possibility of raising new equity. This will have to be in the form of a rights offering to existing shareholders, given that the stock is trading at a 19% discount to its NAV of $13.31. Without a change in the economics of GAIN's business strategy ,though, it's unclear if new equity will do anything to increase Net Investment Income Per Share, or the dividend. In the short term, the result of either a sale of syndicated loans or a rights offering would be to lower Net Investment Income Per Share.
2008 Outlook:
Looking into our crystal ball for 2008, we expect only minimal Net Investment Income per share growth for GAIN, to 94-96 cents a share. We're not counting on any Net Realized Gains. Management may increase the dividend at some point in the year (we're assuming a 2 cent increase in the IVQ 2008), but the result will only be a greater proportion of the dividend being paid out of capital. For the record, though, we're projecting a full year dividend of $0.98. Of course, if the company does face even a modest 5% of loans slipping into non-accrual Net Investment Income would drop by a couple of cents a share per quarter, more than offsetting any income growth from further leveraging of the balance sheet. With the stock trading at $10.88, GAIN's yield on the current dividend is only 8.8%. With minimal income upside, high leverage (for a BDC) and a "Control Investment " strategy years away from bearing any fruits, this seems way too low a return to attract us. We currently have no position in GAIN. We'll only be considering a Buy if the stock price drops substantially below $9 a share or management finds a more profitable strategy.
Disclosure: None