SodaStream (NASDAQ:SODA) is the ultimate battleground between bulls and bears. With a massive short interest, and a very loyal bullish following (almost cult-like), this is shaping up to be one of those classic "I told ya so" stocks. The bears claim SODA is a fad, a flash in the pan that cannot, and will not survive. They claim that SODA will eventually go out of business when people realize that they can buy a can of coke for $.50 and let their SODA makers collect dust in the basement.
Bulls on the other hand point toward the penetration possibilities in the beverage market. SODA hasn't even sniffed any sort of potential here. They point towards new product rollouts, and continued department store space growth.
The arguments are endless. We know all of them, and could go on for days dissecting which has a stronger leg to stand on. Instead, let's take a look at the hard numbers.
Consumables Growth, the Razor/Blade philosophy
Looking at SODA's consumable sales, the trend is actually pretty impressive. SODA takes the razor/blade approach, as in, place the machines in customer hands and give them something to keep buying. It's actually a brilliant strategy if a company can pull it off and so far it looks as though SODA is doing just that.
SODA has seen its total consumables rise from 3.3 million "units" in Q1 2009 to a staggering 9.5 million "units" in its most recent quarter. That is pretty significant growth over the past 4 years. To me, looking at the raw data, it suggests that consumers are not simply buying a machine, using it for a handful of weeks to months and then letting it collect dust in the basement. The rapid growth in consumables suggests that customers like the product and are willing to keep spending for the product. Here's a look at consumable growth by quarter:
The consumable conversion factor I've used is to determine the average effect on revenue. I simply took the total revenue of consumables and divided it by the total number of consumables. This isn't an exact way to get the factor (especially since they classify a spare cylinder received in the starter kit a consumable), but it gets us in the ball park in order to project for future earnings, which we will get to later.
I've added what I think the company will do for the remainder of 2012. I think we will see a rise more like we saw in 2010 as opposed to 2011 where consumables peaked in Q2 and my reasoning for thinking such stems from increased customer awareness and product rollouts.
Flavor Unit sales rose 50%+ YoY. Last year flavor growth was 36% compared to 2010. I am throwing out what I feel is a conservative growth rate of 30% for 2012. Due to the volatility of flavor sales, I want to see another quarter of growth before accepting the 50% rate this year, although it would not surprise me to see it, I'll take a wait and see approach.
Soda Cartridge co2 Refills have averaged pretty consistently a high 20 percentile growth rate. Consistent with last year's 29%, I am forecasting growth of 28% in refills. There is also upside to this on the back of customer awareness and product releases.
SODA Kit Growth
In order for SODA to make money on its products, it needs to sell machines. SODA has done an excellent job of growing department store space. The news of Wal-Mart now carrying SodaStream products in 2,900 stores is a big positive catalyst for the company. We are seeing the same pattern play out as we saw in 2011, a sequential decline in Q1 sales followed by a steady ramp into the end of year. I would argue that with the addition of Wal-Mart and a product refresh cycle starting in the back half of this year (Revolution scheduled to arrive in Q4), sales are set to outpace expectations.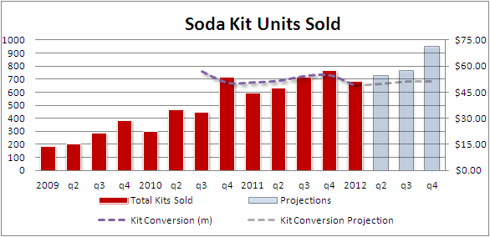 As you can see I am expecting moderate growth over the next 2 quarters before the ramp up in Q4. The SODA Kit conversion is total revenues from kits, divided by number of units sold. SODA has a lot of momentum behind its kit sales with the new product and Wal-Mart news. It's hard to imagine a flop in sales over the next 3 quarters and when you look out into next year, the product refresh cycle will continue. The trend in number of kits sold has steadily risen since 2009 and SODA looks poised to continue this trend.
3 Year Forecast
I've used the following for my projections:
29% Consumable Sales growth for 2012, 32% and 34% for 2013 and 2014 respectively. This is inline with current growth rates and the uptick takes into account of more flavor rollouts and growing customer product awareness.
15% Starter kit growth for 2012, 18% and 15% for 2013 and 2014 respectively. Next year should see increased sales due to product refresh, but longer term trend for SODA should be inline with its MRQ growth of 15%.
Adjusted Net Income Profitability of 12%, inline with management expectations and slightly above past performance as more consumable revenue falls to bottom line.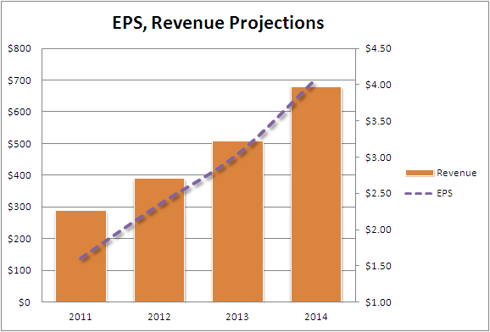 As you can see, SODA going forward over the next 2 years has a lot of positives around it. Revenue and EPS are expected to grow significantly from here in the intermediate term. The long-term trajectory of SODA depends on how they penetrate the emerging world and if they can prove to have staying power within the beverage industry.
Valuation
Using 2012 projections, Consumables make up 60% of SodaStream revenue, therefore I think it should warrant a higher % basis of SODA's valuation. Looking out over the next 2 years SODA's consumables are projecting to grow 30% YoY. SODA starter kit sales are projecting around 15% growth. Revenue growth will run around 30%. Taking all this into consideration:
2012 Target Price: $50 (50%)
2013 Target Price: $65 (98%)
2014 Target Price: $87 (165%)
The above prices reflect a P/E of 21.5, which is derived from taking 60% of consumable growth and 40% of Soda maker kit growth for a P/E of 24, discounted by 10% to arrive at 21.5x forward earnings. When you account for SODA growing revenues 30% for the next 2-3 years, 21.5x is still a discount to trend. It's safe to say the company is relatively undervalued at current prices.
It's not about cost, it's about Likeability
Most of the arguments against SODA stem from the fact that the cost of traditional beverages are so cheap, why would anyone want to make SODA or flavored water? Just go to the store and buy the cheap product already made and that's that. Customers do not buy SODA kits because they are looking for a cheaper version to beverages, they are buying SODA kits because they like the product.
Who cares if you can go to the store and scoop up a 12 pack of coke for a few bucks? To me this is one of those "cool" products that people just like to have. It's one of those products that make a neat, different Christmas present. Will they ever knock on the doors of Coke and Pepsi? No, but that's not the plan. They are a niche company, with the idea that is trying to get this product in people's hands and they will keep coming back for more. So far, it's working.
The Bottom Line
It's all about consumables. As long as SODA can keep customers happy and using their machines, there is no reason to think SODA cannot sustain its presence. Eventually growth rates in number of units sold will slump just due to sheer size of numbers and it's impossible to think every household in the world will have a soda maker, but that's not so much what I'm looking for. I'm watching consumable trends. A decrease there and it shows that customers are beginning to move away from the product. A decrease there would signal trouble on the horizon. The thing is, right now, we just aren't seeing that.
Disclosure: I have no positions in any stocks mentioned, but may initiate a long position in SODA over the next 72 hours.