In a recent article, I compared Canadian Solar (NASDAQ:CSIQ) to First Solar (NASDAQ:FSLR), Sunpower (NASDAQ:SPWR) and Suntech Power (NYSE:STP). I concluded that among these solars, CSIQ offers a far better risk-reward ratio than the other three stocks. In response to the article, a couple of posters asked if I would expand my comparison to other solar stocks, and I said I would. Here is the outcome of that analysis.
Before presenting the comparison, I want to discuss my assumptions, biases and methodology:
1) My biggest "bias" is that all things being equal, a lower PE (or, more accurately, PEG) among comparable companies wins this contest. Obviously, since things are not "all equal," some adjustments must be made, but nevertheless, PEG is the primary driver of this comparison. If that is not a belief that you hold, this article won't have much meaning to you.
2) This comparison is based more on facts that on projections, with one exception. I have calculated PEs against projected 2008 earnings obtained from either company guidance or the midpoint of analyst estimates. This was essential because in the solar space, a fast-growing-company's trailing PE is not a meaningful number. I further thought it was reasonable to use forward (2008) PE because we are already into 2008, and therefore, visibility should be reasonable, at least for most of this year. Next, somewhat lowering the inherent error in using projections is the fact that I took the midpoint of analysts' estimates, which should increase the reliability of the estimate. Next, even if analysts' estimates turn out to be overoptimistic, that error is likely to impact all these companies fairly similarly, thus not altering the conclusion reached here. Finally, even a 20% change in the earnings estimate does not really alter the conclusion here, further reinforcing this analysis.
3) In my analysis, I put very little—if any—value in projections for 2009, or, perish the thought, 2010 or beyond. To me, given the range of possibilities on both macroeconomic (What will we have? Deep recession? Mild one? Soft landing? Business as usual?) and microeconomic (Will there be an oversupply of solar panels in 2009? Will global incentives increase, stay level or decrease?) fronts, NOBODY can reliably predict what the earnings will be for these companies in the 2009 calendar year (which basically ends two years from now).
It is enough of a stretch to guess where earnings will be in the fourth quarter of this year. Indeed, to highlight the unreliability of 2009 "estimates" (read "speculative guesses,") one only needs look at the range of estimates for 2008 for some of these companies. For example, one analyst thinks Trina Solar (NYSE:TSL) will earn $1.65 in 2008, while another believes TSL will earn $3.49 — more than double the lower value. Other companies also have a large spread, although I don't think any company's range of analyst estimates is as wide as TSL's.
4) I have not included any information regarding analyst upgrades, downgrades, target prices, or recommendations, for several reasons. First, this is meant to be an objective analysis—and as can be seen from the spread in analyst estimates, the amount of subjectivity in analyst opinions is quite large. Second, I have for months disagreed with most analyst upgrades of several of the sexy names in the solar space, pushing their valuations—before 2007 was even over—to 50X 2009 EPS (I am, of course, thinking of FSLR, but a few other companies have been similarly hyped, without just cause, in my opinion—see my other article comparing CSIQ to these companies). To me, using 50X multipliers against EPS two years down the line is witchcraft, not financial analysis. Third, analysts' opinions tend to be even worse at inflection points in the economy—and regardless of whether one believes we're in a bear market or not, I think everyone agrees we are at an inflection point. Therefore, I provide these numbers as a springboard for further discussion and analysis by visitors to this site.
5) This is not meant to be a commentary on the solar space in general because that would take an article all by itself. Briefly, though, I believe that solar will do very well going forward, and that selected companies in this space will do even better. I believe that demand for PV panels will exceed supply over the next several years because I believe grid parity will be reached in stages and that the initial stages will come sooner than most people think and generate demand that is probably not yet appreciated. (I do believe ASPs will come down, but margin compression will not be severe because feedstock costs will drop and because the fabs will become more efficient.) In addition, I personally believe that the true cost of conventional power ("dirty electricity," I like to call it) will start being recognized more and more, which will give renewable technologies (and especially solar) a continuing financial boost. Finally, I also believe that in the next year or two, total incentives around the world will increase collectively, and that incentives in the US will be renewed, if not expanded. Finally, I believe that within 5 years, incentives will largely be unnecessary because many locales will have already reached grid parity by then, which will, of course, constitute its own incentive.However, this article concludes that some of the companies in the solar space are such compelling values that even if they were not in a fast-growing space (that I believe solar will be), they would still constitute a bargain.
Having reviewed my assumptions, I want to present the spreadsheet I created to compare 11 solar companies. Due to space limitations, I only show a few columns of information.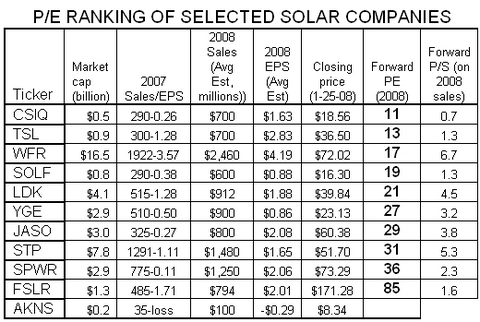 The first column shows market cap, ranging from $200 million for AKNS to $16.5 billion for WFR. The second column has two pieces of information—the first number shows 2007 sales followed by earnings in 2007 (or, more accurately, estimated sales and earnings since the 4th quarter hasn't yet been reported by most companies). The third and fourth columns show 2008 estimated sales and earnings, respectively. The fifth column shows closing price on 1-25-08, and the 6th and 7th columns calculate forward P/E and forward P/S (1-25 price against 2008 numbers). Although I initially input these companies in random order, I then sorted them in order of PE.
Although I present AKNS on this spreadsheet because people have asked me to analyze it, this company does not belong in a comparison of companies based on PE because it is not expected to have any earnings in 2008. This is not meant to be a negative comment against AKNS—since I have not carefully evaluated the company nor its prospects, I cannot really comment on it. I would say, however, that because it isn't expected to have earnings this year, and because even its sales are quite small (about $35 million in 2007), it is a much more speculative play than the top-rated companies on this spreadsheet.
As is obvious from this spreadsheet, Canadian Solar (CSIQ) stands alone, in several respects.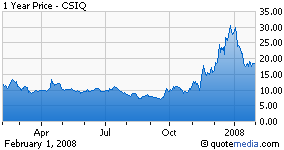 First, it clearly has the best PE of the group. At 11, CSIQ's PE is ridiculously low for a company that will nearly triple its revenues (from $290 million in 2007 to $700 million in 2008), and grow its earnings 6-fold from 26 cents to $1.63.
Second, CSIQ's revenues growth rate just discussed is also the fastest of this whole group (JASO's expected revenue growth rate is very close, as is its income growth rate, but JASO's PE, at 29, is nearly triple that of CSIQ).
Finally, CSIQ's market cap is actually less than its 2008 expected sales—it is the only company trading at a forward P/S ratio under unity (in fact, substantially under unity against 2008 income, and about at unity against its expected 4Q07 revenue, annualized).
TSL also has an attractive forward PE, but the variability in 2008 earnings estimates ($1.65 to $3.49) gives me pause. If 2008 income ends up being closer to the low end of the range, the PE climbs to 15 or 20. And TSL's P/S ratio (at 1.3) is almost double CSIQ's. Since TSL does not offer any obvious advantages over CSIQ, and has a somewhat higher, and less reliable, PE ratio, it seems CSIQ is the better play.
If someone is aware of some significant advantage to TSL, or someone can make a good argument that 2008 earnings will be closer to $3.49/sh, it might be the better play given the closeness of their PEs.WFR comes next, with a PE of 17 and a rather daunting PS of 6.7 (almost 10 times CSIQ's PS).
As far as these metrics are concerned, WFR does not offer any advantages, and is indeed, at a significant disadvantage, but WFR is, in some respects, the leader in this space (size, length of time in business), and one can legitimately argue that the risk with WFR would be substantially less than with CSIQ. I have not adequately studied WFR to give a valid opinion on this issue, but I feel it would be worthy of further comment from participants in this site.
The rest of the companies have PEs of around 20 and up, and PSs of 1.3 and up, and even if these companies have certain advantages, they would have to be substantial advantages for me to pay double (or more) for them than for CSIQ. If readers of this article can offer documentable reasons why the rest of the companies are worth more—even though that value is not reflected in either their sales or earnings growth rate from 2007 to 2008—I would be very interested in knowing those reasons.
But most of the justifications I have read are based on speculation, much of it going out to 2009 and beyond, which to me is no basis for investing. Obviously, the folks who bought FSLR when it was trading at $283 believed the sales pitches that this company was worth 50X 2009 EPS, but that was no more true than the pitches during the dot-com era that companies with minimal earnings and great hopes were worth PEs in the hundreds.But if belief or hope is one's basis for evaluating a stock, then, as I stated at the beginning of this article, the fact-based, PE-driven approach I took in this article would not be of interest to that person.
Finally, when I identify a very fast-growing company with low PE, I always wonder why the market is pricing it so low, so I look at other metrics—e.g. price-to-book and debt-to-equity ratios. Both of these metrics are also quite positive for CSIQ—with the price-to-book ratio at about 4, and LT debt-to-equity ratio of about 8%, with total debt less than 50% of equity. Both metrics are likely to be even more improved this quarter when earnings are expected to be higher than any other quarter.
In summary, with a PE of 11, PS under unity, sales that are expected to grow from $290 million in 2007 to $700 million in 2008, and a decent balance sheet, CSIQ seems to me to be the most compelling value in the solar space.
Disclosure: The author owns a long position in CSIQ but has no position (long or short) in the other stocks mentioned in this article.