The following article by a Cornell University School of Hotel Administration student was originally submitted as a paper for a class entitled "Investment Analysis and Portfolio Management," in which students wrote a 'mock' analyst note about a publicly traded company. In no way should its contents be construed as conveying professional investment advice.
Pinnacle Entertainment (NYSE:PNK) is a casino operator, operating domestic and international casinos. In the last ten years it has managed to grow its operations tremendously. It is constructing or planning to construct several casinos in various regional gaming markets. However, the market has mostly priced in this growth and Pinnacle is only slightly under priced currently. Therefore we rate Pinnacle as a Hold and suggest investors wait to sell at $30.69.
• All valuation models incorporating growth and future cash flows of the firm show that Pinnacle is currently overvalued. The Gordon Growth Model gives a per share value of $10.55 and a full discounted cash flow analysis gives a per share value of $25.58
• Valuation models incorporating how the market is pricing its competitors show that Pinnacle is undervalued relative to its competitors. A comparable companies analysis gives an expected share value of $39.14 for Pinnacle. A replication analysis using comparable companies gives an expected share value of $30.51 for Pinnacle.
• Technical analysis shows that Pinnacle has been relatively oversold recently. Additionally it has tended to perform relatively better than the market in the past. So we can expect to see a near term rally for Pinnacle's stock.
• Investment Rationale: The market has priced in Pinnacle's growth prospects but a short term rally is expected due to its relative valuation and technical indicators.
"A Firm Foundation of Regional Properties"
(Daniel Lee, Chairman and CEO of Pinnacle Entertainment)
Pinnacle Entertainment is a gaming company that operates casinos across the United States. It owns and operates casinos in Nevada, Louisiana, Colorado, Indiana, Missouri, New Jersey, as well as internationally. Altogether it owns six domestic casinos, three of which are being enhanced. Additionally, two new facilities are currently under construction. Pinnacle's history dates back to 1938, but only after 1997 did management begin to follow an aggressive expansion and growth strategy.
"It's all about the cranes"
(Daniel Lee, Chairman and CEO of Pinnacle Entertainment)
Pinnacle has stated that their long term goal or vision has been to create a national gaming network through its casinos. Pinnacle envisions having a wide distribution of casinos across different regions in the United States and hopes to create customer loyalty to its brand in order to develop regular patrons to its casino network. To achieve this, Pinnacle has been actively acquiring properties or casinos around the United States and has been actively constructing new facilities. Pinnacle has been expanding its most profitable casinos including L'Auberge du Lac, a Baton Rouge casino, by 30% in terms of guest capacity. Pinnacle is close to completing two casinos in the St. Louis area, River City and Lumiere. Pinnacle is currently preparing to begin construction on property it owns in Atlantic City, NJ and has plans to build additional casinos in the Baton Rouge area.
This strategy, to grow in regional markets around the United States, is a sound one despite the fact that every major casino operator is attempting this. But Pinnacle has been able to benefit and see strong growth from this aggressive expansion mentality. In fact, because its management is so focused on new construction and regional expansion, it should have better future growth prospects than many of its competitors. But the question that must always be asked when investing is whether the market is already taking this into account. Pinnacle is a good business, but can we buy its stock at an attractive price?
Gordon Growth Model

The Gordon Growth model uses a perpetuity formula incorporating the dividend, growth, and cost of equity capital. The cost of equity capital was found using the capital asset pricing model (CAPM). This was done by taking the historical prices of both Pinnacle and the S&P500 back to October 30, 2003, which were used to calculate returns, standard deviation of returns, and the correlation between Pinnacle and the market. Its beta was found to be 1.5 and the cost of equity capital was found to be 20.41%. As Pinnacle currently pays no dividends, the dividend needed to be estimated based on the figures of its competitors. The dividend payout ratios of three of its dividend-paying competitors (Ameristar (NASDAQ:ASCA), Harrah's (HET), and Boyd (NYSE:BYD)) were first calculated and then averaged to estimate Pinnacle's dividend payout ratio was. The estimated dividend growth for Pinnacle was found by averaging the past years' dividend growth of its three dividend-paying competitors and the current consensus forecasted EPS growth. The estimated share value using this model is about $10.50 per share.
Discounted Cash Flow Analysis

A full pro forma statement was created for Pinnacle, projecting it out 10 years. Ten years is an appropriate projection period because Pinnacle is a middle stage company that has strong growth prospects but is more mature than most companies in its industry. This model, like any full DCF model, has a plethora of assumptions that are used to arrive at the fair value. The DCF was constructed by projecting a target value for each line item in 2007 and a target value for 2017 and having each line item grow linearly from its value in 2007 to 2017. Some of the assumptions are described below.
Sales are projected to grow in fiscal 2007 by 30%. This is a fair assumption because over the last five years, sales growth for Pinnacle has been as high as 40%. In fiscal 2006, it was at about 26%. It is thus not unreasonable to expect a sales growth as high as 30%. This projection is further supported due to Pinnacle's expansion. In 2006 it opened The Casino At Emerald Bay in the Bahamas and plans to open The Lumiere and the River City casinos soon. Additionally it is building a 30% expansion of its most profitable facility in Louisiana. In the future, Pinnacle plans to aggressively open new properties and focus on developing its customer base in its already established properties. So a high starting growth rate is justified. This sales growth rate is decreased linearly to 4% in 2017. At that point, sales will be quite high and the United States national gaming market will become quite saturated. Pinnacle will be a more mature company and will find it harder to achieve sales growth rates too much higher than GDP growth.
Gaming expenses are assumed to stay constant at 49% of sales in 2007 and decrease to 45% of sales in 2017. This is mainly due to expected future improvements in technology that will allow all casino operators to decrease expenses. As the computers become more powerful and as software develops, casinos will be able to automate more of their gaming operations. Some of this advanced automated gaming technology is already actively being manufactured by companies such as Cyberview Technologies. SG&A expenses are projected to decrease from their current levels of 19% of sales to about 15% of sales in 2017. This is because Pinnacle can be expected to benefit moderately from economies of scale as it continues to grow.
Domestic income taxes are projected to decrease to 30% of taxable income in 2017 while foreign income taxes are expected to grow to 2% of taxable income in 2017. These projections utilize current foreign income tax rates which are 0% for corporate profits in the Bahamas and most of the Caribbean and 15% in some other gaming locations such as Macau (although Pinnacle currently has no operations there). The projections also assume that such low tax foreign operations will account for between 5 and 10 percent of income by 2017.
The major balance sheet items that were projected were PP&E and Long Term debt. All other assumptions were that the business would become more efficient and would be able to maintain a relatively lower working capital to maintain sales. PP&E was projected to grow from its current level of about 1.4 times Sales to 1.6 times sales in 2017. This is comparable to some of Pinnacle's more mature competitors: Wynn (NASDAQ:WYNN) and MGM (NYSE:MGM) have over twice as much PP&E as sales while Harrah's has about 1.7 times. Assuming Pinnacle will be a near mature firm in 2017, it is reasonable to estimate that it will approach these industry figures.
Long term debt is expected to increase from about 80 percent of sales to about 1.2 times sales. There are several reasons for this estimate. First, Pinnacle has made a commitment to expansion, has levered itself in the past to achieve this growth, and has stated that it plans to lever itself in the future:
We expect that a substantial portion and perhaps all of the capital that we intend to invest in future years will be indebtedness and that our financial leverage will increase.
Additionally, its more mature competitors, including Wynn, Sands (NYSE:LVS), and MGM, are all leveraged to between 1.6 and 1.8 times sales. So as PNK continues to grow and approach maturity, we can expect that it will continue to take on a significant amount of debt.
Based on these assumptions, the free cash flow to equity was calculated. These were discounted at the CAPM cost of equity. Terminal growth was assumed to equal estimated GDP growth of 2.5% per year. Based on this, a value of $25.58 per share was calculated for Pinnacle.
Comparable Company Analysis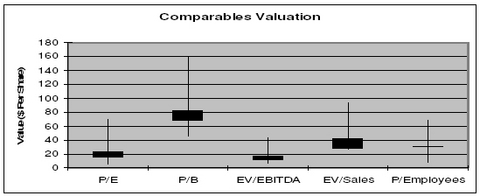 Five comparable companies were chosen for this model: Ameristar, Penn National Gaming (NASDAQ:PENN), Harrah's Entertainment, Boyd Gaming Company, and Wynn Resorts. These were all companies that are in primarily the casino business and operate casinos around the United States and internationally. Several of them are later stage or mature companies while others are still middle stage like Pinnacle.
The metrics used to value Pinnacle were P/E, P/B, EV/EBITDA, EV/Sales, and EV/Employees because these are typical ratios used to analyze firms. Based on the values of these metrics for Pinnacle's comparable companies, a high, low, mean, and median estimate for Pinnacle's price was constructed for each metric. Overall the comps would suggest a valuation of Pinnacle of about $39 per share.
Replication Analysis
The same five comparable companies were used to replicate Pinnacle. There were three characteristics that were replicated: size, growth, and profitability. Metrics of size were Market Capitalization, Revenue, and Enterprise Value. Metrics used for growth were the P/E ratio, the PEG ratio, and the estimated EPS growth. Metrics for profitability were ROE and ROA. The replication analysis gives Pinnacle a per share value of about $30.
Technical Analysis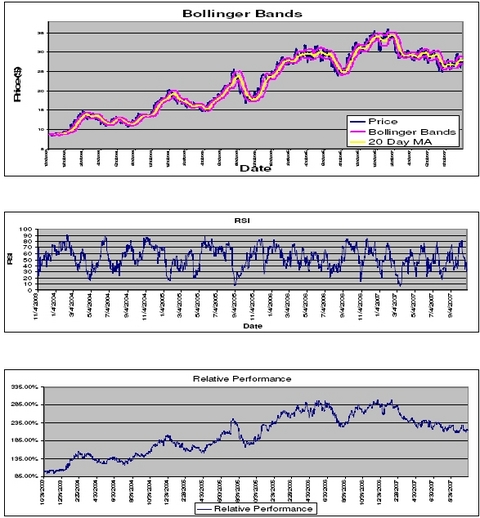 The technical indicators show that in the short term, Pinnacle stock might show a bullish trend. The stock price is settling near the bottom Bollinger Band which indicates the stock might be oversold. Additionally, the RSI is at about 30%, which is a further indicator that the stock might be oversold. The relative performance chart shows that Pinnacle has tended to outperform the market over the past three years. Assuming we live in a somewhat homoskedastic world, we can expect Pinnacle to do the same in the near future.
Both the MACD and the simple moving averages seem to be registering a mixed signal. On the one hand, the MACD is below its signal and the 10 day moving average is below the 20 and 50 day moving averages. However, in both cases, there seems to be an upward trend in the indicators, perhaps indicating some growing momentum.
Overall, the technical indicators seem to indicate that Pinnacle is oversold and might rally in the short term.
Recommendation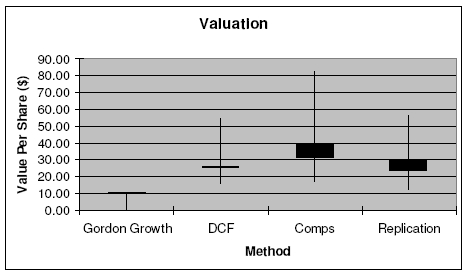 Pinnacle is a quickly growing company with an aggressive expansion strategy. Pinnacle should continue to grow quite rapidly as it finishes construction on several casinos and begins construction on new casino facilities.
However, the market has priced Pinnacle quite efficiently. In terms of its future cash flows, Pinnacle is already overvalued. However when compared to its peer group and when replicated using its peer group, Pinnacle seems to be slightly under priced. Additionally, the technical analysis shows that the stock might rally in the short term. This is why a hold recommendation is being made with a target price of $30.69. Investors should wait for a near term price increase to sell.