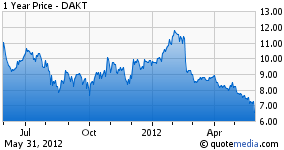 I own a technology stock that was getting crushed yesterday that offers investors both compelling upside and a strong yield. At current levels, Daktronics (NASDAQ:DAKT) pays investors over a 3% dividend and offers the potential for 30-100% stock appreciation as industry conditions improve and trends materialize in results. The company is a profitable market leader exposed to growth markets and boasts a strong balance sheet without significant debt.
DAKT
Daktronics reported earnings and was getting crushed to new 52 week lows after disappointing investors with its results. The company sells electronic display systems to a variety of industries including indoor and outdoor scoreboards and digital billboards that offer digital display solutions for the outdoor advertising industry. The company also sells software solutions to manage the content on display and installation products and services. In spite of the recent performance of the stock I believe there are long term trends in place to support a recovery in the shares and from these depressed levels appreciation potential is significant. From the company s 10-K:
As a result of our line of LED display systems and software applications, we gained significant market share through designing and manufacturing quality products and providing technical expertise and services. Our products are in use throughout the world, as we are the world's leader in all LED display product categories, according to independent research.

In the sports market, our integrated video and scoring systems have been installed at many professional, collegiate and high school facilities, particularly in North America, and at international sporting events such as the Olympic Games.

With commercial applications, our video, digital billboard and graphics displays can be seen in major destination sites, such as Las Vegas and Times Square, along roadsides at retail establishments and at many other locations.

In the transportation market, our Vanguard displays are in use in numerous jurisdictions across North America, and our customers include many state departments of transportation.
(Click to enlarge)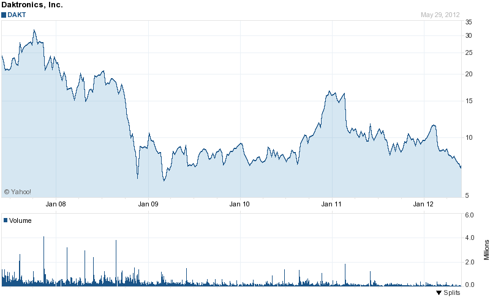 Source: Yahoo Finance
There are tremendous catalysts for DAKT going forward as the outdoor advertising market transitions from traditional static image billboards to fluid video display. This trend is evident in the results of traditional billboard advertising company Lamar (NASDAQ:LAMR):
Lamar Advertising Co forecast weak third-quarter sales, as more advertising dollars flow to digital displays rather than the company's traditional billboards, sending its shares to their lowest in two years.

Lamar's billboards, which contribute about 87% of sales, have been slowly losing their charm to glitzy LED-lit displays that offer advertisers more customized ad delivery options.
The penetration of outdoor digital billboards remains very low according to the Outdoor Advertising Association of America:
These dynamic tools for advertisers and communities represent a small fraction of the total number of billboards in the United States. There are an estimated 400,000 billboards faces in the United States; about 3,200 of those are digital, or one half of one percent.
There are regulatory concerns impacting the growth expectations for digital billboards as some argue that fluid video is a distraction to drivers and therefore potentially dangerous. Some cities in the U.S. are even outlawing the use of digital billboards:
Digital billboards change images every four to 10 seconds, flashing multiple messages from one or more advertisers on the same sign. Opponents such as John Regenbogen of Scenic Missouri deride them as "television on a stick."

Several communities have banned digital billboards outright, the most recent being Denver earlier this month. Other places have put a moratorium on them pending a federal study on whether they distract drivers. At least two other cities and two states are studying moratoriums.
In the long run profits tend to win out and being able to change the advertising image every 10 seconds allows for more content and more revenue. One needn't look further than Lamar's results to see where the industry is headed, so while profits are currently challenged at DAKT, there is a huge market opportunity remaining for the company with the remaining roughly 397,000 traditional billboards ripe for transition across the country.
The Stock is Cheap
At the current quote of roughly $6.70/share DAKT has a market capitalization of under $300 million. The company is generating close to $500 million in revenues and is profitable with over $55 million in cash and virtually no debt. The company pays an annual dividend of .23/share or more than 3%. Management indicated in its most recent earnings report that it expected conditions to improve going forward:
"We are off to a good start with orders in the first month of fiscal 2013. Based on the current backlog and order outlook for the first quarter of fiscal 2013, we expect net sales to increase in the first quarter of fiscal 2013 compared to the fourth quarter of fiscal 2012. We are also expecting that the gross profit percentage will rise slightly and operating expenses will decline slightly in the first quarter of fiscal 2013 as compared to the fourth quarter of fiscal 2012."
Conclusion
Given the depressed stock price, the company's strong balance sheet and the significant opportunities for growth for the market leader in outdoor video billboards, I believe the current weakness offers investors with some patience a terrific entry point and a decent yield to tide them over in the interim. I believe the stock can easily revisit the $9/share area and that is more than a 30% gain from today's prices, longer term I wouldn't be surprised to see the stock back over $10.
Disclosure: I am long DAKT.