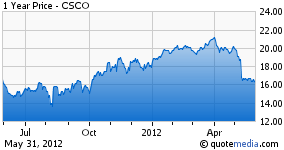 Cisco (NASDAQ:CSCO) is out with its annual projections for web traffic. As usual they make for interesting, and optimistic reading:
The question, as it always is in these estimates, is whether Cisco can profit from them.
And the answer is generally "no."
Despite all this scaling in traffic, demand is not accelerating much beyond what Moore's Law can deliver in terms of speed improvements. Thus there is no upward pressure on the pricing of networking gear and no opportunity to expand margins.
Cisco's actual problems can be summed up in one word: China. And its response is also one word: India. Cisco and Huawei are in a life-and-death struggle over a market that is not growing, in terms of units. That's why Cisco talks about traffic.
There are also two big problems with the projections.
Growth in the Internet of Things has been lagging behind estimates for years. A lack of standards, a lack of commitment by appliance makers and a lack of consumer demand all play a role here.
The projections are based on a huge increase in the amount of TV delivered via the Internet, rather than through other means. This makes the projection subject to the last-mile problem, the data caps and extra charges cable, phone, and spectrum owners are demanding from customers.
In summary, whether or not Cisco's projections are gee-whiz, they're not of a sort that will lead to incredible growth in the stock. Last-mile owners will continue to hold down demand as much as possible, there are no new application spaces on the horizon and it's really steady as she goes.
Disclosure: I have no positions in any stocks mentioned, and no plans to initiate any positions within the next 72 hours.