Adding dividend aristocrat type stocks to a core of ETFs increases the probability of enhancing returns, reducing portfolio risk, improving yield and boosting diversification. A month ago I published an article on the Swensen Six portfolio showing how one can gain global exposure using only six ETFs. An update of the Swensen Six portfolio is shown below in the first screen shot. Based on the assumption the S&P 500 will grow at an annual rate of 7.0%, the ETF oriented portfolio is projected to increase at an annualized rate of 7.9% with a standard deviation or uncertainty of 14.1%. These projections give rise to a Return/Risk ratio of 0.56 or slightly lower than our goal of 0.60. The Diversification Metric (DM) for the Swensen Six is 33% and the Portfolio Autocorrelation (PA) is a reasonable 17.8%.
Five years of data was used for this Quantext Portfolio Planner (QPP) analysis. QPP is a software product developed and maintained by Geoff Considine. Over the past five years, the following portfolio had a yield of 3.0%, due primarily to holdings of VNQ, TLT and TIP.
(Click to enlarge)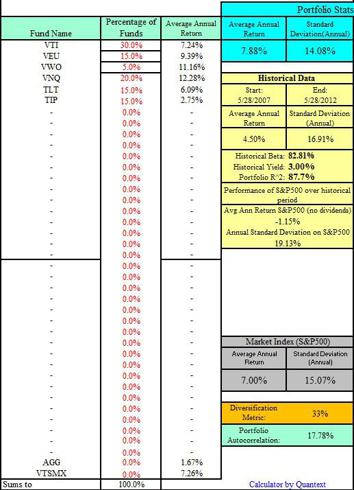 Click to enlarge
Correlation: The following table shows the correlation matrix for the Swensen Six portfolio. Note the high correlation between VTI, VEU, VWO and VNQ. Lower correlated holdings such as TLT and TIP are insufficient to drive the Diversification Metric above 40%, our goal when developing portfolios at ITA Wealth Management.

To improve the Swensen Six ETF portfolio, dividend stocks were added to the core of ETFs in the following portfolio. How were the six stocks, Eli Lilly (NYSE:LLY), Procter & Gamble (NYSE:PG), AT&T (NYSE:T), Abbott (NYSE:ABT), Leggett & Platt (NYSE:LEG) and Annaly (NYSE:NLY) selected? I currently hold shares in PG and NLY so it made sense to include them in the following analysis. For the other four I looked at some lists of dividend aristocrat stocks and ran them through my "Delta Factor" analysis screen and found these four showed positive promise going forward. I did not spend time doing fundamental analysis on any of these stocks and none are recommended as a buy at this time. I simply use them as examples of how a few selected stocks, particularly dividend stocks, can enhance an ETF oriented portfolio.
The projected return for the following array investments increased slightly to 8.0%. To make room for the allocation of individual stocks I reduced the percentage allocated to VTI (U.S. Equities) while keep all the other asset classes the same as in the original portfolio.
Adding individual dividend stocks reduces the projected uncertainty to 13.4% giving rise to a Return/Risk ratio of 0.60, our goal. The Diversification Metric rises to a high 49% and the Portfolio Autocorrelation moves down to 13.6%. We want PA to be low. The historical yield for this array of investments is 3.7%, or higher than the 3.0% from the original portfolio. This increase is to be expected since we are adding high dividend paying stocks. The beta for this portfolio is also lower.
(Click to enlarge)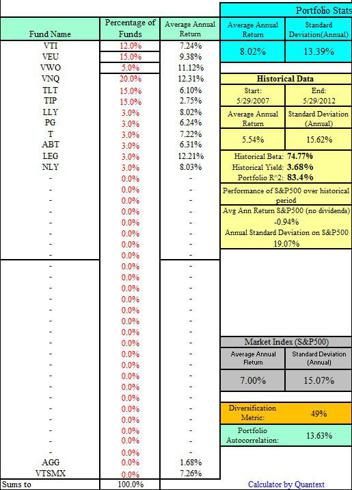 Click to enlarge
Correlation: The second correlation matrix is included to show why the Diversification Metric moved from 33% up to 49%. Check out the various individual stocks and one sees either a moderate or low correlation to the equity ETFs. ABT and NLY in particular help to bring down the portfolio volatility. Pay attention to the portfolio column as that is how the different investments are correlated with the overall portfolio.
(Click to enlarge)

Click to enlarge
While it is easy to build a portfolio using only ETFs, a little more work is required when adding a few individual stocks. Most investors can find a few high quality companies to add as boosters to an ETF oriented portfolio. With a little care one should be able to add alpha to a portfolio built around a core of ETFs. These two portfolios provide that evidence.
Disclosure: I am long PG, NLY, VTI, VEU, VWO, VNQ, TLT, TIP.